Are you looking to join the paddle boarding craze, but not sure which one to choose?  Whether you're looking to get fit, pick up a new activity, or just want to trade in your old board, choosing the right paddle board can be a daunting task.
Having grown in popularity a lot over the past few years, paddle boarding is now one of the most popular watersports around.  Great for core fitness, enjoying a sunny day out on the water, or having fun with friends, there's a reason why so many people have picked up this hobby over recent years.
Sure, you could just grab a canoe and live your dream that way, but paddle boards are much more convenient and versatile; And who's to say you can only own one type of watercraft anyways?  Paddle boarding is considered to be the gold standard in the watersports world these days, with everybody from yoga enthusiasts to race loving speedsters getting in on the paddle boarding action.
In the last decade or so, paddle boarding has become one of the hottest water sports for even the most inexperienced of water sports enthusiasts to try. Far more gentle and less intimidating than surfing, paddle boarding is a great way to explore oceans, rivers, or lakes, while, if your balance is good enough, staying completely dry! Paddle boards are also highly popular due to the relaxing nature of the activity, with the pace tending to be slow and gentle, yet you still get a full body workout.
But, are all paddle boards built the same?  Not even close.  When you take into account things like length, material, weight, and design, even small changes from one board to another can make a big difference when you're out on the water.
So, we're going to give you all the info you need to make a smart buying choice.  Below we are going to take a look at nine of the best stand up paddle boards of 2019, so you can decide which board you like. Whether you are new to paddle boarding, or you are just looking to upgrade your current board, you are sure to find a board you love here.
Quick Look: 9 Best Stand-Up Paddle Boards
How to Choose the Best Paddle Boards for Your Needs
Paddle boards, much like people, come in all shapes and sizes. While the basic make up is the same, there are a number of different variations among paddle boards. Each of these variants has a massive impact on the versatility and usability of the board. There are hard paddle boards and inflatable ones, planing hulls and displacement hulls, different fin lengths and placements, and different board lengths, widths and thicknesses. There are even paddle boards that can be converted into sit-on kayaks! Talk about a large variety!
If you're feeling a little lost here, try not to worry, we'll help you get sorted out. Choosing a paddle board can seem like an extremely daunting task when you're just starting out, especially if you are completely new to the world of water sports. A good place for someone who is just starting to dip their toe into paddle boarding to begin is to go rent a paddle board and get a feel for how it is.  Once you've gone out on the water a dozen times, you'll have a much better idea of what type of board you're looking for, and what you need or don't need in a board.  Also, you'll be able to meet people who are relatively well versed on the products they rent, most of them even own a board – or three – and can help you find the board for your needs.
What Will You Use the Paddle Board For?
When it comes to paddle boarding, what works well for one person may not work as good for the next,  as it is a sport that is entirely based on usage and preferences of the individual.  Figuring this out before you make a purchase rather than after the fact will help you avoid disappointment as well as wasting your hard-earned cash on a paddle board that just isn't cutting it for you.
When you are looking at paddle boards to buy, it's important to take into consideration exactly what you plan on using it for, as some paddle boards are better for one thing over another. For example, the longer more lightweight paddle boards are primarily made for racing. If a beginner were to try to use one of the racing style paddle boards, they would probably find themselves feeling rather off-balance and likely feel like the paddle board has a mind of its own due to it being so lightweight.  Lightweight boards get tossed around much easier in the water and may possibly give users less control as the water will have a stronger pull against a lighter board.
Paddle boards are made out of a variety of materials, with faster boards, more suited to racing, typically made out of fibreglass or carbon fiber, similar to a surfboard. Traditional paddle boards can be made of hollow wood or foam, and more recent variations are utilizing epoxy for its increased durability.
People are often surprised to discover that paddle boards are a lot larger than the average surfboard, and some are even made to fit multiple people, coolers, pets,etc. The smaller boards sit at around 8ft in length, with it not being unusual for larger racing-style boards to exceed 20ft.  Naturally the longer the board, the harder it may be to maneuver, so longer boards are generally only recommended for intermediate to advanced paddle boarders.
There are many reasons why paddle boarding has become so popular in the last decade, of course, one of the key reasons being the boom in the health and fitness market, largely being propelled by Instagram stars and Youtube beauty gurus. However, paddle boarding also appeals to many because of both its affordability and versatility. Paddle boards can be used on most types of water, are light-weight for easy transportation, and are far cheaper than other water-transport options. Unlike surfing, paddle boarding also has an incredibly quick learning curve, with many getting their balance after a short amount of time, making it a great option for those that simply want to explore their local waters.
When you're looking to buy a paddle board, there are several factors that you will want to consider before buying. Below we are going to go over some common aspects of paddle boards and the differences between them to help you make an informed choice about which board you want to buy. This will help ensure that your first, or your next paddle board experience, is a pleasant one.
What Materials are Paddleboards Made of?
Paddle boards these days are typically made out of glass-reinforced plastic, expanded polystyrene, polyurethane and epoxy resins. However, some companies do still produce hollow wood board constructions. High performance or race paddle boards are typically made from carbon fiber or fibreglass, as they are much lighter materials than most of the materials used for non-racing paddle boards. The material that makes up your paddle board will essentially be a deciding factor in your paddle boarding experience. Materials also contribute to the life span of your paddle board, and if it is made with quality, well-constructed materials, it will stand up better to constant use and everyday wear and tear.
Different Paddle Board Lengths and Widths and Why They are Important
Paddle boards come in a variety of lengths ranging from as short as  8 feet all the way up to a whopping 20 feet!   The length you will need for your paddle board relies mostly on what you intend to use it for, as well as your skill level when it comes to paddle boarding. The reason that your skill level comes into play is that the length and width of your paddle board will essentially decide how easy it is to balance on.
If you are new to paddle boarding chances are you haven't yet developed and fine-tuned your balance with regards to standing on a floating board while the water moves you around. Many people underestimate how difficult this can be. Generally speaking, wider boards are much easier to balance on than thinner ones because they are far more stable since they have a wider contact base with the water. Conveniently, wider boards are easier to do paddle board yoga on as well, which is just rad.
Hull Type
The type of hull your paddle board has will affect it's maneuverability overall. There are two types of hulls, planing hulls and displacement hulls. Planing hulls are designed to just sit on top of the water and glide across the surface much like a surfboard, whereas the displacement hulls are more boat-like in nature and are designed to slice through the water and  'displace it.'  Generally, a board with a planing hull is regarded as being better for the beginner paddle boarder because they are a bit more stable and don't have much resistance to them while you're out on the water.
Weight
So many people underestimate the importance of weight and how it relates to your paddle boarding experience. Think of it this way, you have to carry the paddle board, and you have to propel it through the water with your own weight on it, so you want your paddle boards to be as light as possible, right? Think again.
While having a light paddle board is really nice when you're on land and having to carry it, when you get into the water, you may want something with a little bit of oomph to keep you from landing in the very waters you are trying to glide across. Lighter boards are thrown around a bit easier by the water, but if your board is too heavy, it's going to be a pain to paddle and keep control of.  So, the right weight for you is largely going to depend on how good your balance and how tough you want to make it on yourself.
If you're looking to use it for more of a sport and exercise function, you'll want to opt for a lighter board.  However, if you plan on taking leisurely strolls out on the water and want a board more for the relaxation and fun aspects, a heavier board is great.
Volume and Weight Capacity
The volume – or buoyancy – of your paddle board is kind of a big deal if you want to stay on top of the water, rather than in it. Same goes for weight capacity. While most boards offer more than enough float for whatever sized boat you may be boasting, it's important to make absolutely sure that your potential purchase will carry you through. Here is a formula to help you calculate what volume you should consider for your paddle board based on your body weight:
Hard paddle board volume:
Multiply your body weight by 1 then by 1.2 (Example: 155 lbs. x 1 = 155L x 1.2 = 186L)
Inflatable paddle board volume:
Multiply your body weight by 1 then by 1.6 (Example: 155 lbs. x 1 = 155L x 1.6 = 248L)
Fins and Why They are Important
Often times people forget just how important fins can be when it comes to paddle boarding. Fins are what keep your paddleboard on the straight and narrow, so to speak. The technical term for what fins are responsible for is called "tracking." In other words, fins keep your board on the right 'track' and keep the tail of your board from swinging around. This gives you far better control over your board.
There are many different types and styles of fins for paddle boards, with each one serving a slightly different purpose. For example, a Single Fin setup is usually adjustable so that you can slide the fin back and forth along the bottom of the board within a certain margin. Having the fin pushed back towards the back of the board will make it harder to turn. However, it will keep it tracking straight which makes paddling a breeze and works excellently for racing. Having the fin pushed towards the front of the board will make it easier to turn which makes the board much better for surfing and paddling in rapids because it gives you more control and faster response time from your board.
Then there's the tri-fin setup, which features a larger 'lead fin' and two smaller fins, or "side bites." This set up was originally designed for surfing. However, it works great for flat water tracking as well.
Although some people might think that all paddle boards can be used for essentially the same thing, some boards are considerably better for one activity over another which we will take a look at in the next section of this article. Now that we've looked at a little bit about what makes up a paddle board, let's dive right in and take a look at some of 2019's best paddleboards.
Stand Up Paddle Board Reviews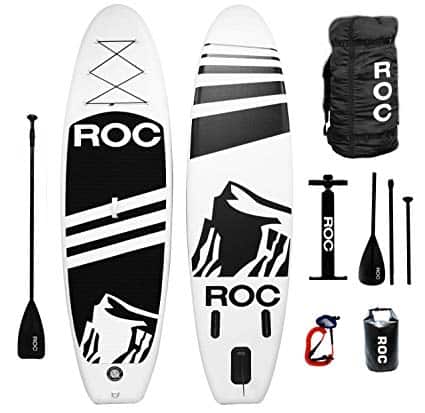 Includes: Board, pump, paddle, leash, backpack, waterproof cellphone and key bag.
This board is a really good all-around board for people who are just starting to dip their toes into the world of paddle boarding. While it's definitely not a specialty board by any means, it has all the main parts that a beginner would be looking for in a paddleboard and even comes with a couple of extras like a waterproof bag for your phone and a bag to carry your paddleboard in when it's not being used.
The triple fin design of this board allows it to be used as an affable multi-sport paddle board. The fact that you have a couple of options for your fin placement means your board will be more versatile. Having the main fin accompanied by the 'side bites' makes it a best option for a beginners multi-use paddleboard because the board will be nimble enough to be used for just about anything you can think of. Surfing? No problem! Flat water paddling? Racing? This board can take on all of it!
With a decent width of 32 inches and a versatile planing hull, this board allows those who are new to the sport a chance to find their footing while they glide across the surface of the water. The wider base offers more stability and offers fewer chances for a head-over-heels learning experience. Beginners and even intermediate paddleboarders are sure to get a lot of use out of this paddleboard for many seasons to come.
Pros
7-star rating
Decent size – 10.5 feet long, 32 inches wide and 6 inches thick
Triplefin design makes it versatile and easy to handle
Good weight limit of 275 lbs
Non-slip material
Free 1 year warranty
Comes with extras
Good for all skill levels
Cons
Defective valve requires extra care to inflate the board
No manual
White design gets dirty easily
Paddle doesn't float very well and has no color or reflective strip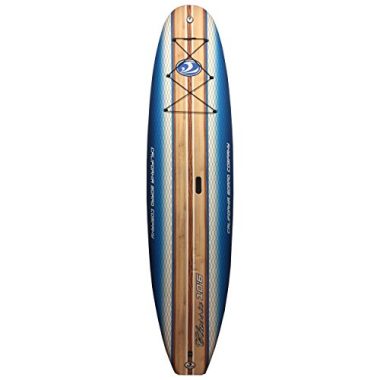 Includes: Board, tri fin system, adjustable paddle, surf leash, camera mount and roof rack. 
The CBC foam stand-up paddleboard makes a best starter board for any budding watersports enthusiast.  It is lightweight and doesn't require you to pump it up before you can use it, which is sweet if you're just driving down to the lake with a pick up, or if you live on the water.
This board makes a best beginner board for kids and teens because of its lightweight and super stable design. It has a good width for beginners to learn the tricks of the trade without making the board too difficult to move around in the water, which is something that often causes people to give up before they've even begun to learn how to paddleboard. It is relatively easy to maneuver, with a planing hull and triple fin set up, but still offers boarders a stable ride.
It appears to be a best all-around board, but, you have to be a bit more careful with this board than you would be with a board made out of PVC or fiberglass, as it is essentially made out of foam, so it is not as durable as other paddle boards out there.
Rocks and big impacts to the board can cause a substantial amount of damage. All around, if you are looking for a board with a practical design and a good weight limit that could hold 2-3 kids, this may be the board for you. It comes with everything that you need to get started.
Pros
High weight capacity – 300 lbs
Good size – 10'6" long, 30" wide and 5"thick
Tri fin set up for more versatility
Made from laminated wood stringers and waterproof resin
Stable design
Built-in Handle
Lightweight construction materials – 25 lbs
Cons
Foam design gets dinged up easily
Screws for the fins are short making the fins mount unreliable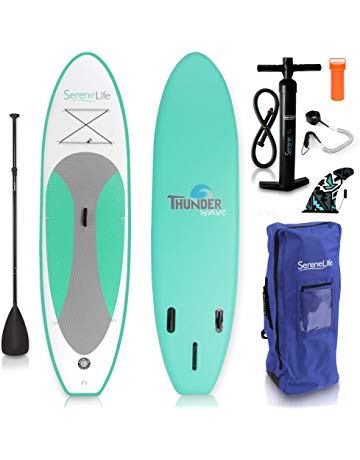 Includes: paddle, air pump, patch repair kit, ankle cuff and leash, storage bag.
This stand up inflatable paddleboard is amazing for beginners, however, it boasts features that would appeal to an intermediate paddleboarder as well. It comes with quite a few extras like a patch kit and carry bag. Super lightweight and ultra durable, this paddleboard is built to last through any falls or mishaps that may come your way – and hey, if you do wipe out it comes with a handy ankle cuff and board leash, so you won't have to swim and fish it out of the water.
This board from SereneLife does well in all types of water and activities due to its tri-fin design and super stable planing hull.  This board is about as stable as you can get at this width, and offers a great opportunity for those just starting out to find their footing. It's on the shorter end of the paddle board spectrum, which makes it relatively easy to maneuver for people who may not exactly know how to use a paddle board like a pro just yet, making it one of the best paddleboards for beginners and intermediate paddleboarders.
Coming with a few extras, like a paddle and carry bag, the SereneLife stand up paddle boards comes with everything you need to get out and have a fun day on the water. Now all you need is the sun in your eyes, the wind at your back and a good push of the paddle and you're well on your way to a great day.
Pros
7 Customer Rating
Good sized board – 10 feet long and 30 inches wide
A comfortable ride with a 6-inch thickness
Lightweight – 19.6 lbs
Tri fin design
Inflatable and easy to take with you on the go
Easy to fold up and store
Excellent Stability
Excellent Quality for the Price
Cons
The aluminum paddles are heavy and don't float
Bulky to carry around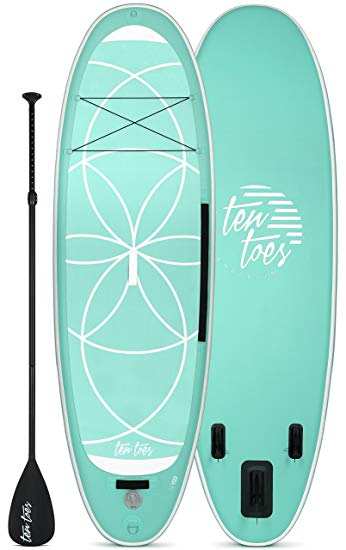 Includes:  inflatable stand up paddleboard, 3 piece adjustable & lightweight Paddle – made out of aluminum, 3 fins, manual pump, repair kit, 1-year warranty.
Inflatable paddle boards offer a good alternative to the traditional hard surface boards because they are much easier to transport and store away until your next boarding adventure. After all, not everybody has a vehicle. The convenience of an inflatable board means that you can just throw it in the carry bag, put it on your back and go to the beach at a moments notice. This is a nice advantage for those who are very much spur-of-the-moment people.
This extra wide board from Ten-Toes is sure to tickle the soul of any paddleboard yoga lover. It's 35 inches wide, so it offers users a lot of stability. Its size also means that it has a good amount of surface area for doing yoga.  The triple fin set up is ideal because it allows this board the versatility and tracking ability that is needed when doing yoga on a paddleboard.
This paddleboard is made out of military grade PVC, so it is about as indestructible of an inflatable paddleboard as you can get. Being an inflatable paddleboard, it does mean that it can be a bit difficult to pump up, but not impossible. Some people find it easier to buy an electric pump to help with this one because of its bigger size and the need for higher PSI.
It only seemed fair to give this board the title of "Best Paddleboard for Paddleboard Yoga" because it was specifically designed by yoga lovers, for yoga lovers.
Pros
Made out of military grade PVC, tough design
Excellent Finish and splendid look
Great size – 10 feet long and 35 inches wide
Great for Yoga
Easy to transport and store
Excellent Stability
Sturdy design
Tri fin design
Cons
Difficult to pump
Have to purchase electric pump in order to get an accurate PSI reading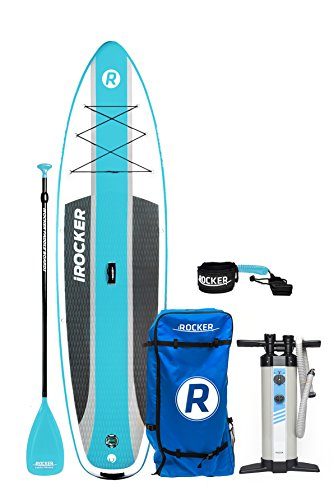 Includes: Board, Three fins, Paddle, Leash, Bag, Pump
We gave this paddleboard the title of "Best Overall Paddleboard" because it basically has everything a person could look for in a paddle board and more. It boasts great stability, which is a must-have.
The high-quality craftsmanship really shows that the creators of this board cares about their customers and have their best interests at heart. They even made the paddle out of fiberglass and put rubber edges on it so it wouldn't chip, how cool is that?  This paddleboard is ultra convenient to transport in a relatively light package.
At 27 lbs, it is a bit on the heavy side for an inflatable paddleboard though. Thankfully, the carry bag that it comes with is super comfortable and allows you to carry your board with you wherever you go with ease.
Even though this board is a bit on the long side at 11 feet long, the fins allow maneuverability and good tracking so your board goes where you want it to go, when you want it to go there.
While this may not be the best board for a beginner who is just learning the ropes of paddle boarding because of its length, it is an incredible board for those who are serious about the sport and are looking to have a good time out on the water no matter what the activity. The triple fin design allows boarders the freedom to follow their heart's desire with this board because it is easy to use for just about everything.
Pros
9 Star rating
Good size- 11 feet long, 32 inches wide, 6 inches thick
27lbs, so lighter than a non-inflatable board
Great stability
Weight limit of up to 435 lbs
Comfortable carry bag
High capacity hand pump
Super bright colours
Fiberglass blade with rubber edges to prevent chipping
Paddle can convert to a kayak paddle with a blade on each end
2 Year warranty
Cons
A bit on the heavy side
Not great for beginners because of the longer length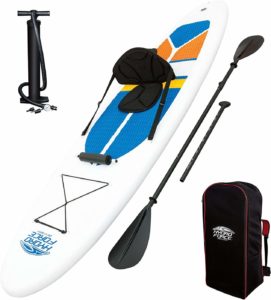 Includes: Inflatable board, pump, kayak seat, kayak oar and separate paddling handle, carrying bag
This SUP- kayak hybrid is a great option for those who want to be able to go from flat waters to rapids with ease. The attachable kayak seat and footrest, as well as the kayak paddle, will give you the experience of kayaking without having to go out and buy a separate watercraft. Having all the aspects of a paddle board and the extra convenience of being able to convert it into a kayak means that you can pretty much go anywhere and do anything with this bad boy.
This board has great stats, witting at 10 feet long and a decent weight limit which will accommodate children, teens and most full-sized adults without an issue. It's also wide enough to offer plenty of stability. With a durable and balanced design, this board will give you the best of both worlds as it makes for an excellent ride under almost any conditions. You can put this to the test on your first adventure into rapids and white waters.
Coming with all the accessories you'll need for a day on the lake, or the rapids, and made with a super durable, double PVC design, this hybrid SUP- Kayak has been specially designed with adventure in mind. Having a double PVC outer layer means that this board can take a good beating without leaking or popping, which is a must-have if you're going to be taking it for a ride in the white caps any time soon.
Pros
Made with durable TriTech material
Drop stitch material is durable as well as light and portable
Comes with attachable kayak seat to make it a SUP – kayak hybrid
Kayak paddle and separate single blade handle so you don't have to purchase the kayak paddle separately
Tri fin set up for good tracking and control
10 feet long and a weight limit of 250 lbs when inflated to 13 PSI
Sturdy and well made
Cons
Not a lot of lower back support when used as a kayak
Trouble fitting the board into the carry bag
Fins are not removable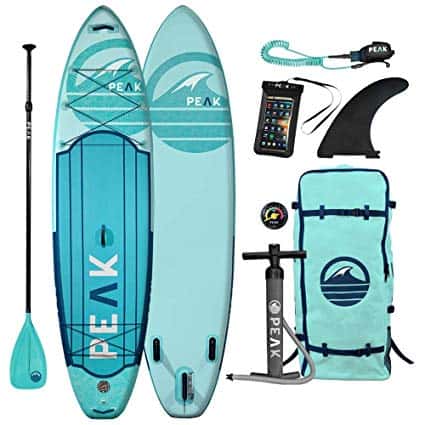 Includes: board, three fins, paddle, carry bag, pump with gauge, leash, waterproof phone bag
This hybrid nosed paddleboard is good for pretty well anything that you've got your heart and mind set on.  It is maneuverable and lightweight, so it works well for surfing, cruising and fishing among many other activities. The 11-foot length and 32-inch width make this an ideal board for those who already have a bit of paddle boarding experience under their belt, as the longer boards are notoriously a bit more difficult to steer than their shorter paddleboard relatives. That's not to say that a beginner wouldn't be able to use it, it would just take a little bit more time to learn how to move it around.
The Peak expedition hybrid is a versatile paddleboard that is crafted with high quality and durable materials such as high grade PVC and drop stitch technology, so you won't have to worry as much about damaging your board if you find yourself venturing into less than ideal conditions. This double layer fused design gives your board rigidity as well as protection against tears and punctures.
On top of being a well made board when it comes to craftsmanship, this board also has two carry handles and front and rear bungee systems. With a weight limit of 350 pounds, you can be sure that you, and maybe even a friend can enjoy this paddleboard for years to come.  If anything were to go wrong with your board within a year of purchase, you will be covered because it comes with a 1-year warranty that covers any craftsmanship errors.
Pros
8 Star rating
Hybrid nose
Military grade PVC materials
Good size – 11 feet long, 32 inches long, 6 inches thick
350 lb weight capacity
Lightweight – Board weighs 19.5 lbs
Durable materials and well-balanced design
Front and rear bungee system
Good for almost everything ( fishing, touring, surfing…etc)
Triplefin design for control and good tracking
Nose and tail carry handles
1-year warranty
Cons
Not good for beginners
May be hard for lighter boarders to control due to how light it is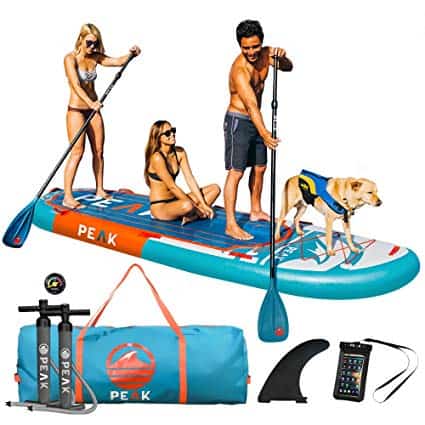 Includes: Board, 2 paddles, carry bag, 2 hand pumps, removable fin and tool, bonus waterproof phone case
The Peak Titan multi-person paddleboard has got you, and a couple of friends covered. This versatile paddleboard boasts a 500 lb weight limit so you and a friend or two can pile on and go for a nice day on the lake, literally. 
This board boasts unprecedented size in the paddleboard world, at 45 inches wide and 12 feet long, this thing could easily be mistaken for a creature of legend (think loch ness monster). But with its immense size, this board also has a super strong outer shell making it incredibly durable.
In fact, this board is so durable that you can even bring your dog out onto the water with you, without having to worry about deflation. Speaking of deflation, you won't have to worry about it happening while you're out on the water; this board is made of military grade PVC to ensure it can really take a hit.
A board this size definitely needs some serious power to make it able to turn with any degree of accuracy, that's why it comes with a unique five-fin design to make it as easy to move around as possible. With its length, width and weigh limit – if it is reached – you are going to need all the help you can get to keep this board moving in the right direction. You and your friends are sure to make many incredible memories with this paddleboard this season!
Pros
9 Star rating
12 feet long, 45 inches wide and 8 inches thick
500 lb weight capacity
High quality, military grade PVC
Durable
Bungee cord system
Balanced
Five fins for better tracking
Ability to hold multiple people
34 lbs
1-year warranty
Cons
Difficult for a single person to carry and maneuver
Heavy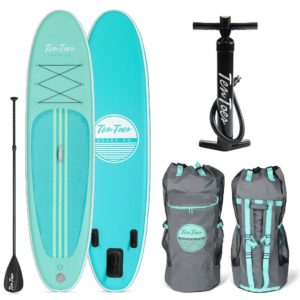 Includes: Board, three fins, paddle, pump, and carry sack
This 10-foot paddleboard from Ten-Toes is perfect for your everyday paddleboarder. It is designed to suit a number of different water activities and is suitable for beginners, intermediates and expert paddlers alike.
Sitting at 27 pounds, it is a bit on the heavy side for a board in its class, but it's still not nearly as heavy, or as bulky as a rigid paddleboard. The fact that it is inflatable means that it is a good option for people who may not have the means necessary to transport or store a large rigid paddleboard.
Made out of high quality PVC and a drop stitched interior, this board is super durable, as well as maneuverable. Drop stitching is an innovative technique used in the paddleboarding industry to allow your board to remain lightweight, and still be able to withstand heavy hits while maintaining a rigid structure. The heavier weight combined with the thinner design of this board blend nicely to offer a relatively balanced board that is good for everybody to enjoy.
While it is certainly no racing board by any means, this nimble paddleboard can take you pretty much anywhere you want to go in the water. Its design makes it both durable and easy to move around on, and the three removable fins ensure that you can customize it to your needs without a hitch. Having removable nylon fins means that you can make this board work as a single fin or a triple fin depending on your needs.
Overall, this board is great for the hobbyist, who wants to enjoy a day out on the water without getting too crazy.  As the name implies, it's perfect for the weekender paddle boarder who's looking to relax and have some fun.
Pros
Sleek design featuring a drop stitch base and PVC coating
Adjustable handle
Bungee cord system
Max weight of 275 lbs
10 feet long, 30 inches wide and 6 inches thick
Easy to roll up and carry with you
Good for basic paddle boarding and light surfing
Centered carry handle
3 Removable nylon fins
Durable materials and design
1-year warranty
Cons
Can be tricky for beginners to balance on
A bit heavy at around 27 lbs
A Closer Look at PaddleBoarding: How did it Begin?
While paddle boards may have only floated into public popularity in recent years, paddle boards actually have a long and interesting story when it comes to their history; they just weren't exactly called paddle boards. In fact, people have been standing to paddle their watercraft probably since the dawn of time. They are mentioned in Egyptian folklore when Queen Bithia discovered Moses in the reeds when paddling a small watercraft while standing. The people of Peru were also using watercraft made of bundled up reeds as far back as 3000B.C, and there are accounts of proto-paddle boarding in Israel in the 9th century.
Did you know that the concept of modern-day paddle boarding was actually born right on the beaches of Hawaii?  That's right! The land that already boasts dolphin tours and snorkelling tours, as well as one of the most beautiful sunrises on the planet ( they actually have dedicated sunrise tours as well!) also birthed one of today's top leisure watersports.
According to recent history, paddle boarding originally started after Hawaiian surfing enthusiasts began to expand their horizons and tweak an already incredible sport into something that everyone can enjoy. Sure, surfing is very alluring and looks super fun, but the reality is that you need a good deal of physical strength, balance and agility to be able to surf safely. The use of a paddleboard provides a great alternative to those who are not ready to master a surfboard, or simply for those who wish to have a laid back, surf-like experience.
What we know as modern day paddle boarding got it's start when Waikiki surf instructors back in the 40s used what they called "beach board surfing" to ensure they were already on their feet for incoming swells. By the 90s, SUP (stand up paddle boarding) was being taught as an alternative to surfing when there wasn't much of a swell.
With the evolution of the sport, came the evolution of the boards themselves. Surfboards and paddle boards are often confused with one another, and sometimes even used interchangeably. However, a new breed of board was born with the inclusion of paddle boarding into the water sports world.
A Brief Overview of Paddle boards and Paddle Boarding
Did you know that the concept of modern-day paddle boarding was actually born right on the beaches of Hawaii?  That's right! The land that already boasts dolphin tours and snorkeling tours, as well as one of the most beautiful sunrises on the planet (they actually have dedicated sunrise tours as well!) also birthed one of today's top leisure watersports.
Surfing instructors sought to offer people more than surfing could offer them, and the result is a nice calm and easygoing water sport that anyone and everyone can enjoy. Surfing is considered extreme, and for good reasons!
It is dangerous and requires more strength and stamina than the average joe has to offer. Many people think that paddle boarding can only be a slow and calm sport, but they couldn't be more wrong. In more recent years, paddleboard enthusiasts have been experimenting with the many different uses for their boards.
Of course, there is the usual paddle boarding that most people are now familiar with, which can be extremely fun and relaxing. But lately, it seems that some are wanting to get even more out of their paddle boarding experience, and it is not uncommon to see a paddle boarder racing, fishing, tackling rapids, and even doing yoga while they are out on the water!
Paddle boards are so versatile; they really are a jack of all trades in the watersports world. You can go from rapids to calm waters and back again with the right board.
 Paddle boards are most commonly referred to as a 'SUP,' which is the abbreviation for 'Stand Up Paddle board.' Although most people commonly stand on paddle boards in order to paddle them or somehow manage to do yoga on one and stay dry (how they do this remains a mystery), there is also the option to sit when paddle boarding.
This can be good for people with certain health limitations which may not allow them to stand for long periods of time. In fact, some boards even come with their own attachable and detachable seats, meaning they are able to become a kayak-SUP hybrid. This means that you can take on the rapids and the calm waters with ease, with the same device. Now that's taking it up a knot- ch!
Conclusion
Well there you have it, the best Paddle boards of 2019 all laid out for you to choose from. But that's the hard part now, isn't it? We've given you our advice for the uses for each of the paddle boards mentioned earlier, but that doesn't by any means imply that the boards are strictly limited to that use only.
All of these boards were carefully chosen because they share one thing in common. They can all give you an epic day out on the water. However, if we had to choose just one paddleboard out of the nine it would be the iROCKER All-Around Inflatable Stand Up Paddle Board 11′. This board has been given the title of "Best Overall Paddleboard" because it has so many wonderful features and it is an excellent board for all skill levels.
With so many paddle boards available these days, it can be almost impossible to choose just one. Hopefully, this list has helped you narrow down your options. Happy paddling!
Live Your Aloha Stand Up Paddle Board Review
Peak Expedition Stand Up Paddle Board
★★★★★
"
Great hybrid SUP that we use all the time! If you're looking for a solid paddle board, this is a great choice.
"