Chinatown in Honolulu, Oahu is a cultural treasure that has overcome numerous obstacles, including two devastating fires. Dating back 120 years, this historic 15-block district – located between Beretania Street and North Nimitz Highway to the north and south, and River Street and Bethel Street to the east and west – is reported to be the oldest "Chinatown" in the United States.
Many of the buildings date back as far as 1901. It is thought that Vineyard Boulevard got its name from a vineyard that was planted at the northern end of town by Spaniard, Don Francisco de Paula Marín.
While there is little substantiating evidence left, many believe that this area was used by ancient Hawai'ian fishermen. Laborers were imported from China to work on sugar plantations during the 19th century. After their contracts expired, many moved downtown and became merchants. The Chinese immigration to Hawai'i resulted in Chinatown becoming a crowded residential area with poor living conditions. It is said that a wave of bubonic plague, infecting 11 people, was introduced to the area in 1899 by an off loaded shipment of rice which had been carrying rats from the America Maru. The Board of Health responded to the situation by putting Chinatown under quarantine, incinerating garbage, renovating the sewer system, and burning the infected buildings. Initially, 41 fires were set, but winds picked up and they quickly spread to other buildings. In 17 days, the runaway fires scorched 38 acres of Honolulu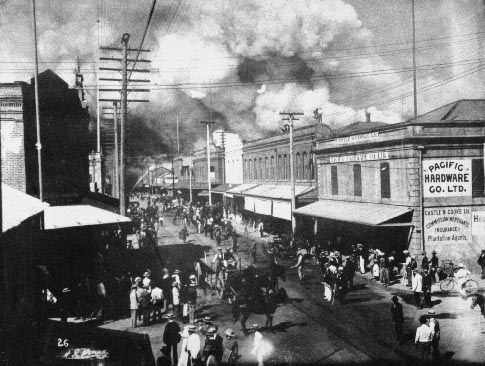 After this initial incident, the fire campaign continued for another 31 controlled burns. In order to maintain the quarantine, 7,000 homeless residents were housed in detention camps. At the conclusion of the quarantine, the plague took the lives of 40 people.In 1904, Tuck Young established the Oʻahu Market, a large open-air space that was divided into stalls and covered, at the corner of King and Kekaulike Street. Chinatown fell into disrepair after World War II and became a red-light district. Under the leadership of mayors Frank Fasi and Jeremy Harris, the area was targeted for revitalization. Chinatown was added to the National Register of Historic Places. Restrictions on lighting and signs were relaxed and special zoning rules were adopted to promote nightlife.
Today, Chinatown is a mysterious and exciting collection of specialty shops, galleries, and restaurants. It represents a unique and colorful piece of local history and is home to some of Oʻahu's most historic places, including incredible temples like the Izumo Taishakyo Mission Shrine and the Kuan Yin Temple.
By day you can explore the Oʻahu Market, Maunakea Marketplace, or visit one of the many shops, herbalists, lei makers, antique dealers, temples, and restaurants. Things to do in Chinatown are not limited to daytime only; urban Chinatown after dark is a nightlife hotspot featuring some of Hawai'i's hottest underground bars, clubs, and restaurants.
Useful Information:
Parking is available along the street where parking meters are present, or in several convenient municipal parking garages. First Friday, also known as the Chinatown Art Walk, takes place in Chinatown on the first Friday of every month. Many of the galleries open their doors with exhibits, light refreshments, free entertainment, and a chance for you to meet and interact with the local artists and artisans.