Snorkeling is a fantastic hobby that, unlike scuba diving, is easy and accessible for almost everyone. No matter your location, tropical, coastal, or even in colder waters, snorkeling offers you a unique snapshot into the world beneath the waterline, allowing you to explore the marvels of aquatic life, with no glass tank coming between you and the action.
However, a poor quality, or unsuitable snorkel mask, or low-quality snorkeling equipment, for example, can completely ruin a potentially incredible experience. No one wants the underwater world obscured by constant fogging, or worse, leaking. Poorly made snorkel gear can also potentially offer a safety hazard, leaving you coughing up half an oceans worth of seawater during your adventure.
With all this in mind, in this article we'll be taking a look at ten of the best snorkeling gear sets on the market, pitting the best of the best against one another, and highlighting the most suitable options for you.
Best Snorkel Gear Reviews
We've trawled the internet to give you everything you need to decide on the best mask and snorkel gear currently on the market, and below we'll be giving you our two cents on the pros the cons and suitability of 10 of the top sellers. For easy comparability, all of the snorkel sets put under scrutiny here come with a mask, snorkel, fins, and all bar one have a travel bag.
Best for Freediving
Includes: Palau Short Snorkeling Fins, Silicone Two Window Mask, 100% Dry Snorkel, Carry Mesh Bag
Coming in as our top recommendation for freediving, the Cressi 'Palau' snorkeling set is quite the fan favorite, with a strong band of supporters leading to an impressive 4.3-star rating on Amazon. Offering hypoallergenic silicon and a mask which claims to adapt to a variety of face shapes for a comfortable fit, the Cressi set definitely offers a lot of bang for your buck. While some expressed issues with the goggles and the full foot fins, (more on that later),  what really sold people on this set in regards to freediving was the phenomenal performance offered by this snorkel compared to other snorkels.
Customers found they could dive in excess of 10ft if needed, with the snorkels waterproof valve preventing any issues perfectly. In choppier water, the splash proof cover also showed itself to be effective with customers finding not even the smallest amount of water entered the apparatus. Finally, the snorkel's 'bite' was deemed very comfortable in the mouth and did not lead to any jaw ache afterwards.
On the flipside, customers were frustrated with the fins, which did not feel secure to the feet, particularly noticeable when in the driving position, becoming loose when the foot was flexed. For this reason, if you love the high-quality snorkel, and affordable price of this set, it may be worth investing in alternative fins, which better suit your needs. Customers did also express minor issues with the mask but overall found these details didn't spoil their diving experience.
Overall though, the Cressi Snorkel Set is a fan favorite due to its affordable price, the design of the snorkel, how comfortable it is, and how easily it keeps out water while snorkeling.
Comes in 6 colors
Available in women and men's sizes
Anti-splash snorkel
A valve that seals snorkel for diving
Skirt Edge that Adapts to different face shapes
Made with hypoallergenic silicone
Panoramic-view goggles
Fins are a narrow fit
Mesh bag
Quite Bulky
Fins not the best for diving
Rated Best for Filmmakers
Includes: Dual composite vented blades, Silicone Four Window Mask, Submersible dry top snorkel, Gear Bag
This fantastic set of snorkeling gear tops our list for those looking to film awesome snorkeling moments either for memories or to share on social media, as it comes with a sturdy GoPro Mount, allowing you to film hands, and worry-free. Impressively lightweight at 3-4lbs, this snorkel gear is also great for those flying to a holiday destination, as it will not comprise a large amount of baggage weight. As with the first entry on our list, this set is also comprised of hypoallergenic silicone.
Coming with a high-quality silicone skirt that is medical grade, this dry mask offers a tight seal. Along with the skirt and fins, you also get a 4-window mask design that is built with panoramic lens technology so you can enjoy a great field of vision (180-degree).
The two factors of this set which  appealed most to buyers were the snorkel, which performed exactly as stated, and the gear bag . Unlike many of the other snorkels on this list, the U.S Divers Lux kit comes with a high-quality nylon gear bag, allowing not only the storage of the kit itself, but also space for phones, de-fogging spray, sunscreen, and any other accessories you may require.
One interesting thing to note though, is that this snorkel gear has heavily divided buyers, with most either loving it or hating it. The biggest issue almost all consumers found, was that the masks' nose area leaked quite excessively in some cases. Some found this didn't bother them much, and others found using petroleum jelly made a difference, but for a fair few this made the mask unusable.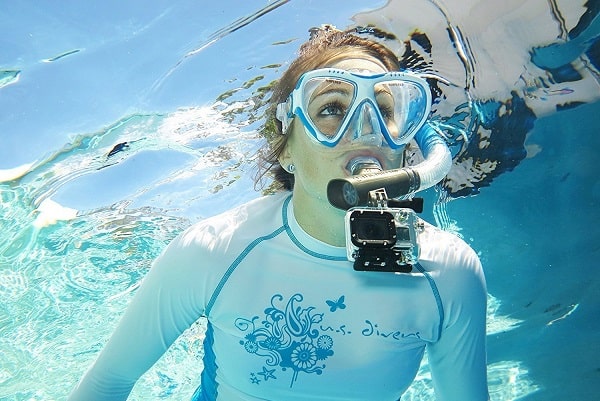 Overall, this is solid well-rounded snorkeling equipment for those looking to capture the moment while snorkeling with a GoPro. With sizes available up to a 13, and a sporty 'bond-like' design available in gunmetal grey, this snorkel set by U.S. Divers offers both style and effectiveness.
Plus, with a sturdy bag that can easily be used as a rucksack, a GoPro mount for those who love their gadgets, as well as being suitable for free driving, this snorkel set allows for maximum exploration. So, if you're not worried about a little water getting into your mask, this is an excellent choice among other similar snorkels.
Integrated GoPro camera mount
Durable nylon gear bag
Hypoallergenic Silicon
Vented Fins
Lightweight (3-4lbs)
Leaking around the masks nose area
Comfort and durability of Fins
Slightly more expensive compared to others on the market
Best Alternative Design
Includes: Full Face Mask With Snorkel, Diving / Snorkeling Fins
Looking like something from a sci-fi movie, this Cozia snorkel gear offers a full face snorkel mask, which really sets it apart from the others on this list. With a separate section for breathing and no mouth apparatus required, the Cozia mask is able to offer a comfortable diving experience. The full face mask also offers a 180-degree field of uninterrupted vision and is resistant to the 'fish eye' effect, which is indicative of more traditional goggles. With all this in mind, it is no surprise that this product has a more than impressive 4.8-star rating.
Unlike other snorkeling sets on this review list, this set doesn't come with any kind of carrying bag, which differs from sets of a similar price range. Prospective buyers should also be mindful that, as far as I can see, no assertions have been made as to whether or not the silicone used is hypoallergenic, and, as the silicone goes around the entire face mask, those with extreme sensitivities may need to be wary.
The Cozia mask is also solely designed for surface snorkeling and is not advised for freediving. However, some customers have commented that they have found no issue when trying it, thanks to the help of quality full foot fins, other than a little pressure around the mask.
Overall, if you're in the market for a full-face mask, you can't go wrong with the Cozia. It's very comfortable, stays dry and doesn't leak, and offers a 180-degree field of vision when snorkeling, which will allow you to really take in the experience. It's no surprise this set gets such a high rating by its users.
Immersive full face mask with silicone padding for comfort
Snorkel tube is pre-attached to mask
A high-quality screen which cancels out 'fish eye' effect
Separate airflow section so no chance of fogging
Adjustable GoPro Mount
Drain Valve
No bag
Only one size of fin
Silicone isn't declared hypoallergenic
Not recommended for free driving
Best Kids Snorkel Set

Includes: Dry top snorkel, single lens mask, mesh bag, trek fin
Coming in as one of the cheaper offerings on our list, the Seavenger snorkeling kit is designed for kids and adults alike, and is perfect for families looking to one-stop shop for the holidays, at a great price. It has a respectable 3.7 stars on Amazon, with close to 1400 reviews. This kids snorkel gear features a snorkel with a 'dry top' shield to prevent water from entering the dry snorkel. This kids snorkel mask is made of silicone, and the products come with a quick dry mesh bag, making them easy to pack for travel. Finally, this kit comes in a fun range of colors, ideal for children, and differentiating sets between siblings.
On the whole, customers really appreciate the effectiveness of the product as an affordable kids snorkel, especially when considering the price. Of particular note was the efficiency of the snorkel, which was highly water resistant.
The one drawback we noticed is that this product potentially has some issues with quality control and the adjustable straps, as where some customers found they could use their product time and time again, others found the gear deteriorated very quickly. A more worrying issue, which thankfully seems to be a rare defect, is the shattering of the tempered glass lens of the goggles, so if you're a parent purchasing this set, check the mask over thoroughly, just in case you spy any imperfections in the glass lens.
Overall though, if you're looking for a dry snorkel set that you only plan on using a couple times for things like vacations with the family, this is a great budget option to pick up. It does a solid job of keeping water out, is hypoallergenic, and comes in a range of colors to keep the kids happy.
Single tempered glass lens mask for a panoramic view
Large color range
Hypoallergenic silicone
Variety of sizes for kids and adults
Quality control issues
Small Fins
Best for Minimal Effort

Includes: Semi-Dry top snorkel, Silicone Mask, mesh bag, open-heel fins
This snorkel set from Phantom Aquatics is ideal for those who've caught the hobby bug and is ready to upgrade their snorkels from their beginner set. Lightweight at only 2lbs, it is perfect for those who just want to get out there and go, with no frills, just good design. The shorter open heel fins also allow for more powerful kicks, meaning you can venture further faster, with minimal exertion.
The open heel fins are also very easy to get on and off, as they have an open heel design with adjustable straps.
When it comes to the mask, it has a dual lens that is both comfortable and offers a great seal due to the silicone skirt that it's made out of.
As for downsides, we couldn't find many drawbacks with this set, other than a lack of instructions. There is also no explanatory literature with this product, leaving many customers to find the fins uncomfortable, only to realize that they hadn't yet removed the protective casing, another reason why we've deemed this set perfect for those who have snorkeled before. Also, it is important to note that this snorkel is classed as only having a 'semi-dry' top, so, therefore, is not suitable for freediving.
Overall, the Phantom is great snorkeling gear for those that want to enjoy their snorkeling without having to exert a lot of unnecessary effort. So, if you just want a snorkel set with great fin function that you can thrown on without fuss and that has a great seal, you can't go wrong with this set.
Great for adults
Lightweight (less than 2lbs)
Fins designed for powerful motion and speed
Adjustable fin straps
Compact: Substance over style
Silicone isn't specified as hypoallergenic
No explanatory literature
Not suitable for freediving
Best Budget Set
Includes: 2-Window standard material mask, splash top snorkel tube, full foot pocket fins, travel-ready mesh bag
The U.S Divers Cozumel Snorkeling set has everything you need for quality snorkeling and is our pick for top affordability. With prices starting at as little as $33.58 it's perfect for divers who are solely looking to use it for a holiday or looking to test the waters when it comes to snorkeling. Compact, and relatively lightweight at 4lbs, this set of mask and snorkel comes with a mesh bag for easy transport. The set also comes available in multiple colors and is available in a variety of sizes.
Built with a 2-pane glass design, you're going to get solid visibility with this mask, but you will want to use an anti-fog solution before snorkeling in order to keep things crystal clear while you're out on the water.
When it comes to the fins, you'll either love 'em or hate 'em as they come with a closed-foot fin design, which means there's
no adjustable strap. So, it's imperative that you order the right size. However, if you're able to get the right fit, you'll notice that they are pretty comfortable and give you a good thrust when moving through the water.
As with the previous entry, the silicone used in this product isn't specified as hypoallergenic. Other common issues center mainly around durability, with aspects like the strap of the mask notwithstanding much wear and tear. Customers also found that this product, while perfect for holidaymakers and gentle trips, was not suited to more intense usage.
Overall, this is great snorkeling gear at a great price if you're going on vacation or just looking to use a couple times a year. While not the most durable snorkel set on the list, many users were happy with it because it didn't break the bank and did what they needed it to do when they were out on the water.
Affordable
Full foot pocket fins
Designed for travel
Silicone isn't specified as hypoallergenic
Durability
Only really suitable for light use
No fin straps
Includes: Adjustable Open Heel Fins, Silicone One Window Mask, Dry Snorkel, Nylon Mesh Bag
As it is affordable, durable, and with no frills or gimmicks, we've deemed the Promate snorkeling set as the best for entry-level snorkelers. Unlike the previous entry on this list which while great, is mainly suitable for use in the short term, this snorkeling set is far more durable, making it perfect for those who want to explore snorkeling as a long term hobby.
With a one window mask, allowing for a panoramic view, as well as a dry snorkel, this snorkel set really ticks all the basics for easy use and a full experience. Coming with a snorkel splash guard, you won't have to worry about any water getting in the tube. It also has a purge valve so that water can be cleared when needed.
As dry snorkels are concerned, with this snorkeling gear, the cons were few and far between. The only downside we saw was that some customers found it quite bulky to fit into their suitcases when traveling, so that may be an issue if you're aiming to use it on vacation.
The main drawback people commented upon most with this product were the fins. As they are completely made of plastic, people found that they were more rigid in the water, leaving them becoming uncomfortable to use pretty quickly.
Overall, this snorkeling set is perfect for anybody looking to get their feet wet with snorkeling for the first time. With how durable and reliable this set is, it's the perfect choice for those that are just starting out.
Affordable
Comes in a variety of colors
Dry top snorkel tube
Silicone isn't specified as hypoallergenic
Bulky
Includes: Admiral LX Mask, Island Dry LX Snorkel, Trek snorkeling fins, and storage bag
Designed with women's features in mind, this is a snorkeling gear which divides public opinion. For many, this is a love at first use product, with a large proportion of 4 or 5-star ratings; however, for a smaller group, this is the complete reverse.
Unlike some of the entries on this list, this snorkel is 100% dry, meaning it can be used when free diving. It also comes in a variety of bright colors, ideal for not only standing out from the crowd, but water safety also.
When it comes to the mask, it has a low-profile single lens, and designed with feminine features in mind. Along the back, you'll be able to get a custom fit due to the pinch and pull pro-glide buckles that make it not only comfortable, but also easy to adjust.
The fins offer a soft pocket, making them quite comfortable, and they are made with a dual-composite blade that will give you a good amount of power and snap when gliding through the water.
Another great perk of this snorkeling gear is that it comes with a two-year warranty, allowing you to snorkel with complete peace of mind. It's one of the best snorkeling sets for women available.
The main issue many users found was that the mask strap between the snorkel tube and mask was incredibly weak, and would break very quickly. However, as this is most likely covered by the warranty, we don't deem this as much of a con. This set does come with trek fins, however, which are usually smaller and shorter and are meant for a slower pace, not a speed snorkel. Many customers didn't enjoy this, found they had to exert extra force to propel themselves forward.
Overall, this snorkeling gear is specifically designed with women in mind. That means it should offer a better, more comfortable fit, especially when it comes to the mask. Plus, with a 2-year warranty, what's not to like?
Designed for Women
Comes in a variety of colors
Soft material
Dry top snorkel
Two-year warranty
Live recording and narrated tour
Suited to freediving
Best Snorkeling: A Closer Look
Many of you might think that snorkeling or scuba is a fairly recent advent in the sports and leisure sector, maybe around 70 years old at a push. In fact, the origins of snorkeling and scuba can be traced back to as long ago as 3000b.c, where reeds were hollowed out, to allow early Mediterranean huntsman to catch fish and other marine life more effectively.
The typical snorkeling gear or kids snorkel set we know and love today, however, began its origins in the early portion of the 20th century when flippers and swimming goggles were redesigned and reinvented. Nowadays, snorkeling is a sport and hobby enjoyed by millions worldwide, with many of us experiencing our first taste of aquatic adventure on holiday.
The popularity of snorkeling gear and kids snorkeling sets in recent years has boomed, buoyed by the continued rise of health, fitness, marine conservation, and, after the dip from recessions faced in many countries, the return of the popularity of the package holiday. People seem always to be looking for their next adventure or hobby, and with the accessibility offered by snorkeling compared to other water sports, such as scuba diving, many more individuals have been turning to snorkeling for their next adventure fix.
In fact, in 2017, it was estimated that the snorkeling industry now constituted 11.8% of the worlds watersports equipment industry, with the figure only set to rise in consequent years. Many marketing estimations agencies predict a further rise of around 1.3% year on year up until 2020. So, it can be surmised, and in its own way, snorkeling is the watersports industries' current hot trend.
Best Snorkel Gear Buying Guide
Once deciding you want to get in on the growing craze, how should you go about buying your equipment, which features should you be looking out for in the best snorkeling gear, and what are some red flag signs for bad products? In this section, we'll briefly be looking at the general rules of thumb for purchasing your first pieces of snorkeling gear.
In general, the basic gear you'll need is a mask, a snorkel, and some fins. Pretty easy right? However, there are some considerations you'll need to make before you dive straight in, pun very much intended.
Picking a Mask
Without the correct mask, your snorkeling experience will more than likely be an unpleasant one. The main purpose of snorkeling is exploring the ocean, getting closer to its marine life and seeing all the wonders of the deep blue sea. However, if your mask constantly fogs, or is unable to stay dry, instead, you'll be left with a frustrating need to start and stop to clear or clean out the mask. Therefore considerations such as fit need to be made, as I'll explain further below.
1) Snorkel Mask Volume
When picking your mask, you want to make sure that the volume of air inside the mask isn't too large. This will help achieve ideal suction, creating a tight seal around the lens, as well as helping to reduce fogging, to help provide an uninhibited view.
2) See it in Person
If possible, try to see your intended mask in person or purchase from a website or shop which offers easy returns. This will allow you to really feel the quality of the material, as well as a chance to check the strength of construction, helping to ensure you have a mask which lasts.
3) Ensure the Right Fit Set
This is probably the most important factor behind diving gear, snorkeling masks, snorkels for adults and kids snorkeling sets. Masks can be made for different genders, ages, and some even with a specific face shape in mind. Therefore, knowing when the fit is right is important (especially to reduce jaw fatigue). The most simple way to assess the fit of a snorkel mask is to place the mask to your face, without using the strap to secure it. Breath in gently through your nose then let go of your hold on the mask. If the mask is able to stick to your face, then it is a good indicator that the mask would be a good fit for you. If it falls off, then it's best to move onto your next option.
If the chosen mask passes the first suction test, then next, put the mask on, this time using the strap. Instead of inhaling, this time exhale. If you find that without much effort on your part you are able to push the air out of the mask via the mask skirt, then you've got a potential winner on your hands. If the mask isn't able to easily free itself of air, then you'll likely end up with a snorkeling experience involving fogging, and difficult water drainage.
Finally, try wearing the mask for a few minutes, this may seem a bit strange to others walking around the store, but it'll help you know if the mask is truly comfortable for the unique contours of your face. If you find it starts to hurt on your nose or forehead for example, then the fit is not quite right for your face shape, and you could end up with red marks, or even tension headaches post snorkeling adventure.
Picking the Fins
In general, choosing the right fins is far more simple than picking the best snorkeling masks, diving gear, snorkels sets with the best tempered glass, or kids gear. You're mainly looking at masks that stand out in terms of comfort, fit, and price.
In terms of the fin itself, ideally you want a fair amount of flex, but you also want a relative degree of rigidity around the foot, to allow for easier motion and less strain on your foot or ankle joints. If you intend to lurk on the surface, then you'll only need shorter fins, but if you intend to be more adventurous and try freediving, for example, then longer fins will give you better propulsion.
Picking the Snorkel
Finally, it's time to choose the main event, the best snorkeling masks. In general, like choosing the fins, picking a snorkel can be a relatively easy process, with just a few simple things to watch out for. If this is your first time entering snorkeling as a hobby, then you want to keep things simple, avoid gimmicks, and choose quality over design, your aims really should be a snorkel that is both easy to use, with a comfortable strap, open or closed-heel fins, as well as being durable during a dive session.
You may think that the longer the snorkel, the better, in terms of keeping water out while you dive. However, the best snorkels are those of medium length, as they are easier to use and breath through, whilst still being far enough away from the water. If possible opt for a snorkel with a one-way filter, to prevent any water from entering the snorkel, alternatively you may also find a splash guard or a purge valve helpful.
Finally, though it may sound obvious, make sure that your chosen snorkel is able to attach to your mask of choice with an adjustable strap, otherwise, you risk accidentally dropping your snorkel in the water, and if it is no longer retrievable, end up having to pay for a new one.
Exposure Protection
Whilst technically not essential to the basic snorkeling kit, the correct exposure protection shouldn't be overlooked. In warm or tropical waters standard swim gear is the most suitable, but it is important not to forget the factor 50 sunscreen. Snorkeling exposes one area of your skin (your back) to the sun for extended periods of time, making forgetting sunscreen result in painful burns and awkward tan lines! In cooler water, a wetsuit or neoprene top may be advisable.
Reviews
With all of the sections of this buying guide, reading reviews (like this one) is essential. A product, whether it's from Cressi or Promate, may look great on paper, (as the marketing team behind it intend), but taking just a few moments to read the product reviews left by customers can reveal a completely different story.
Whilst, of course, reviews can be very subjective, and you may find yourself in love with a product others hate, if a product has an overwhelming slew of below three-star reviews, then it might be better trying to find a four or five-star alternative.
FAQ
Our top ten review list may have brought up some more questions about snorkel gear, so, to help out further, we've put together a short FAQ which should help you understand snorkel gear just a little bit further.
How do I look after my equipment?
There are some very easy methods you can employ to ensure your snorkel sets stays in the very best condition. Silicone doesn't do very well in direct sunlight, so it is best to avoid leaving your gear out on a window ledge or countertop.
You should also always wash your gear off after use, as salt water is known to degrade equipment faster. You can also maintain the quality of your masks by cleaning the lens with toothpaste or soap. This will help reduce fogging, as it will remove the grease which can cause it.
What is the best weather to snorkel in?
If your dive gear, masks and snorkel sets are designed for warmer waters, then it's best to stick to snorkeling on sunny days. Choppy waters are best avoided where possible, not only for safety but also for your snorkeling experience. Choppy water will stir up the sea bed, which will obscure your vision almost entirely, making your trip a waste of time.
What is the difference between dry and semi-dry snorkels?
Semi-dry or dry snorkels feature a splash guard at the top and sometimes a purge valve to rid it of water. This is one of the most popular snorkel types, as when surface swimming it is enough to prevent water from clogging the snorkel. However, this type of snorkel is not designed to be fully submerged.
A dry snorkel features a valve at the top, which, when the dry snorkel is fully submerged, prevents any water from entering. This type of snorkel is ideal for those looking to incorporate free driving into the snorkeling experience.
How long should you snorkel for?
While technically there are no limits as to how long your snorkeling adventure is, it is advised you take breaks every 30 minutes. Snorkeling newbies should probably take breaks more frequently, to stop excessive fatigue.
Do you need to guide on how to swim to snorkel?
With the right precautions, such as a life vest, as well as sticking to surface swimming, you don't need to know how to swim to successfully snorkel. However, you should have relative familiarity and confidence when in the water, and should always remain close to the shoreline.
How long will my snorkeling gear get last?
This is a highly relative question, as, as with most things, it very much depends upon the quality of the masks you purchased as well as how well you have cared for and maintained it. In ideal circumstances, snorkeling gear, its tempered glass, and fins can last many years. The mask is usually the first part to deteriorate, as the silicon may warp or become rigid over time leading to leaks. If treated too harshly, straps are also a part of your kit that is prone to failure. Luckily, many brands do often replacement parts for masks and fins.
Final Thoughts
Snorkeling is one of watersports fastest growing hobbies for kids and adults, with many tourists discovering a passion for the activity while on holiday, and keen to continue snorkeling when they return home. With average prices for a starter set between $35 and $65, snorkeling constitutes a relatively cheap hobby, that is suitable for all ages and swimming abilities.
Consumers have also never been more spoiled for choice when it comes to choosing the gear with the best features, with gear snorkeling options available for every niche and need. While sometimes snorkeling sets can prove to be hit or miss, by following our handy purchasing guide, you're sure to find the right kit for you or your loved one.
So, with that in mind, if you're a water baby, or just keen to unlock the secrets of the ocean, snorkeling could very quickly become your next new obsession, as it has become for thousands and thousands of people each year!
Liv Your Aloha Snorkel Gear Review
Cressi Palau Mask Fin Snorkel Set
★★★★★
"

Was looking for some good snorkeling gear for our vacation, so this came at just the right time. Thank you for introducing me to so many amazing snorkels!
"