Live your life to the fullest this summer while rocking a bronze skin complexion matching that of a Greek God or Goddess.
To help achieve this heavenly look, we have conducted thorough research to ensure that you get the best possible results without a hassle. An important point that is often overlooked when it comes to tanning is tanning oil.
Quick View: The Best Tanning Oils 
Even though the skin manages to attract UV rays on sunny days to create a tan, a tanning oil intensifies the process and allows you to get the exact results you're looking for without spending too much time in the sun.
Best Tanning Oil – Comparison Table
IMAGE
TANNING OIL
FEATURES
 

Fragrance:

Classic Coconut Fragrance

Great for:

Dark Tan

Price:

$

Check Price

Fragrance:

Vanilla, Orange, and Coconut

Great for:

Golden Glow

Price:

$

Check Price

Fragrance:

No

Great For:

Dark Tan

Price:

$$

Check Price

Fragrance:

Seed Oil and Coconut Oil

Known for:

Dry Oil Formula

Price:

$$

Check Price

Made From:

Secret Hawaiian Formula

Great For:

Sensitive and Fair Skin

Price:

$

Check Price

Made From: Coconut Oil and Seed Oil
Great For: Dark Tan
Price:

$

Check Price

Combination of:

Banana and Coconut Oil

Great For:

Dark and Silky skin

Price:

$$

Check Price

Filled with:

Exotic Natural Oils

Great For: Sensitive Skin
Price:

$

Check Price

Made With:

Hemp Seed Oil

Great For: Hydration
Price:

$$

Check Price
In addition to a good tan, tanning oil brings several other benefits along with its use. Read on to find the benefits of tanning oil, how to pick a tanning oil, and some of the best tanning oils in the market that will be worth the investment.
Benefits of Tanning Oil
Keeps Skin Moisturized- Extended duration under the sun tends to dry out and dehydrate your skin. The best tanning oils usually contain moisturizing agents such as glycerine, sodium isethionate, panthenol and sodium PCA that keep your skin moisturized while tanning.
Speeds Up Tanning- Aside from keeping your skin moisturized and protected from dehydration, the oil also speeds up the tanning process by intensifying the UV rays from the sun. You don't need to spend several hours under the sun to get the tan you're looking for while using the oil.
The sped up process of tanning minimizes the need to expose yourself under the sun for longer which eventually reduces the risk of sunburn and dehydration.
Protects Skin- Tanning oil contains several natural ingredients that protect the skin in various ways. To protect from aging, most oils contain Vitamin E. Other ingredients such as hemp, coconut oil, riboflavin, L-Tyrosine and several other botanical extracts improve the skin's health in the long run and while ensuring even skin tone.
Tanning Oil Reviews
Containing a blend of natural oils and a sweet coconut fragrance that gives you a sensation of being in a tropical island, this dark oil is suitable for people looking for a quick tan, moisturized skin, and a pleasant scent.
Filled with antioxidants such as Vitamin A, C, and E that speed up healing, neutralize free radicals, slow down the aging process respectively, this Hawaiian Tropic Dark Oil is one of the best options out there.
It is important to note however that the oil does not contain any sunscreen so you have to ensure that you carry one with you. For best results, apply the oil first, then followed by sunscreen. This way, your skin gets to absorb all the moisture provided by the while leaving it feeling soft and supple.
Another plus you get with this oil is that it does not contain oxybenzone and octinoxate which are known to cause hormonal disruptions that could have severe side effects on one's reproductive system.
It has a pleasant fragrance
It tans quickly
Deeply moisturizes your skin
Does not have SPF
Might be too greasy for some people
If you're looking for a tanning oil that can act as both a moisturizer and tanner without making your skin super greasy, you should definitely give this one a look!
Packed with powerful antioxidants from Tea Tree Oil and Aloe Vera, nourished and smooth skin as an extra effect of this oil is guaranteed.
To enhance skin radiance, and tanning process, the Australian Gold Bronzing Intensifier Dry Oil is loaded with bronzers such as Melanin, Caramel, Walnut Shell, and Carrot Oil which not only grants a natural looking glow but also adds to the intensity of the oil's pleasant fragrance that is attributed to a combination of Coconut, Orange and Vanilla scents.
Despite the remarkable tanning and moisturizing qualities this oil has, it is critical to put into mind that it does not contain SPF therefore, it is essential to carry a sunscreen with you to protect you from the harmful rays of the sun. Apply the oil before the sunscreen for best results.
In case you're going to be in and out of the water, you should keep reapplying a small amount of it whenever you get out of the water to maintain its effectiveness.
During application of the oil, ensure that you rub it in well so as to increase its effectiveness.
It has a long lasting pleasant scent
Contains several moisturizing agents
Effective results
The bottle spray top doesn't come with a cap to protect which may results to leakage. To avoid this, ensure the bottle is upright and not underneath anything heavy that might press on the spray top
Lacks SPF
If you're prone to allergic reactions from chemicals in tanning oil, Tropical Sands Dark Tanning Oil may be suitable for you. Made from 100% natural formula that is hypoallergenic, containing no harsh chemicals, fragrances, or emulsifiers.
A dark, rich tan is guaranteed whether you choose to use it indoors in tanning beds or outdoors. Its biodegradable and eco-friendly qualities make it a suitable oil for those looking to spend time in the water whether surfing, swimming or snorkeling.
Made from natural ingredients such as Sunflower Oil, Green Tea, Coconut Oil, Eucalyptus, Sweet Almond Oil, Lanolin, Vitamin E and Vitamin C, this oil not only provides a rich tan but also moisturizes and nourishes the skin without triggering any allergic reactions that would otherwise be caused by harsh chemicals available in other tanning oils.
Despite its amazing qualities, this tanning doesn't contain SPF therefore, it is important to layer it with a sunscreen to protect yourself from sunburns.
It is hypoallergenic
It is biodegradable and eco-friendly
Provides a nice, dark and rich tan
The oil is scentless so might not be suitable for those looking for a scented oil
Does not contain SPF
If you're planning to be spending time in and out of the water, looking for extra SPF to protect you from UVA and UVB rays as well as a rich deep tan, Banana Boat Mist Dry Oil is surely something to look into.
It comes in several Sun Protection Factor options such as SPF-4, SPF-8, SPF 15, and 25. It is crucial to select an SPF that would match with your skin tone. If you burn easily, you should consider using sunscreen in addition to this oil.
Its water-resistant quality lets it stay on for 80 minutes when in water. Reapplication should be done after every 80 minutes spent in the water. You can delay reapplication if you're only going for short quick dips in the water.
Coming in a spray bottle, this magical oil is quick drying and can be easily applied in any angle. Moreover, it doesn't stain the fabric of clothes which makes for stressless and ease of application.
The product is reef safe and doesn't contain harmful chemicals like oxybenzone and octinoxate making it both environmentally friendly and suitable for skin application.
It has a nice spray nozzle that is twisted to be locked which helps prevent leakage which has been observed in other spray tanning oil bottles
It quickly and easily absorbed into the skin
The oil is fast drying while still providing adequate moisture to the skin
Not suitable for people who are likely to have allergic reactions to chemicals
This browning lotion is suitable for people looking for a sun-kissed skin complexion quickly while maintaining their skin's moisture.
This lovely tanning accelerator is made in Maui, Hawaii with the best natural ingredients such as Light Mineral Oil, Kukui Nut Oil, Kona Coffee Plant extract, Antioxidants Vitamin E, C and A, Aloe and Potassium Iodide.
Suitable for all skin types and tones as well as sensitive skin. It doesn't contain SPF so it's important to use it with a sunscreen of range that suits your skin.
It has a distinctive and pleasant scent that is a combination of coffee beans and a hint of coconut.
Ensure that you quickly rinse your towel or clothes if they come into contact with this lotion because it has a tendency to stain.
The tanning process is fast
Pleasing scent
Most of the ingredients used are natural
Suitable for people looking to get a quick dark tanning done, this Banana Boat Dark Tanning Oil in an 8 ounce bottle comes with an SPF of 4.
If you have a tendency to burn easily, I'd recommend you use this oil with a sunscreen containing a much higher Sun Protection Factor. For best results, it should be applied 15 minutes before exposure to the sun and reapplied after towel dry.
In addition to its effective even-tone tan results, it's easy to use. It comes with a spray nozzle that is covered with a plastic cap that protects it from easily going off in the bag or luggage when other items press on top of the bottle.
Infused with coconut oil, cocoa seed butter, banana and carrot fruit extracts, a heavenly smell is always the cherry on top of the perfect tanning oil.
Effective tanning oil (quick results)
Has an SPF of 4
It has a sweet, lovely fragrance
Not suitable for people who burn easily unless they take extra precautions by applying a sunscreen with a higher Sun Protection Factor on it
If you're planning on spending your entire summer under the sun, at the beach, or if you have a family that is going to be joining you, this oil is to be considered given that it comes in a pack of 3  (each bottle is 8 ounces).
You get 2 options to choose from when it comes to this magical oil. You can either choose to get one that doesn't have an SPF or one that comes with an SPF of 8. Always ensure that you get the right amount for your skin to avoid burning and skin damage.
It is convenient to apply due to its spray nozzle that is easy to press on during application. If you want to apply it to your face, avoid spraying it directly onto your face as it might cause irritation if it makes contact with your eyes. Instead, spray a reasonable amount on your hand, and rub it onto your face. You should apply it 15 minutes before exposure to the sun.
Also suitable for people planning to spend their time in and out of water due to its water resistant quality. It can stay on for 80 minutes once exposed to water but should definitely be reapplied after 80 minutes.
Enjoy its lovely aroma which is a combination of coconut, carrot and banana while achieving the rich, dark and silky skin of your dreams and maintaining your skin's moisture due to the presence of Aloe, Vitamin A and E.
It is a value pack (A pack of 3)
Water resistant
It has a pleasant fragrance
You get effective results
People who are very pale and burn easily may need to use sunscreen after applying this product
This tropical fragranced tanning oil is suitable for people who are looking for something with a little bit of SPF in it as it comes with SPF 4 and a deep dark tan skin.
Available in packs of 1, 2, 6 and 12, it is also environmentally friendly. It is free from harmful chemicals and ingredients such as gluten, paraben, oxybenzone, and octinoxate which are known to cause serious hormonal disorders as well as cancer.
A deep luxurious tan can easily be obtained when using this oil. Simply rub it in 15 minutes before you go out into the sun. Its spray nozzle is of good quality and can be effortlessly used to spray at any angle.
Aside from the minimal sun protection as well as lovely tan you get while using this product, a silky smooth skin is a by product due to the rich mineral oils infused into it that boost and maintain skin moisture.
Contains SPF 4
Available in several packs
Environmentally friendly and gluten & paraben free
Results in a beautiful silky smooth tan skin
Bottle's Cap is a bit loose
If you're looking for the best tanning oil for indoor tanning, you can rest assured that the Caribbean Cool Tanning Oil is the one. It is also suitable for outdoor tanning as long as you make sure that you layer it with sunblock if you're one to easily burn because this one doesn't come with any SPF but trust me, the pros outweigh the cons by far.
It comes with a natural bronzer and a little bit of glitter that will leave you with a luxurious tan and subtle shimmer. In addition to the rich tan, the Jamaican Black Castor Oil works as an anti-inflammatory and also unclogs clogged pores while detoxifying and removing excess oil from your skin.
To ensure a deeply hydrated and softened skin, Argan Oil, Hemp Seed Oil, Coconut Milk and Vitamin E have been generously infused into the oil. To help fight aging while also tightening and toning the skin, the Advanced Matrixyl Synthe 6 in this product is known to do this task well.
Rich fragrance of coconuts and the beach
Moisturizes the skin well
You get a rich glowing tan
Has anti-aging and detoxifying qualities to it
Doesn't have SPF
May not be suitable for men who don't like glitter on their skin
What to Look for When Choosing the Best Tanning Oil
Time of the day/Temperature
The time of the day and the temperature during the day you're planning to get a tan is a very crucial factor to consider when choosing a tanning oil. You'll want to choose the oil with a higher Sun Protection Factor if you're going to be sunbathing during hours where the sun is the hottest.
During summer, the hottest hours of the day are in between noon and 3 pm where it the temperature is at its highest, therefore, it is important to ensure that you have the oil or sunscreen with the right SPF for your skin.
You can get a tanning oil with an SPF of as low as 4 if you're planning to spend very little time during the early hours of the day under the sun but your skin type should also play a factor when choosing Sun Protection Factor.
Age
Your age is also a very important factor to consider when choosing a tanning oil. Children below the age of 13 should not be tanning at all. Experts say that children's skin is more vulnerable to UV rays compared to adults' skin.
Protect your child from UV rays by minimizing the time spent under the sun as well as ensuring that they wear sunscreen with a high SPF.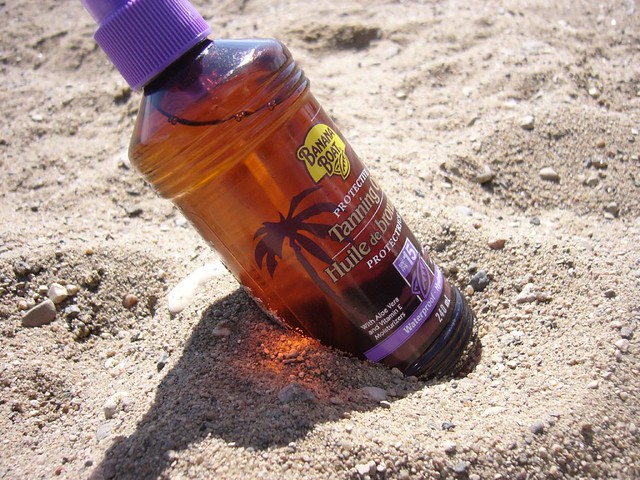 If you're a senior, your skin is also very vulnerable and a sunburn may just be what triggers skin cancer especially if you're used to sunbathing for most of your life.
A sunblock with a high Sun Protection Factor is a necessity for you. If you want to tan, you should consider sunless tanners such as lotions, spray bronzers or gels that don't require you to expose your skin to UV rays.
Brand
When shopping for a tanning oil, the brand names of the products should definitely be considered. There are brands that are tirelessly working to make environmentally friendly products, products that are suitable for people with allergies, etc.
There are also brands that use harsh chemicals that may cause you to break out in hives or rashes. Ensure that you research on the most known brands and look up reviews written on them.
Type of Tanning Oil
The type of tanning oil you choose is going to determine your experience depending on your needs. Are you looking for a tanning oil with SPF? And if so, what value of SPF are you looking for? There are tanning oils specifically designed for bed tanning, or sun tanning only while others are designed to suit both ways.
Another difference between the types of tanning oils comes in their consistency. Some of them are lotions, others are oils, some are cooling tanning oils while others are dry tanning oils which are known to be less greasy.
Time in the Sun
The time you are planning on spending in the sun should weigh heavily in your decision making process when selecting a tanning oil. If you're planning on spending longer hours enjoying the sun, you're going to need the oil that lasts longer while also containing the right amount of SPF.
Ingredients
The ingredients in the tanning oil is one of the vital aspects to consider when shopping for a tanning oil.
This is especially true if you tend to have an allergic reaction to certain chemicals or agents. If you're allergic to gluten, you should look for a tanning oil that is gluten free.
Even if you don't have any allergic reaction to anything, there are certain chemicals to always look out for. Paraben is known to increase the risk of cancer and reproductive toxicity.
Chemicals such as oxybenzone and octinoxate are also known for disrupting the hormonal functions leading to dangerous effects on the reproductive system.
Consider getting a tanning oil that consists of natural ingredients such as Aloe, Coconut and Shea which usually blend well while providing maximum nourishment to your skin.
Type of Skin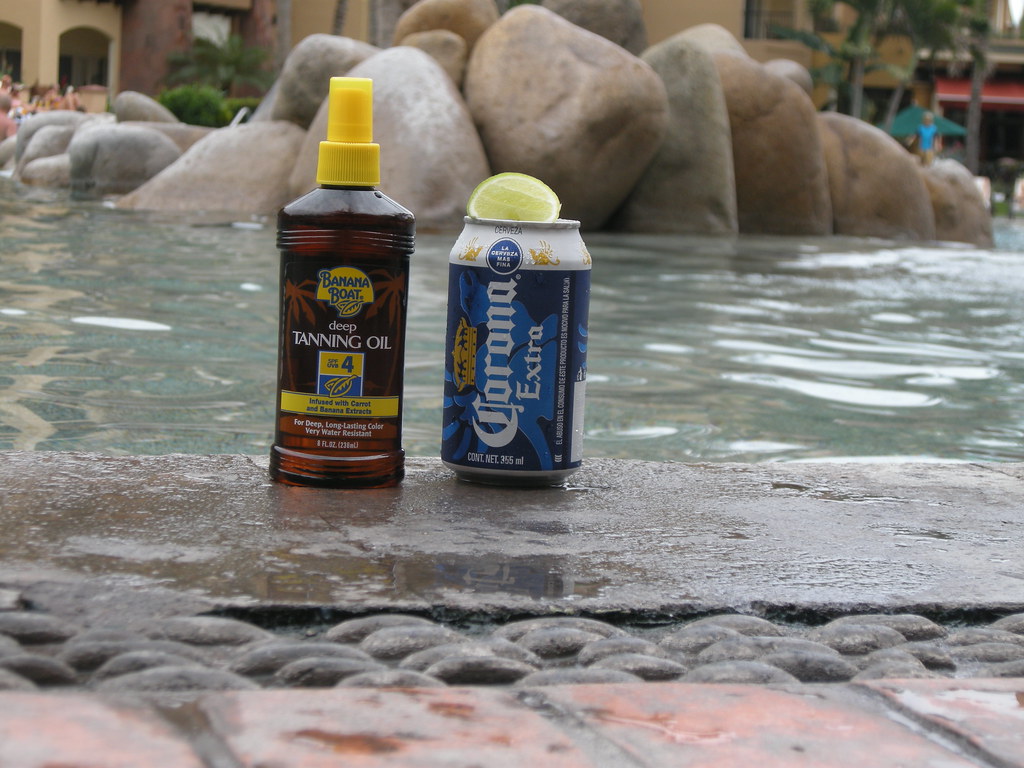 The type of your skin should also be a determining factor when choosing a tanning oil. If you have a dry skin, choosing the oil that contains a lot of moisturizing ingredients is going to be beneficial to you. If you have oily skin, then getting a dry tanning oil is going to be the best option for you.
If you have very pale skin that tends to burn easily, you should look into the amount of SPF in the tanning oil and ensure that you can one that has the right amount for your skin. If your have dark skin that tans easily, a lower SPF will do just fine since the risk of burning would be less for you.
SPF
Most tanning oils don't come with any SPF. Some come with SPF of as low as 4 while others have a high SPF of 25. It all depends on your skin type on how quickly you burn or tan.
If you tend to burn quickly, consider getting one with an SPF of at least 15 to be on the safe side. For extra caution, you can experiment by limiting your exposure to the sun and slowly adding more time as the days go by to effectively sort out the level you're going to need to get a good tan while also avoiding sunburn.
Tips for Applying and Using Tanning Oil Safely
The use of a tanning oil is an effective way to get the perfect glowing tan that you're looking for but it is vital that you know how to go about using it safely. The following are useful tips to keep in mind when applying the oil:
– Tanning oil works best if you apply it at least 15 minutes before exposure to the sun.
– Ensure your oil has the right level of SPF for your skin type, especially if you're prone to burn quickly
– When using a the oil that comes with a spray nozzle, avoid spraying it directly to your face as this will irritate your eyes should it accidently come into contact with them. It is best to spray a little amount on your hands and carefully rub it into your face
– For maximum results, ensure that you rub the oil into your skin well
– If you choose to use sunscreen along with your tanning oil, applying the oil before the sunscreen is the best thing to do as this would allow your skin to properly absorb the moisturizing
– Avoid overexposing yourself to the sun. The best time to sunbathe is during the early mornings and evenings. If you choose to sunbathe any time in between noon and 4 pm, you should try to limit the amount of time you spend.
FAQs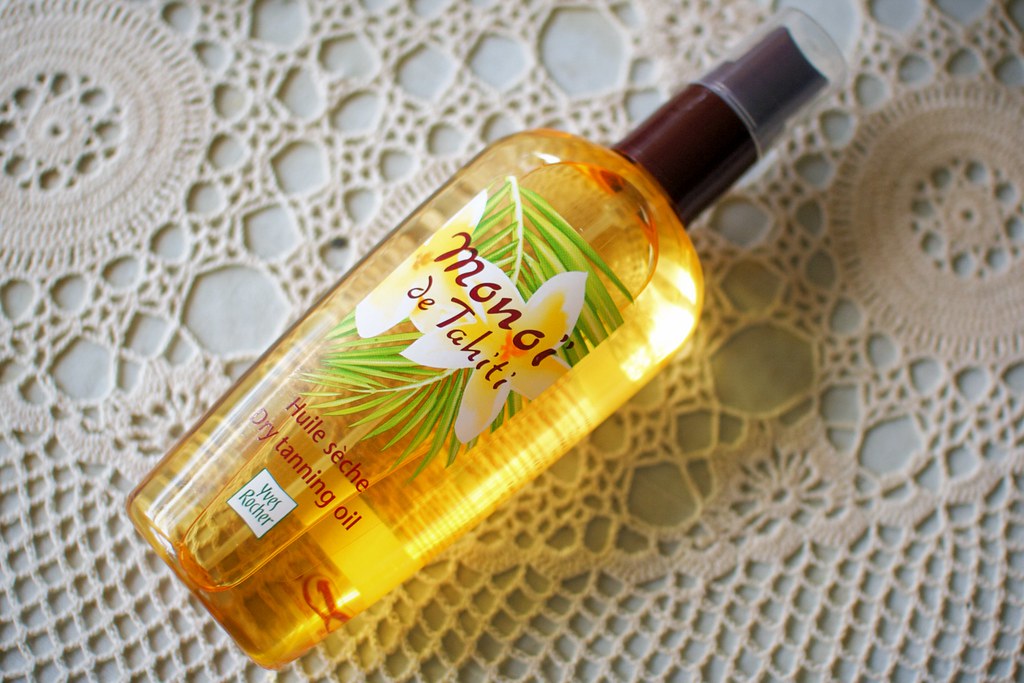 How Safe is it to use Tanning Oil?
Tanning oil is safe to use as long as you follow a proper skincare routine. The oil should not act as a sunscreen replacement, rather, it should be an addition. Ensure that your skin is protected with the right level of SPF for your skin while also being watchful of the amount of time you spend exposed to the sun.
How does tanning oil work?
Tanning oil works intensify ultraviolet rays onto the skin which accelerates the tanning process. The oil increases the production of melanin in the body which is done by accelerating melanocytes to produce melanin.
Melanin is the pigment that gives skin color. People with pale or very light skin have very little melanin, whereas the darker someone's skin is, the higher the level of melanin their skin has.
Most tanning oils contain moisturizers in them which help in the tanning process. Moisturized skin has a tendency to tan better as opposed to dry skin which may burn when exposed to UV rays instead of tanning.
How Long Should you be in the Sun with Tanning Oil?
The duration it takes for one to get a visible tan in the sun with tanning oil varies from person to person and tanning oil to tanning oil and whether or not the person is wearing sunscreen with the right level of SPF.
Regardless, it is extremely important to limit your time in the sun as longer hours of exposure could lead to sunburn, premature skin aging, or even skin cancer down the road.
You should focus on getting a gradual tan instead of getting a quick dark tan in a short amount of time which may lead to burning and other serious effects.
For pale skin that is prone to easily burn, start off by tanning for 15-20 minutes for your first session and gradually increase the time by 5 to 10 minutes while monitoring your skin for any burns or skin damage.
People with already tan skin can get a slight shade darker within 30 minutes and should decide whether to proceed or not depending on the results they're looking for.
Final Thoughts
We hope our buying guide has been useful to you and has answered all of your questions. Always remember to use sunscreen with the right level of SPF if your tanning oil doesn't contain enough of it to protect you from UV rays and keep in mind that too much exposure to the sun could be harmful to your skin and may cause issues later on down the line.
To combat overexposure to the sun, be watchful of the time you spend under the sun and try as much as you can to monitor the condition of your skin every 20 minutes or so as you tan.
Tanning oils containing natural ingredients are some of the best options in the market. So try to prioritize products that are natural, organic and hypoallergenic so as to get the best overall experience in your tanning endeavors.
The price of the tanning oil should be the last thing on your mind, as the most important things are effective results and your safety. And with that being said, we're positive that you'll select the best tanning oil for you.
Enjoy the rest of your summer.
Happy tanning!
Live Your Aloha Tanning Oil Review
Snorkel Mask
★★★★★
"
Glad to see the detailed information you've shared about Tanning Oil. Thanks for sharing a comprehensive review of available products. I really loved the tips you've mentioned here. Keep up the good work.
"