Snorkeling is something that everyone has to try at least once in their life. Nothing can compare to the mesmerizing experience of seeing schools of crayon-colored tropical fish and spectacular submerged landscapes for the first time.
Snorkel Vests You Can Trust
However, you can only become an underwater sightseer when you have the right gear. As captivating as it might be, snorkeling can take a dangerous turn when you least expect it. You will need more than a pair of fins, a mask, and a tube if you want to mingle with marine life.
A snorkel vest is a necessity that all snorkelers must have, regardless of whether they are beginners or not. It will help you conserve your energy, and keep you safe as you take in the scenery.
These vests have also saved lives in instances where people got lost, unconscious, or had sudden leg cramps while swimming.
IMAGE
SNORKEL VEST
RATING

Great for:

Beginners

Price:

$$

Check Price

Suitable for:

Surfing, Snorkeling, and Swimming

Price:

$$

Check Price

Great For:

Warm Waters

Price:

$$

Check Price

Offers:

Amazing Comfort

Price:

$$

Check Price

Material:

Polyester + PVC

Great For:

Learners and Good Swimmers

Price:

$$

Check Price

Recommended For:

18 Months and Up

Price:

$$

Check Price

Great For:

Kids

Price:

$$

Check Price

Made of: D

enier urethane-coated nylon

Price:

$$

Check Price

Made of:

Nylon + PVC

Price:

$$

Check Price

Great For:

Swimming and Snorkeling

Price:

$$

Check Price
The following guide will educate you more on what you should consider when making a purchase. We have also done the research and listed some of the best snorkel vests in the market for your consideration.
If you are looking for an easy to operate and beginner-friendly vest, then you should consider this Sealbuddy option. The brand refers to it as the 'ultimate snorkeling vest' because it provides optimum buoyancy and has several outstanding features.
It will provide you with just enough support and a fast inflation and deflation process. The mouthpiece is conveniently located, ensuring that you can effortlessly control your bouyancy whenever you want to snorkel. It also comes in three different neon color options for excellent visibility.
It is highly recommended because it is designed to provide a comfortable and secure fit. Users can fasten it vertically and horizontally thanks to its waist and crotch straps.
It also has easy pinch buckles, to ensure that you don't struggle taking it off. You can rest assured that it is going to have a positive impact on your experience.
This Rrtizan vest is for both new and experienced individuals. It's an excellent fit for people who want something durable, lightweight, and reliable.
It's going to serve you for a while because of its resilient canvas material. Its buckle and straps are also long-lasting and quality-assured.
One of the reasons why it stands out is because its waist strap and adjustable crotch strap are longer than those of other brands. As a result, it tends to be compatible with many people.
It can support users weighing anywhere from 80 to 220lbs. It will also take you less than twenty seconds to inflate it and an even shorter time to deflate it. Users also like the fact that it doesn't take up much luggage space.
ScubaPro offers a stylish, high-quality product that comes in a jacket-like design. It provides more coverage, making it ideal for those who want to protect their backs from excessive UV exposure. This ScubaPro vest also has several advanced features and exceptional flotation control.
It consists of nylon and neoprene for excellent durability. It is a worthwhile investment since it has an easy to use oral inflator and dump valve. You won't have trouble controlling your buoyancy thanks to its user-friendly design.
One of its unique features is that it has a pocket for convenient storage. You will be able to safely store away some of your personal effects so that they don't get lost in the water.
It is also perfect for snorkeling in cold water since the neoprene fabric will help keep you warm. People also use it when snorkeling in warm water because its material can still handle such temperatures without compromising the user's comfort.
Promate stands out as a brand that caters to snorkelers of all shapes and sizes. It offers a wide range of options, so you won't feel left out even if you weigh up to 320lbs.
You can count on it to provide you with vests for your whole family since the smallest size can support people who weigh less than 80lbs. The great part is that all the sizes are quite affordable.
Over 95% of the snorkelers who bought this product claimed that it fits them as expected. A good snorkel vest should fit you properly, so the brand's sizing accuracy is a plus.
It's built for increased comfort underwater, ensuring that even the youngest in the family will have a good time. Users also like that it comes in bright colors, making it easy to locate each other when snorkeling in large numbers.
Lyuwpes gives you a chance to stand out from the crowd. Unlike most brands, it offers snorkel vests in several fluorescent colors. With five options to choose from, people can pick a distinct color to make themselves easily identifiable.
You will also get to select your favorite color from the bright yellow, luminous green, orange, pink, and wathet blue options.
It comes in an easy to wear pullover design. Its material is also comfortable and abrasion-free. Other features worth looking forward to include its ergonomic design, conveniently long air valve, and a large button for easy inflation and deflation. It also has a shortcut security lock for added safety.
Users like the vest's high-intensity adjustment belt and the fact that it comes with sturdy fasteners. However, you need to cautiously latch the straps when you put it on, to ensure that it doesn't ride up once you get in the water.
Scuba Choice is yet another brand that caters to adults who weigh more than 200 lbs. It also fits people who are 6 ft tall, thanks to its long waist strap. So if you've had trouble finding a product that can handle both your height and weight, you might want to consider this Scuba Choice alternative.
The straps are extremely adjustable to provide users with a comfortable fit. Most people love the fact that it requires very little air to support them. You will find it easy to stay afloat even when you're swimming against the current.
Users also like how the valve works, since it doesn't take much effort to adjust the amount of air needed in the vest. It is also easy to deflate because of the push-down collar on the tube.
There's nothing as fascinating as your first experience. If you want your kids to experience the same, you should get them a snorkel vest that is specifically for children. This Rrtizan children's vest will make sure that you get to have fun together and safely enjoy spending time in the water.
It is lightweight to ensure that your kid comfortably adapts to the water. Your kid's movement won't be restricted, and he or she will get to focus more on the view without panicking. It will give them the confidence they need as they gradually develop their swimming skills.
It is suitable for 5 to 14-year-old kids and comes in two bright colors. The design includes secure strap to keep it from riding up. Its heavy duty canvas material also ensures that kids can use it for a long time.
If you're planning to get some vests for your entire family, Innovative Scuba might have exactly what you are looking for. The brand offers dependable options for both kids and adults. All you have to do is select the size you want, and you will be good to go.
This particular product provides maximum buoyancy without compromising the user's comfort. It offers a customized fit and also comes in an extra-large size. The brand also used 210 denier urethane-coated nylon, to ensure that it serves you for the longest time.
Some vests are too bulky and take up a lot of luggage space. This Faxpot vest is the perfect travel companion since it folds down to the smallest size.
The brand ensured that it would be easy to pack for added convenience. It also comes with a mesh bag that you can make use of even when the vest is still wet.
It has a well-positioned blow air valve that you can press and hold whenever you need to deflate and inflate the vest. The dump valve also shuts down automatically when loosened. Additional reasons why you should buy it include its airtight and heavy duty construction.
The Jetty Inflatable Snorkel Vest is a premium multifunctional alternative. Not only will you use it for snorkeling, but you will also find it useful when paddle boarding and swimming. The brand states that you can also use it for low impact sports in the water.
To prevent the vest from riding up, the manufacturer designed it to tighten snugly around the waist. It is also a great option for people who are not too fond of the crotch strap.
It provides exceptional stability, not to mention a comfortable and secure fit.
Types of Snorkel Vests
Horse Collar Snorkel Vest
A horse collar snorkel vest fits over the head like a saddle would on a horse. It is the most common type of vest around. This kind of vest has adjustable waist and crotch straps to help you fasten and secure it around your body. That way, it won't slide around accidentally and jeopardize your safety.
It has an inflatable rubber embedded inside it to help you stay afloat or go underwater. When you blow air through the pipe, the rubber gets inflated and keeps you afloat. To go underwater, all you'll need to do is deflate it and snorkel away.
Jacket Type Snorkel Vest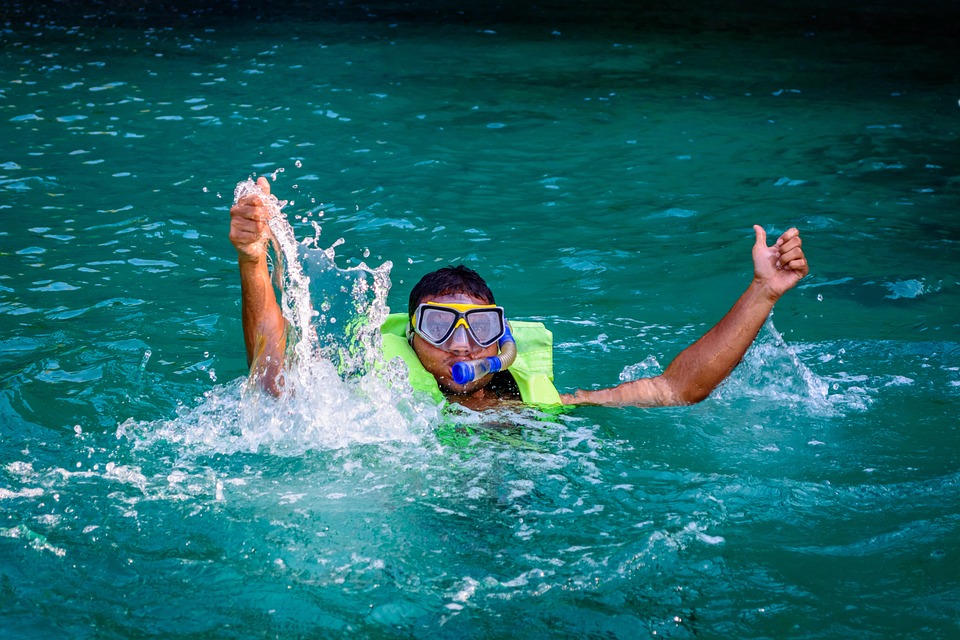 This type of snorkel vest resembles a sleeveless jacket. It is easy to put on and offers more coverage. It also has a strap and a buckle to help secure it in place. It provides more stability because its air bladder is at the front of the torso.
However, cruising over coral reefs would be a difficult task because the jacket's design and material make it highly buoyant.
Jacket vests will fit you perfectly if you're also looking for something that offers some protection from the sun. They will also provide you with some warmth while you are underwater. You might want to consider getting one if you plan to snorkel in cold temperatures.
Hybrid Snorkel Vest
As the name suggests, the hybrid vest is more of a combination of the jacket and horse collar vest. It comes in a jacket-like design and has an air-inflated rubber bladder. The vest also has small pockets of Styrofoam and some neoprene material.
You can use both the Styrofoam and the rubber bladders for maximum buoyancy. However, one of the two options will be more than enough to help you stay afloat.
Children's Snorkel Vest
Children's snorkel vests have designs that are perfect for their body size and capabilities. They help keep kids afloat, without interfering with their breathing or vision.
The vests also have under straps to keep them in place and prevent them from riding up. They are the safest way to ensure that you can have fun with your kid.
It's not advisable to let your child wear an adult vest. Adult vests are larger, so they will not fit properly. Your child will find it difficult to swim when wearing such an oversized vest. Prioritize your kid's safety by getting them a children's snorkel vest that fits them properly.
Inflatable Snorkeling Vest
First-time users are often advised to use inflatable vests. Keeping the vests slightly inflated makes it easier to get used to the water. The vests helps them go underwater and come back up effortlessly. Once they gain more experience, they can choose to use deflated vests whenever they want.
What to Look for When Choosing the Best Snorkel Vest
Type
Before you purchase a snorkeling vest, you need to determine the type of vest that will fit your needs. As previously mentioned, the horse style is the most common vest.
It doesn't come in many sizes, but it has adjustable strap that you can use to get a personalized fit. A horse collar style is also an excellent option for experienced individuals who love to swim out to the reefs.
Jacket style vests are bigger, but they will keep you warm. They are perfect for people who don't plan to venture into deeper waters. These vests are also available in a variety of sizes. Hybrid vests like the Scubapro are for people who want the best features of both the jacket and horse collar vest design.
If you're purchasing a vest for your child, make sure you consider reliable vests for children. You will have some peace of mind knowing that it will specifically cater to his or her needs.
Size & Fit
These vests come in different sizes, and each size has a weight limit that it can support. Your weight will affect the vest's performance. That is why you need to be very keen on your selection if you want an option that can effectively keep you afloat. Some manufacturers provide size charts, which you can use when making a purchase.
However, not all charts are accurate. There is still a possibility that you might end up with an ill-fitting snorkel vest. That is why you need to do some research as well, and find out what other buyers are saying about the product. You'll be able to make a better purchasing decision once you know whether a vest runs small or large.
You will also find it difficult to secure the straps if you get an ill-fitting vest. To some extent, getting a good fit also depends on your body type.
People with a larger chest area are advised to purchase horse collar styles since the design can accommodate their physique. Jacket and hybrid vests have more limitations since they are meant to wrap around the user's body.
Remember, the best snorkel vest will not ride up. It should always fit securely around you, allowing you to fasten all the straps effortlessly. It should also be able to support your weight and safely keep you afloat.
Visibility
When selecting a vest, you should always go for the brightest colors available. The best snorkel vest will also have reflective tape/strips to make you visible from afar. You need to be noticeable in the water for your own safety.
When you wear such vests, you lower the risk of getting hit by a boat. People will also find you easily in case you get lost or stuck, especially in murky water.
Material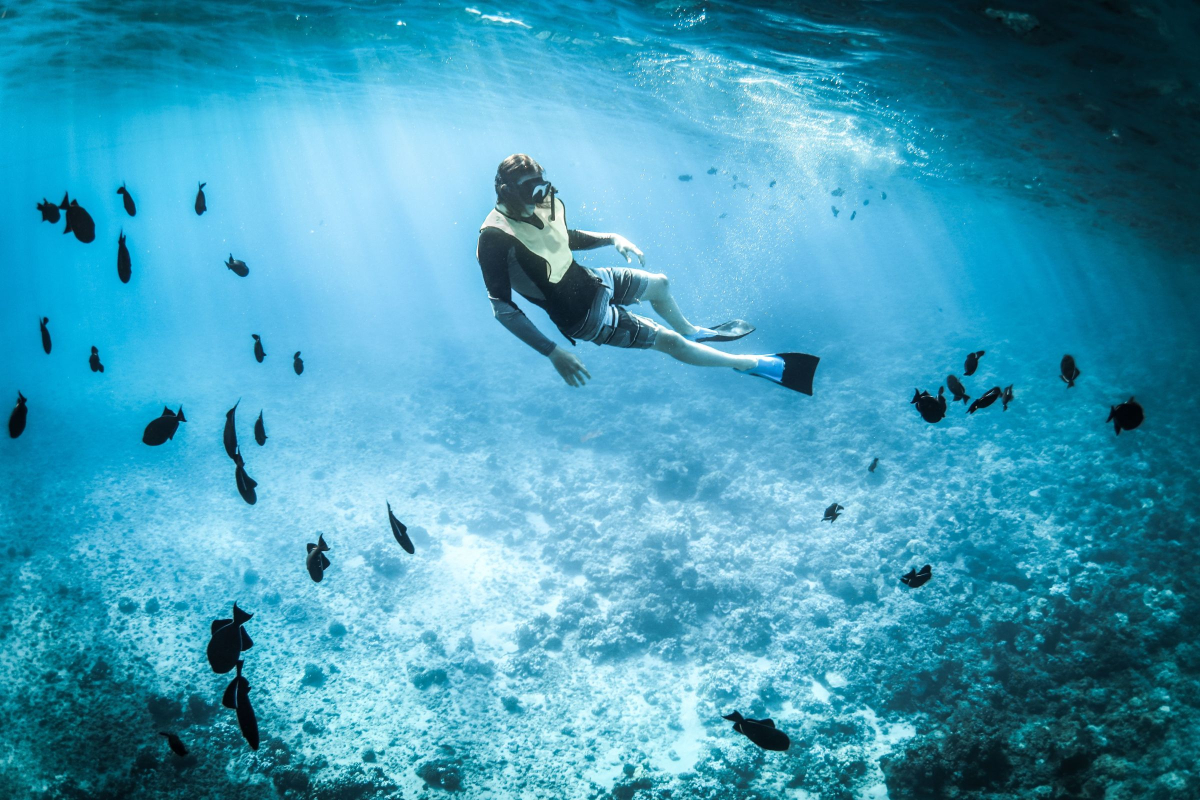 Manufacturers use several materials to make vests. People who plan to snorkel in cold temperatures are better off with canvas vests. Canvas is thicker and effectively traps body heat.
The downside to wearing a canvas vest is that it becomes heavy when you spend too much time in the water. The material absorbs water and can tire you out.
Nylon is also a commonly used material. Nylon vests are a great fit for people who want a soft and lightweight alternative. Overall, the best snorkeling vest should have high-quality, durable, and comfortable material.
Clips & Buckles
Snorkel vests have different fastening mechanisms, with clips and buckles being the most common options. Before you settle for one of the two mechanisms, you should first consider whether you are looking for convenience or durability.
Clips are convenient because they are easy to use. They come highly recommended for children's vests because kids can easily get in and out of their vests. On the other hand, buckles are more adjustable and durable compared to clips. Their only shortcoming is that they are also difficult to operate.
Use
Determining how and where you will use your snorkel vest will help you narrow down your options. Some designs are better for certain temperatures, while others are best suited to let you explore the water further.
Therefore, take your time while making your selection so that you can get a product that fully meets your needs.
Remember to limit the use of your snorkel vest to snorkeling. Avoid using it for other activities that are not in line with its intended use.
Inflator Tube
Snorkel vests' inflator tubes should be in a convenient position so that you can orally inflate them without taking off your jacket. The tube should be readily available when you need it and easy to put away when it's not in use.
FAQs
How to Use a Snorkel Vest?
Using a snorkel vest might seem tricky at first, but it is quite simple once you learn how to go about it. First, you need to put on the vest and make sure it fits you well. Ensure you secure the fasteners as soon as you wear it.
Next, take the inflator tube and blow into it to inflate the vest. At this point, you can either inflate it slightly or fully. It will depend on whether you want maximum buoyancy, or you are comfortable snorkeling with a partially inflated vest. Once you are ready to deflate the vest, you can release the air by pressing in the inflator tube.
Who Should Use a Snorkel Vest?
Some people need snorkel vests more than others. However, the vests are useful to both beginners and experienced swimmers. They help beginners feel more confident in the water. The beginners are less likely to panic because the vest's buoyancy will help keep them stable as they enjoy the experience.
Experienced swimmers can also choose to wear the vests if they are going to spend a lot of time in the water. They will not get exhausted easily when they do so. These vests are also great safety gears for kids.
Overall, you never know when strong winds or currents are going to come through the area you are snorkeling. That is why everyone should wear a snorkel vest whenever they can.
When to Use a Snorkeling Vest?
You should use a snorkel vest if you are still inexperienced, and you plan to venture into deep water. People who snorkel in large groups are also advised to wear the vests so that they can quickly locate each other. Putting on the vest in shallow water is also a great way to relax and enjoy your snorkeling experience.
What are the Benefits of Using a Snorkel Vest?
Using a snorkeling vest has the following benefits;
It makes it easy for beginners to stay afloat.
Swimmers get to conserve some energy since the vest does the floating for them.
The best snorkel vests also prevent exhaustion when one has to swim against strong currents.
They help make snorkelers more visible to each other.
Wearing a vest can help you avoid getting hit by a boat, especially if it has reflective tape.
The vests can help keep you warm.
Some vests provide UV protection.
As you can see, you stand to gain a lot by putting on your vest whenever you want to snorkel.
Life Jacket Vs. Snorkeling Vest
People who participate in water sports and other water-based activities wear life jackets for safety purposes. The jackets are designed to keep a person's head above water, to prevent the user from drowning.
On the other hand, these vests are designed to help you swim while your head is under the water. Therefore, it would not be logical to wear a life vest while snorkeling. You would also have a hard time swimming and end up exhausting yourself.
A snorkel vest will let you control the level of buoyancy you need, and it is also less restrictive compared to a life jacket. These vests can also help keep you safe, but you can't use them in place of life jackets. You should only put them on when you want to go snorkeling and have some fun.
Live Your Aloha Snorkel Vest Review
Snorkel Vest
★★★★★
"

I'm gonna buy that Lyuwpes because I'm a beginner. The information you've shared is quite helpful. I'd share it with my friends as well.
"