In case you didn't know, food trucks are a much loved and revered feature of life in Hawaii. Aside from the festive experience of Hawaiian luaus that offer traditional cuisine in a dining setting, walking around town is a casual way to taste some of the island's delicious local food.

Yup, just about everyone loves the mouth-watering garlic shrimp, fresh fish and chips, delicious grilled seafood and just about
anything else you could want to eat, all cooked by local chefs and served with a smile!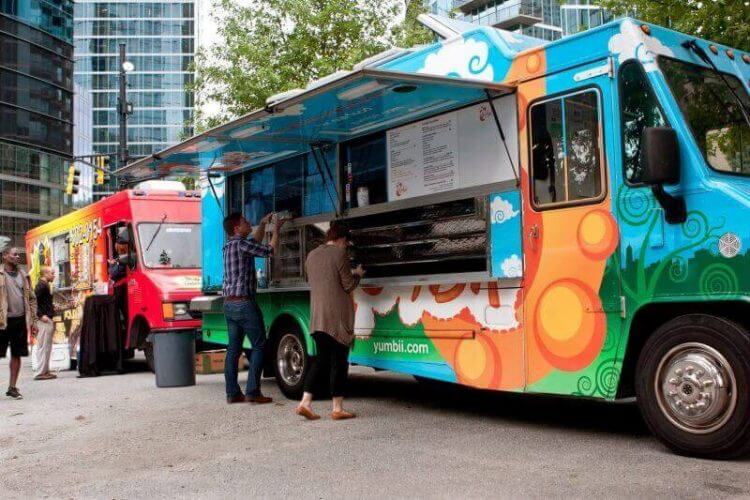 So, what's the Story with These Food Trucks?
Food trucks have been a part of life in Hawaii for generations. Serving up Hawaiian cuisine, fusion food, and a variety of classic dishes to tourists and locals alike, the trucks were a convenient and easy way for chefs to move with the crowds and serve delicious delicacies to throngs of hungry people.
Some of them have become so well established that they now have a permanent location and are tourist attractions in and of themselves.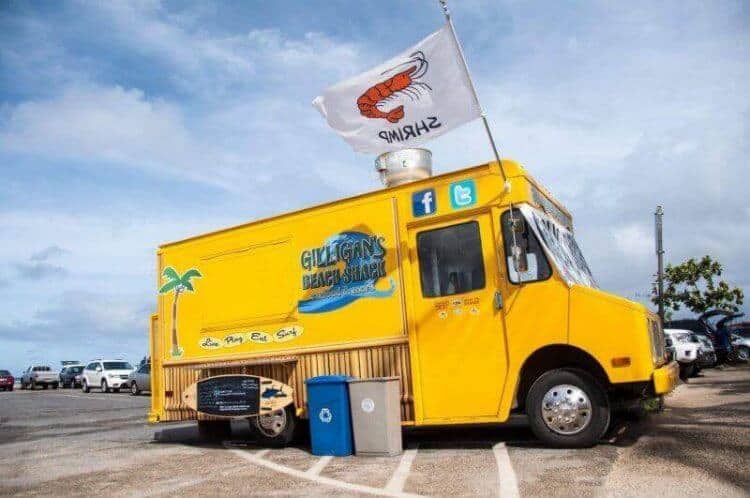 What are the Best Food Trucks on Oahu?
There are too many food trucks on Oahu to cover them all, so we've picked out the three
best-loved and most famous trucks on the island for you to check out during your tour of Oahu. You'll notice they all have something in common: SHRIMP!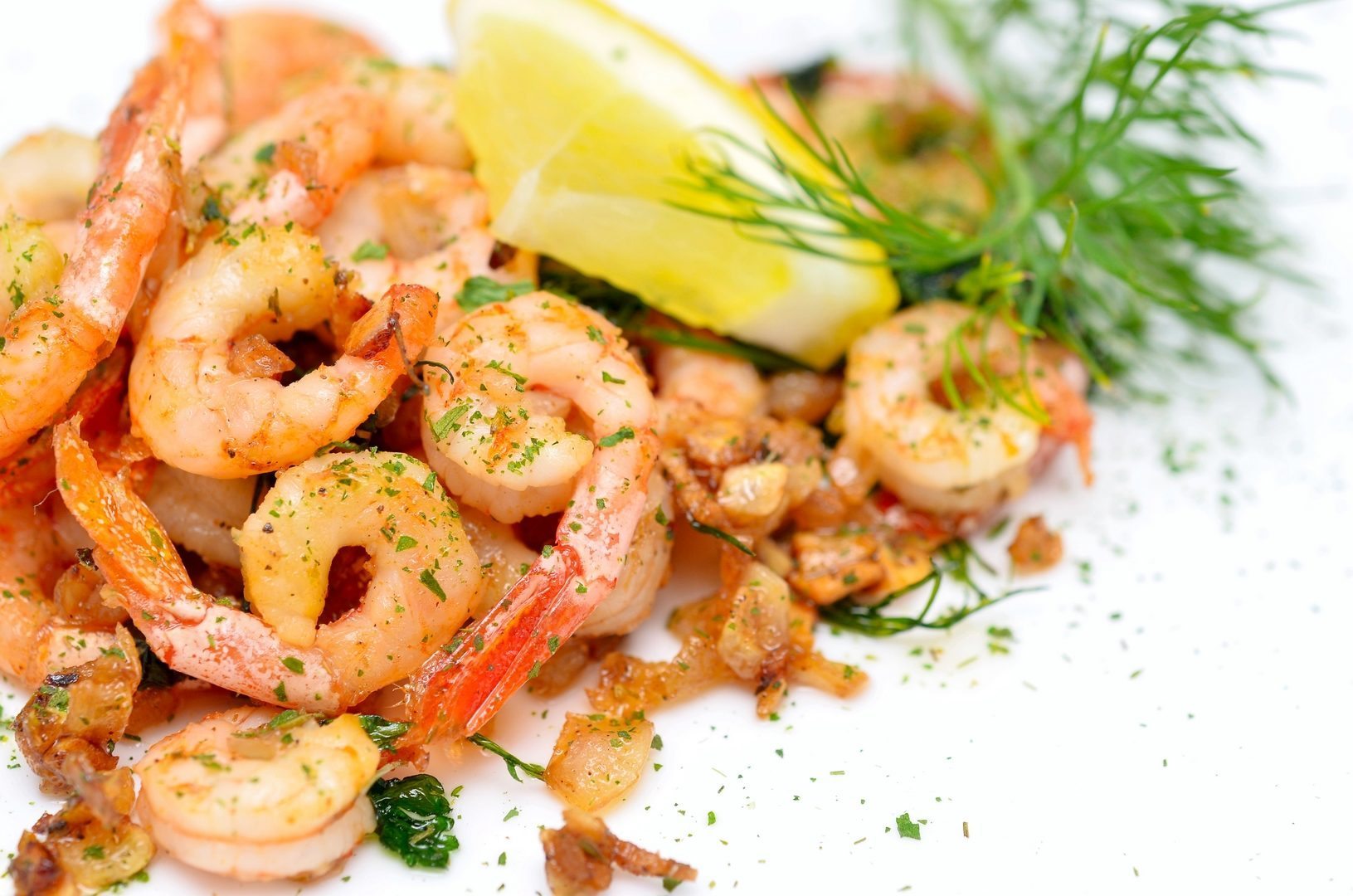 Giovanni's Shrimp Truck
Possibly the crown jewel of all food trucks in Hawaii, Giovanni's Shrimp Truck is certainly the most famous. It's mentioned in
every guidebook, and a quick Google search will reveal hundreds of references mentioning it.
So what have Giovanni's got right? Combine a vintage truck with unique graffiti (you can sing your name on it), fast and
friendly service, a can't get enough of it sauce combining lemon, garlic, butter and salt, and a constant supply of
fresh seafood from the surrounding ocean, and you've got a guaranteed winner!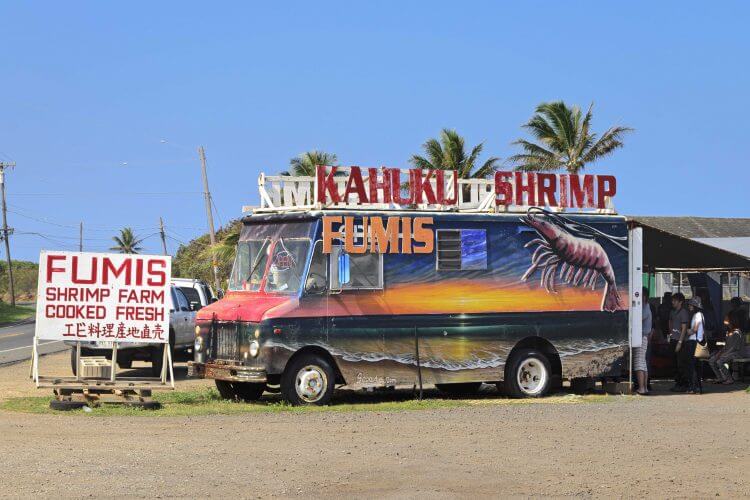 There are two Giovanni's trucks. One is on the North Shore of Oahu, and the other is in Kahuku.
Other local food trucks you don't want to miss are The Kahuku Shrimp Truck, Fumi's, and Romy's Kahuku Prawns & Shrimp.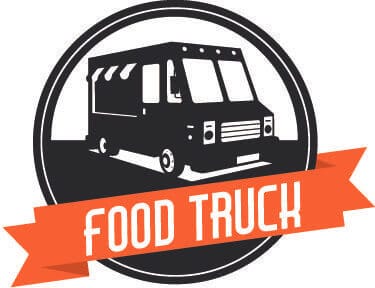 Food Truck Mecca: Haleiwa – Warning, Reading this may Cause the Munchies
The tranquil, relaxed North shore surf town of Haleiwa has a secret: It's absolutely jam packed with food trucks serving delicious grub!
This is the place to go if you want to get a sampling of all the best foods on offer in food trucks in Oahu, all in one location.
You can try a little of everything, and you don't have to move more than a couple of meters to find the next delight!
While on the north shore of Oahu check out these 10 things to do while there.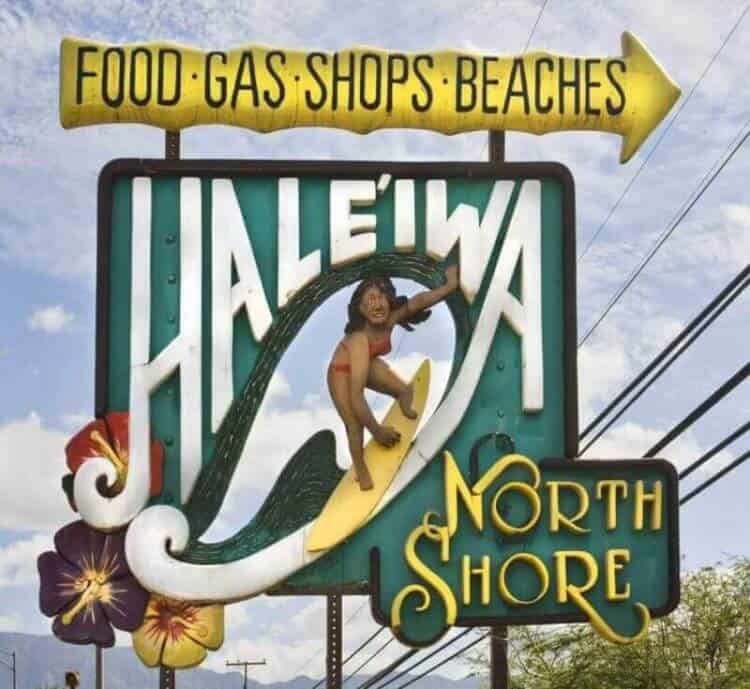 Heeeeeyyyy! What about Us Health Fanatics?
We know, we know, some people are out for something healthy as well as tasty.  You can get plenty of delicious local food that won't clog up your
arteries, try the homemade Acai bowls and fresh salads from Pupukea grill on the north shore.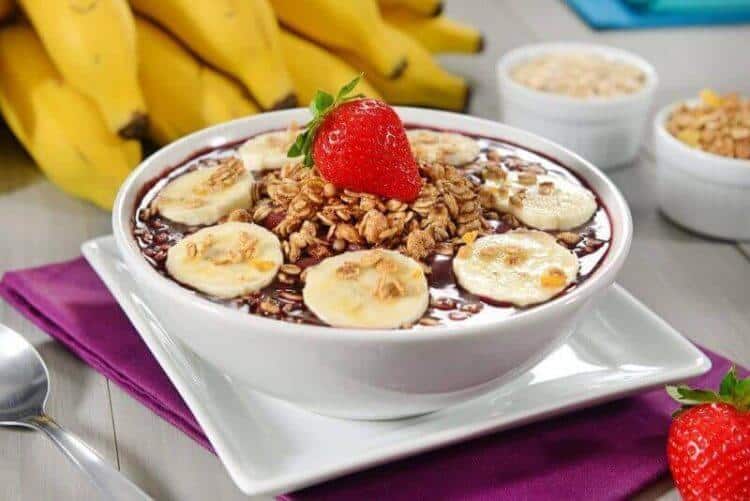 So How Much Will I Fork Out to Enter Culinary Heaven?
Average prices for shrimp dishes of various flavors (Thai lemon & spice, coconut, and lemon butter are just three) are in the $10-$15 range.
For hotdogs you'll pay around $4, for fish and chips expect to pay in and around $10 and for drinks, a standard $1.50-$2.
Not bad for some of the most delicious food in Hawaii, wouldn't you say?
If you prefer a fancier dining experience out in the water, then definitely check out some of these amazing Oahu dinner cruises.