There's nothing like seeing the world through the fresh, untainted eyes of a child, except when you're choosing Hawaiian honeymoon activities.
Because, there's also nothing like enjoying a vacation as far away from children as possible—yours and others (especially the latter).
Yes, yes, children are the future and all that, but they also sure know how to wreck your present.
Between the tantrums and questions—you tell me why the fuck the sky is blue, little Jimmy—and early bedtimes and diaper changes and fat little fists pummeling into your beautiful entrée, children are preternaturally wired to ruin romance, relaxation, your sanity and mine.
Take a breather from babies by indulging in some adults-only Hawaiian activities so blissfully separate from the chaos of kids that the only pacifier you'll see will be in the form of a cocktail.

Hotel Wailea, Maui
What, you don't think where you stay is an activity in itself?
Think again, neurotic narcissist parent. (Yes, I called you a narcissist—is there anything more self-loving than reproducing yourself?)
Where you sleep, shit, shower, shave and—oh my god, I hope—have sex determines the entire emotional pitch of your trip. And, nothing spoils a stroll under the sultry Hawaiian moonlight faster than hearing a two-year-old princess throw a hissy fit because her shave ice is pink instead of red.
The geniuses behind Hotel Wailea—a sweet resort on Maui's south side—got the memo that not all of us like to talk in baby voices and watch little boys play with their dicks by the pool.
Kids here aren't just actively discouraged—they're against the law. Yes, pro-fucking-hibited! Like, you might go to jail if you dare show up on the hotel's grounds with one of your overpriced, SUV-sized strollers! And if you do, good on you—you deserve it.
Book a few nights here and you might be able to take up mental space in the adult world again. You know, that arena where books without pictures are read and HBO is watched and politics exist beyond the sandbox.
Just exercise some caution and use protection. You don't want another one. Good God, do you?
Pirate Ship Booze Cruise, Oahu
There's no better place to see double than aboard a catamaran sailing towards the horizon during sunset, an open bar just inches away from your sunburned feet while grown-ass adults scream ahoy matey and pretend to be pirates.
Yes, pirates.
The Treasure Seeker offers grog, gorgeous views and debauchery in equal measure, taking peeps out on the water to party like it's 1695, similar to a luau. (You heard me right.) DJs get the crowd moving and the rowdy night concludes with a fireworks show over the Waikiki harbor.
And trust us: do you really want to worry about accidentally elbowing some wayward kid while you're cutting up the dance floor? Or have some prepubescent boy eyeing your halter dress and praying for a nip slip? Or dealing with obnoxious, judgmental parents who scowl at you for having too much? (Really, what's that?)
In short: yeah, no. You deserve every one of your gluttonous mistakes on this trip—and want to get naughty while you're at it.
Visiting Hawaii during the fall? Book tix for International Talk Like a Pirate Day on September 19th. Smartly, me lass: we've got a feeling this year's reservations will go fast.
Little Beach Drum Circle, Maui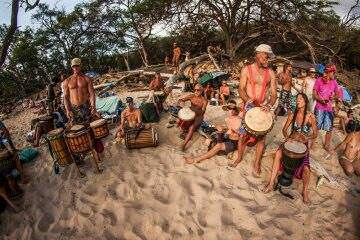 Makena State Beach Park—otherwise known as Big Beach—is home to one of the most perilous shore breaks in the Aloha State.  Far more scary than cage diving with sharks in Hawaii could ever be.
It's also home to Maui's biggest little nude beach, where everyone from college babes on Spring Break to eighty-year-old retirees hang loose. (Literally.)
Crawl over the hill towards Little Beach's talcum-soft shore on Sunday afternoon, when drummers from around the globe take to their instruments while fire dancers and bare-assed hitchhikers toss back Hana Bay rum and groove way past sunset.
And while children are technically "allowed" to attend this legendary Maui event, those that bring 'em are the kind of chronic derelicts who live in their cars. After all, there's enough weed and Molly circling this shindig to make Robert Downey Jr.'s past seem quaint.
Duet Massage, Big Island
Soothe those triceps that have gotten jacked since your tot learned how to walk during a duet massage in a cabana sequestered away from all those kids, most of whom are hopped up on Adderall and coconut candy.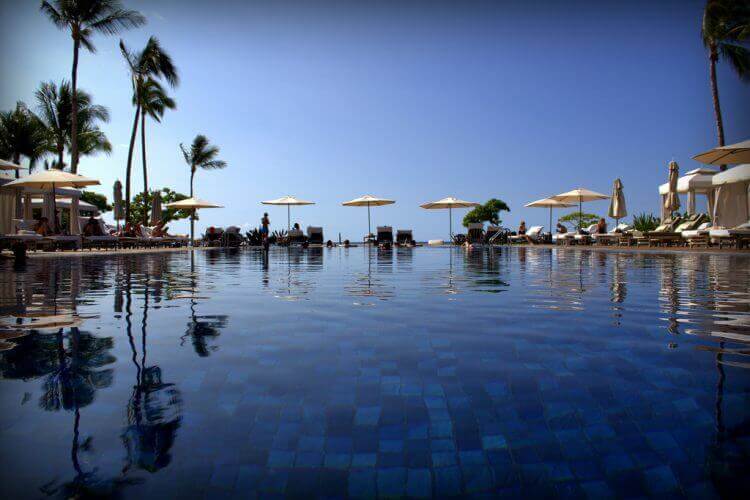 One worth its salt? The Four Seasons Hualalai on the Big Island, where serenity is matched only by the resort's opulence.
Had a shotgun wedding? Revive those pheromones that led you here in the first place—this is one Hawaiian honeymoon activity that can't be beat. Indeed, there's something rather erotic about seeing your partner getting rubbed down by a stranger. (Or it that just me?)
Warren & Annabelle's Magic Show, Maui
With their unlimited Pina coladas and half-bare dancers, luaus rarely disappoint in terms of libations and entertainment.
Unfortunately, kids are allowed to these things, thereby destroying any real chance at lasting romantic moments, or even happiness. (And, really, why do people think it's totally kosher to bring their babies everywhere they please? "Misery loves company" only applies to drinking.)
Take a break from standard Hawaiian activities and try something new at Warren & Annabelle's Magic Show, where the tricks are actually pretty fantastic, the bar is packed with topnotch spirits and, best part yet, kids can't get their big toes in the door, let alone ask their oh-so-exasperating "how'd he do that?" questions.
Noctura Lounge, Oahu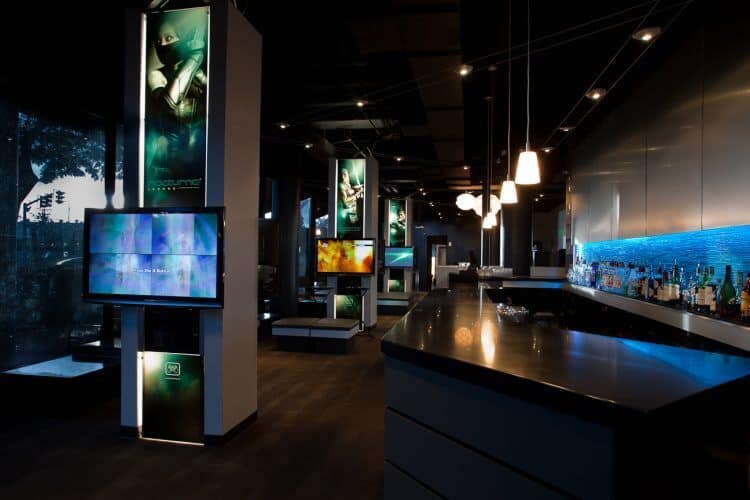 Live like a local and get your game on—as in Mario Kart, sir—at this bar and gaming center on Oahu, where you can exercise your thumbs while tossing back beers.
Dubbed Hawaii's first NextGen lounge, this Honolulu hot spot blends activities that let us act like kids while neither seeing nor hearing any actual ones around.
Karaoke is available for the young moms and pops who want to get the spotlight for once, and the stylish patrons here remind you that you didn't always shop at Carter's.
Strip Clubs, Oahu
Now that your dear hubby has seen your punani expand to the size of a monstrously large papaya, it's time to put some spice back into your sex life—and I don't mean nutmeg, you part-time mommy "blogger"/knitter, you.
There are few savvier ways to get your libidos going again than at a strip club.
And no, I'm not talking about some nasty-ass Korean "club" manned by an overweight Saudi and featuring twelve-year-old FOBs swaying to tinny music.
I'm talking about high-end clubs that rival Vegas in terms of its dancers' talent and actually charge a cover.
Oahu is your best (read: only) bet for some sexy burlesque, and while I won't list any links here lest your little one is peering over your shoulder—and surely you know how to use Google, don't you?—I will say that Club 939 features some sizzling ladies, all of whom are def familiar with poles of, um, different lengths.
Pro tip: be a baller for once and get some bottle service. It'll make the night out all the more special, long after you've left the club. Just ask your wifey before bringing strippers back to your hotel room. Unless, of course, you'd like to lose parental custody. In which case I say, have at 'em, daddy.