The Na Pali coast is truly a sight to behold. It stretches 16 miles from Haena State Park on Kauai's north shore (where the extraordinary Kalalau Trail begins tracing the coast southwest towards Honopu Beach) and continues defining the sharp edges of ancient valley forests with its towering sea cliffs—until they finally overlook Polihale State Park near the western endpoint of Hawaii Route 50.
One of the outstanding attractions of the second-oldest main Hawaiian island, Kaua'i ("The Garden Island"), the Na Pali coast is traversed by land, sea, and air because of its awe-inspiring natural landscapes and majestic ambiance.
Perhaps the most immersive and raw experience for travelers who dream of witnessing the Na Pali coast is to go on a kayaking (and camping) trip over the course of one to several days.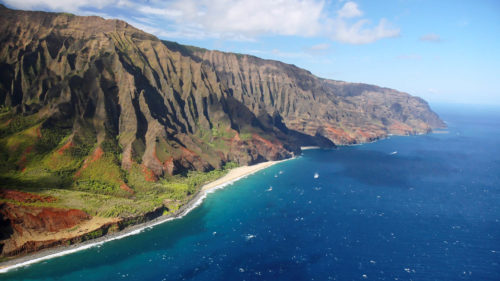 Can you kayak Na Pali coast?
In terms of outdoor recreational activities, kayaking the Na Pali coast is considered one of the most epic water-borne journeys you can take—akin to climbing one of the world's great mountain peaks or sledding the Iditarod in Alaska.
Although not as treacherous as climbing Everest, the challenging 17-mile kayak trip along the pristine, rugged coastline is just as rewarding, and it will test the limits of anyone who is uncommitted to the journey.
A kayaking trip off the Na Pali coast is one of the more immersive things to do on the island because it lets you explore natural landmarks with greater freedom—depending almost entirely on your willpower, endurance, and self-sufficiency.
On this profound trip, it is completely up to you (or your guide) to decide which famous beaches to visit, cascading waterfalls to paddle through, sea caves to explore, or campsites to sleep in under the stars.
You'll get a chance to see everything that a hiking or boat trip can access and more: lush valleys, ancient flora, endemic marine life, tucked away beaches, and (of course) the great soaring cliffs of Na Pali.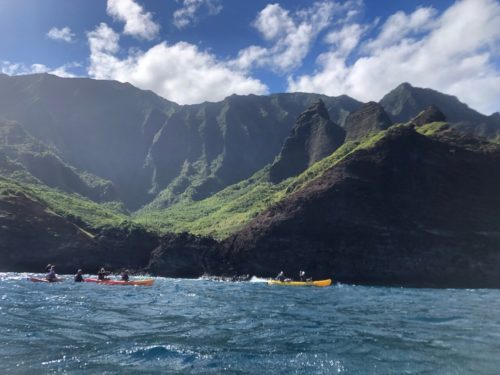 Kayaking & camping the Na Pali coast (a short guide)
Deciding to kayak the full length of the Na Pali coast, with stops at the Kalalau and Milolii campgrounds, will take dedication and planning. But you'll be rewarded with some of the best sights in the world (and perhaps the greatest camping trip of your life).
The journey begins at Haena Beach Park on the north shore (the starting point of most Napali kayak trips), and heads down the leeward side of the island (staying with the current) towards Polihale beach.
Unless you somehow brought your own kayak to Hawaii, you'll need to reserve one with a local kayak company and pick it up at Haena. From there, you can start paddling towards the first state designated campgrounds along the Kalalau Trail.
Prepare yourself for some amazing sights along the way, as the first thing you'll witness is the incredible expanse of the Na Pali coast on your left as the Pacific Ocean extends out to the right. 
You'll notice that the prominent sea cliffs are green or reddish brown, and the water beneath your kayak is almost visible to the bottom. There might be reef fish, green sea turtles, spinner dolphins, or a humpback whale nearby (if you're lucky).
The best disembarkation point for kayakers will be Kalalau Beach (roughly seven miles from Haena) and its numerous camping spots situated within walking distance of a waterfall and the Kalalau Valley. The maximum length of stay along the Kalalau Trail is five consecutive nights.
After you've had your fill of the Kalalau Valley, the next leg of your epic journey will be the Milolii Beach campground about five miles southwest (passing Honopu Beach and Nualolo Kai Beach along the way). You should begin this trip in the early morning before the tide comes in.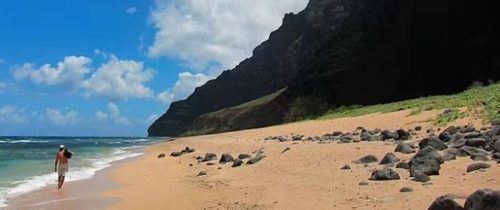 Milolii has a fantastic coral reef for snorkeling and it's a great place to beachcomb, relax in the shade, or stay over for a night (or two) before you set off on the last five miles of the kayaking journey to your final destination at Polihale State Park.
The maximum length of stay at Milolii Valley is three consecutive nights.
Na Pali coast day trip tours
Day trip tours operate for many travelers who would rather experience the Na Pali coast in a single day. Most of these tours will begin at the usual starting point at Haena Beach Park (although some may start at Polihale).
The entire kayak trip from Haena to Polihale usually lasts about 6 to 7 hours on the water (at a consistent pace). Guided tours will always include short breaks (on the water) every 30 minutes or so. There are limited places to pull ashore, so you'll have to be committed once you're out on the water.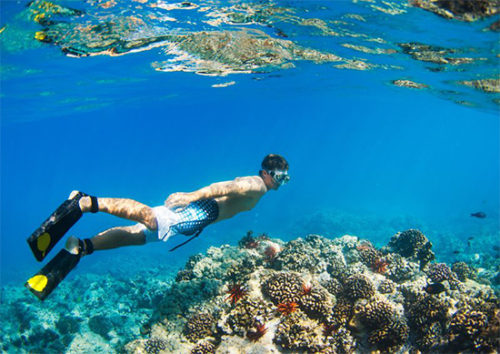 A day trip tour allows time to stop at usually one beach (typically Milolii if you're starting at Haena) to relax and go snorkeling.
Polihale and Haena are relatively remote areas compared to more populated areas of the island (such as the east coast). Most travelers will shuttle out very early in the morning from Waimea or Princeville along Route 50 or Route 560 to the starting points of the kayak trip. You should expect the day tour to last up to 12 hours from start to finish. 
When can you go?
Kayaking along the Na Pali coast is only possible during the summer (from May until September). This is due to the winter months having stronger currents, unsafe surf, and rainier weather.
The Na Pali Coast State Park issues camping permits from May 15 to September 7 (available 90-days in advance).
What to bring (when kayaking the Na Pali coast)
Here's a list of outdoor gear and personal items you should bring to have a comfortable, safe kayaking trip (assuming you will be camping). It is recommended to pack several days' worth of food, water, and supplies in case of emergency.
Water (in reusable containers)

Water purification tablets (or filtering device)

Dry bag

Freeze-dried meals & light snacks

First-aid kit

Sleeping bag

Weather-proof jacket

Sun protection

Portable stove

Kitchenware & utensils

Flashlight or lamp (with extra batteries)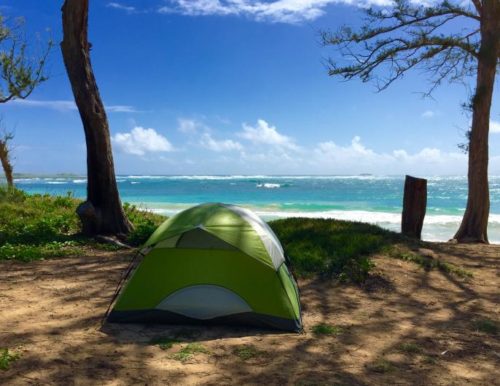 Do you need a permit?
Yes, you need overnight Napali Coast camping permits.
Rates—Hawaii resident: $25 per person (per night). Non-resident: $35 per person (per night).
Maximum length of stay—Kalalau Trail: 5 consecutive nights. Milolii Valley: 3 consecutive nights. Permits allow for a 1-night stay at Hanakoa.
You don't need a permit for day trips.
How do you get there?
Kauai's main airport is in Lihue. You can fly directly to Kauai or from Honolulu (depending on the airline). From Lihue, there are several highway routes leading to Napali thru Waimea and Hanalei.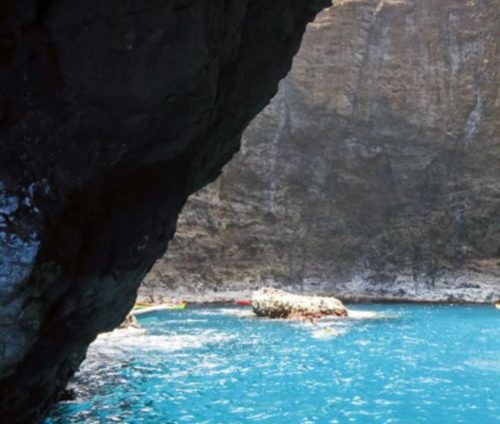 Is the road to Napali coast open?
Yes, there are two main highway routes from Lihue to choose from: Hawaii Route 56 (north-south) and Highway Route 50 (east-west).
Route 56 curves around the northeast coast of Kauai and branches off into Route 560 near Princeville, which leads to Hanalei.
Route 50 heads along the south shore towards Waimea and ends near Barking Sands Airport (just south of Polihale State Park).
Is it safe to kayak the Napali coast?
Yes, it is safe to kayak Napali coast if you are physically fit, follow your guides, and bring adequate supplies. Being a strong swimmer is highly recommended.
But kayaking Napali is not for the faint of heart. It can be a challenging journey depending on the weather, water conditions, or if you're paddling against the current. It's easy to get tired and you cannot simply pull ashore whenever you feel like it.
Safety tips & physical requirements
Good physical shape.

No serious health issues (including back problems).

No pregnancies after the first trimester.

Strong ability to swim.

Learn how to recover from a flipped kayak.

Bring adequate equipment and supplies for at least 3-4 days.

Utilize the calmer weather in the mornings to travel.

Bring sun protection.

Avoid kayaking by yourself.

Stay within sight of your tour guides.