Known for its warm waters, stunning marine life, beautiful beaches, and laid-back, "Aloha" spirit, Hawaii is truly an adventurer's paradise. Even if you live in Hawaii, there's always something new to try and discover. There's just so much to do and explore!
Home to one of the largest protected areas on earth, the state is teeming with marine life. So it comes as no surprise that one of the best things to do in the state is scuba diving. But with so many diving spots in Hawaii, it's nearly impossible to visit them all in one trip.
To ensure you're making the best out of your trip, I've listed some of the most popular dive sites in Hawaii you absolutely shouldn't miss.
Let's dive right in!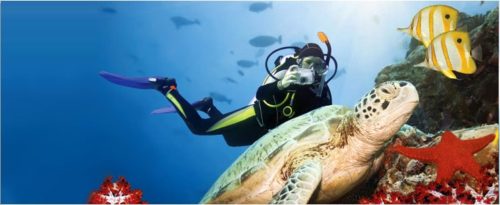 Turtle Canyon
Located a few miles away from Waikiki beach, Turtle Canyon is a dazzling wonderland of coral, bright fish, and—you guessed it—sea turtles!
The name, "Turtle Canyon" isn't just for show; the place is teeming with hundreds of sea turtles. Upon stepping into Turtle Canyon, you'll find dozens of Hawaiian Green Sea turtles enjoying the soft beach sand and frolicking in the warm waters, as carefree as can be.
Compared to other snorkeling sites, the sail across the calm waters to Turtle Canyon is a quick and comfortable one. So if you suffer from seasickness, this is the spot for you.
Upon entering the snorkeling site, you'll be given the opportunity to dive with not only the sea turtles but numerous species of fish, including Hawaii's tongue-twisting official state fish, the humuhumunukunukuapua'a (no, I didn't make that up!).
If you're lucky, you might even get the chance to swim with the dolphins and Humpback Whales!
Old Kona Airport Beach 
If you've never been diving before, the Old Kona Airport Beach located in Kailua Kona is a good place to start.
Located in the North Kona District, the Old Kona Airport Beach is located roughly fifteen minutes south of the main town. There, you'll find diving shops to buy or rent diving gear, as well as instructors to guide you on your first excursion.
The Old Kona Airport Beach is an incredibly exciting spot for scuba diving. It has an average depth of 26.2 feet and a maximum depth of 49 feet. The sea is packed with vibrant reef corals, tropical fish, and lava tubes, all of which you'll find at excellent visibility.
Molokini Wall
The Molokini Wall is about a 40-minute boat ride from Maui, and it's not for the faint of heart. A lot of people snorkel in Molokini but many dive as well.  You definitely need some diving experience to apply for this site! It's not only remote but also incredibly deep at approximately 300 feet, though divers can level off at 80 feet or less.
On top of that, there are a ton of sharks! Blacktip sharks, gray reef sharks, and gray tip sharks are abundant in this area, as well as manta rays. You'll also see a pod of dolphins here and there! Even turtles swim by from time to time.
With over 250 fish species recorded in the area, the Molokini Wall is one of the best spots for marine photography. So if you're fond of documenting your trips, the Molokini Wall must be included in your list—so long as you have some diving experience under your belt!
Oahu
Known as the wreck capital of Hawaii, Oahu is home to some of the most beautiful wrecks you'll ever see in your life—ships and planes alike. At least 10 of these wrecks are easily accessible to recreational divers, with one of the most popular being the 1946 airplane wreck of the Corsair. 
Book a scuba diving trip in Oahu here.
You'll also find the YO-257 and San Pedro sitting less than 100 feet away from the coast at Waikiki.
These ships were intentionally sunk by the Atlantis Submarine Company to add some interest for divers and submarine trips. Today, the YO-257 and San Pedro are home to dozens of marine wildlife, including pufferfish, eagle rays, sea turtles, and frogfish.
Off of Oahu's North Shore, you'll find several operators running shark cage diving trips for the more adventurous divers.
If you decide to apply, you'll likely come across tiger sharks, hammerhead sharks, Galapagos sharks, sandbar sharks, and the occasional silky or blue shark.
Lanai Cathedrals
The Lanai Cathedrals are home to a whole host of unusual but stunning fish and invertebrates, swimming in between arches, small caves, and lava shoots. Dolphins and whales are frequent visitors, too, occasionally stopping by the area to say aloha!
The Lanai Cathedrals, simply known as Cathedral I and Cathedral II, are vast cathedral-like structures of fallen rocks. 
The Cathedrals' well-lit chambers are massive, at least 20 to 30 feet tall, with multiple entries and exit points for certified divers to explore.
At mid-day, sunlight pours into lava tubes, archways, and throughs, creating an ethereal church-like feel.
With healthy fish populations, untouched vibrant reefs, and underwater topography of lava formations, this diving site will—figuratively—take your breath away!
Molokai Diving Sites
Molokai is home to five stunning diving sites. I've visited them all and I honestly can't choose a favorite! Each location is unique in its own way. One thing's for sure, though: they're all teeming with colorful "Instagram-worthy" fish!
Popular diving sites in Molokai include Fish Bowl, Fish Rain, Hole in the Wall, The Cove, and Mokuhooniki Rock.
Fish Bowl is a bit difficult to access due to the strong currents of the Pailolo Channel. But if you're lucky enough to visit in decent weather conditions, you'll be given the chance quite literally to swim with the sharks—particularly white tip reef sharks and hammerhead sharks.
When you dive 40 to 60 feet in the Fish Bowl site, you'll encounter octopuses of all species, lobsters, eagle rays, and all kinds of reef fish.
Fish Rain, as the name suggests, is chock-full of sealife. It has a depth of 80 to 100 feet and paired with its unpredictable currents, it's an experienced-only scuba trip. The same is said with Hole in the Wall.
The Cove and Mokuhooniki Rock, also known as Elephant Rock, are more beginner-friendly than the former two when conditions are right. Their depths range from 20 to 100 feet, and they're covered in Spanish Dancers, Hawkfish, lobsters, sharks, manta rays, and more.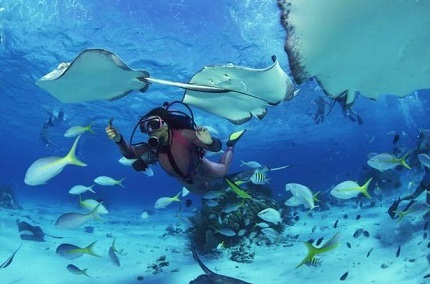 Manta Ray Night Dive
The Manta Ray Night Dive in Kona is one of the most popular dive sites in Hawaii—and for good reason.
Who wouldn't want to spend an hour or two swimming with elegant manta rays when night falls? It feels much like entering a new world! It's an experience every diver should indulge in at least once in their life.
Manta Rays don't usually engage in night-time feeding, which is why the Manta Rays in Kora are so special. When you head out on these dives, you'll get to watch dozens of Manta Rays feeding on zooplankton. They might even swim around you if you're lucky!
Mantra rays are peaceful creatures and pose no danger to humans so long as you don't hurt them, which is why they're dubbed sea angels.
The best thing about the Manta Ray Night Dive is the fact that it comes with a Manta Ray guarantee. This means that if you don't see a Manta Ray in your dive, you get to experience the dive again for free the next time they're having a tour.
That's how confident they are with their Manta-Ray dives!
Pelagic Magic Dive
If you want to experience the real-life version of Stardew Valley's "Dance of the Moonlight Jellies," don't miss the Pelagic Magic Dive. It's an experience you'll remember for the rest of your life.
The Pelagic Magic Dive, also known as Black Water Dive, is one of the more extreme dives on this list.
In this event, you're going to scuba dive in a fully pelagic environment, where marine life swims freely in all directions.
Once you're deep in the water (40 feet at least), you'll be met with dozens, if not hundreds, of mesmerizing jellies putting on a colorful display. You'll also find a bunch of larval octopuses, crabs, and other nocturnal sea creatures that only come out at night to feed.  Don't forget to take a dive camera!
That said, think twice before doing this dive—especially if you're afraid of the dark!
Apart from the torch you're equipped with, you'll be descending in complete and total darkness.
The creatures you'll find 40 feet beneath the ocean are equipped with bioluminescence characteristics, but not all of them glow in the dark. If you have a primal fear of the unknown, better skip this one!
Kahuna Canyon
Those who have visited the Kahuna Canyon on Oahu's North Shore will never forget the thriving marine life and open blue waters it features.
With a bowl-shaped crater reminiscent of Arizona's Grand Canyon, this diving spot is peppered with caves and coral formations that host an array of marine life, including amberjacks, Ulua, unicorn surgeonfish, eels, and more. The canyon actually used to be a volcanic crater with a base of 100 feet and a top near 35 feet.
However, the sea-facing half of the crater has now eroded. Today, the east-facing wall serves as a massive chasm that divers can explore.
If you're in Hawaii between May to September, don't miss this diving spot. You won't be able to visit it come October through April, as heavy surfing conditions make it near-impossible and dangerous to dive in.  Learn more from PADI.
Naia
Naia is another must-see diving spot in Kona, especially if you're into dolphins!
This diving site is home to dozens of spinner dolphins. In fact, the word "Naia" actually means dolphin!
Aside from dolphins, the shallows are packed with filefish, raccoon fish, butterflyfish, and yellow tang. You'll also find the occasional eagle ray and tiger shark!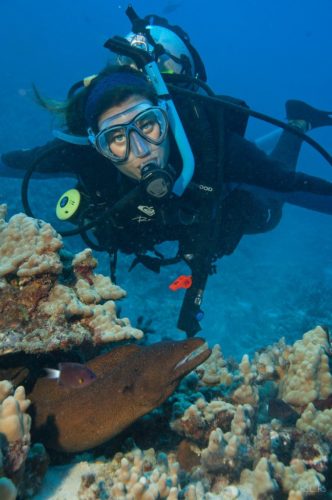 Three Fingers
If you're a beginner looking to "test the waters," so to speak, check out the Three Fingers diving site in Kauai.
Named after the three finger-like lava rocks that extend from the shore towards the deep waters, Three Fingers boasts a plethora of marine life for underwater photographers
Since it's so close to the shore, it allows shallow dives of between 25 to 75 feet. Don't be fooled by its beginner-friendliness, though; this site is also great for advanced divers because of the rich marine life it offers. Plus, it has incredible visibility!
Wildlife sightings include dragon morays, conchs, blue-striped grunts, surgeonfish, and lots of sea turtles. And that's just touching the surface! Three Fingers is believed to host 200+ marine creatures, with some just waiting to be discovered.
Carthaginian II Shipwreck
Located in Maui, the Carthaginian II shipwreck is one of the most popular and distinguished landmarks in the area. The Carthaginian II was an exact replica of the Carthaginian I, a three-masted schooner that had been built in Denmark in 1921. Located near by is some of the best snorkeling in Maui.
The Carthaginian II was purposely sunk in Lahaina by the American Marine on December 13, 2005, to imitate the original Carthaginian shipwreck. It now sits at a max depth of 97 feet.
Despite the slight current on the site, the Carthaginian II is suitable for scuba divers of beginner and intermediate skill levels.
Frogfish and trumpet fish can be found swimming in and out of the wreck, alongside rainbow cleaner wrasses, orange spine unicornfish, sergeant major, and other colorful tiny creatures.
The Carthaginian II diving site has a maximum diving depth of 97 feet and a visibility of 100+ feet, making it a great spot for tourists to take pictures and expert divers to explore.
Final Thoughts
There you have it; a comprehensive list of the most popular dive sites in Hawaii!
Most of these sites are beginner-friendly, but some—like the Manta Ray Night Dive and the Pelagic Magic Dive—should only be explored by intermediate or experienced divers!
There are also some products that might help your dive go a bit more smoothly like a dive watch, dive compass, dive computer, or diving knife.
With so much to explore in Hawaii, the diving list above is only touching the surface. So if you're planning to go diving in the near future, make sure to book in advance as these diving spots are almost always fully booked.
Have fun!