Scuba diving in the depths of thee Hawaii underwaters is typically a rewarding endeavor. The experience is nostalgic, and those who have tried can swear by it. No matter where you're scuba diving though, it is a fun recreational sport, but it comes with some potential hazards if you're not careful. That's why you need proper training and certification.
That's why it's prudent to have proper safety gear like masks, snorkels, and fins. When underwater, it's easy to lose your direction, and this can cause anxiety and nervousness in many divers. To avoid this, a dive computer is imperative. The computers are easy to use and track the profile accurately when underwater.
List of Top Quality Dive Computers
However, finding the best dive computer is no walk in the park- even for the most experienced divers. Fortunately, we have done most of the leg work for you. Through in-depth research and consultation with dive computer connoisseurs, we have compiled a list of the best dive computers in 2019.
Best Dive Computers in 2020 – Comparison Table
IMAGE
Dive Computers
FEATURES
 

Known For:

Ergonomic Design

Price:

$$$

Check Price

Known For:

Strength, Durability

Price:

$$$

Check Price

Known For:

Slim Style, Superior Readability

Price:

$$$

Check Price

Great For: Beginners
Price:

$$$

Check Price

Known For:

Full Featured GPS software

Price:

$$$

Check Price

Great For: Novice
Price:

$$$

Check Price

Great For:

Beginners with great safety features

Price:

$$$

Check Price

Known For:

Compact and Attractive Design

Price:

$$$

Check Price

Known For:

Lightweight Superior Processor

Price:

$$$$

Check Price
 

Great For:

Beginners

Price:

$$$

Check Price
We have compared the pros, cons, and features to make it easy for you to choose the product that best fits you.
11 Best Dive Computer in 2020
Why we like it: It's an ergonomically designed dive computer with a 3-button interface, which provides vital information like depth, ascent rate, and the possible need for decompression.
Salient Features
Since 1946, Cressi has been consistent in manufacturing high-value diving products, and Cressi dive computers are no exception. Through innovation and creativity, the item is designed with a 3-button interface in order to give you everything you need at your fingertips. It provides all necessary information regarding dive times, depth, surface intervals between dives, and the possible need of decompression.
Nitrogen release and absorption are consistently processed by high-tech software that takes into account the amount of inert gas contained in various mixtures. Also, the PCD system will display all of this vital information on the device's display, allowing you to make informed decisions.
The sophisticated software has an option where you can take a Nitrox dive after an air dive, even while desaturating. The gadget has a full set of oxygen partial pressure (PO2) and oxygen percentage parameters (FO2), where you can set FO2 between 21 – 99% and PO2 between 1.2 – 1.6 bar.
Included also is the dive program which helps in processing data for every dive performed with nitrox or air. Plus, the deep stop feature can be turned on and off. Other included features are auditory and visual alarms, as well as a built-in calendar and clock. More so, there is a gauge setting option for depth and a timer.
It automatically signals a safety stop
The device is ideal for scuba diving and spearfishing
Reliable and durable
The battery last for long
It's not Bluetooth enabled
A little bit hard to use without referencing instructional manual
Why we like it: The device is solidly built to last years of abuse for even the most frequent divers. Plus, with this model you can easily go back and forth between imperial and metric programmable functions.
Salient Features:
The Zoop is designed with both durability and functionality in mind. Although the device is wrist-mounted, this is not your regular dive computer. The screen is a hard-wearing acrylic that can take a beating, and the display is good-sized to make it easy for you to read at a glance while diving.
When it comes to the menu, the four-buttons are big, making it easy to view the display and navigate. One thing we really like about this model is that if you forget to turn on the Dive Mode before you dive, it will automatically activate the mode once you get underwater deeper than 0.5 meters. But, on the flip side, if you're less than four feet deep, the Zoop will remain in surface mode.
As for safety features, it comes with a default setting that reminds you to make a safety stop when necessary. Also, the alarms can get set for maximum dive time and depth. When the dive mode is activated, the battery indicator will indicate the current battery level, which ensures the power does not go off when underwater.
To conserve battery, the Zoop is designed to switch to idle mode after every three minutes. The Idle mode only displays the day of the week, time, and date. When it comes to the battery's lifespan, it depends on the number of dives you perform annually. The higher the number of dives, the lesser the life expectancy.
Easy to read
The device can convert from Centigrade to Fahrenheit
It provides surface interval time
Ideal for dive novices
It can interface with a Mac
No Bluetooth connectivity
No air integration
The buttons are too stiff
Why we like it: The Mares Dive Computer has a slim design for a snug fit with a large display for clear and superior readability.
Salient Features:
The Mares might look like a regular wrist watch, but it's large in functionality. The gadget is a successor of the Puck, and with this model, the manufacturer concentrated on ease of use and simplicity. Although it doesn't come with advanced functionality, it's still a great device worth every penny.
The large display allows the accurate display of necessary information while providing a perfect fit on your wrist. The display comes with strong a backlight, with a duration of 1 to 10 seconds to conserve battery.
The Puck Pro is designed to handle oxygen mixtures between 21 – 99 percent for Nitrox diving. The maximum depth is 492 feet (150 meters) with an altitude adjustment of up to 12,100 feet (3,700 meters). The dive log is capable of 36 hours with a sampling rate of five seconds. The USB connectivity allows you to transfer dive data to your PC. However, the Bluetooth connector is sold separately.
It comes in six colours. Although it's cheap, Puck Pro is yet an efficient and reliable diving computer. It provides all necessary functions that make your dive fun, enjoyable and safe. But if you're an experienced diver, you may require a device with more advanced features. Puck remains the best gadget for beginners.
Adjustable RGBM algorithm
An excellent gadget for beginners
Easy to use
The device has different dive modes
The USB connector is sold separately
Users feel it's too large for a wristwatch
No built-in compass
Why we like it: Cressi Leonardo is a must-have dive computer for beginners and those who want to dive just for fun. The depth gauge mode, complete nitrox management and reset option are some of the great features found in this elegant wristwatch.
Salient Features:
Cress debuted 1964, and since then the diving company has been on the forefront in designing elegant diving gears. The company is rich in design, creativity, and innovation, and Cress Leonardo is one of the manufacturer's showcases of creativity.
If you have been looking for an affordable dive computer that is easy to use, then Cress might be your ultimate choice. The device as a single button to make it seamless when setting Nitrox, Air, and gauge modes. It's easy to operate and read the information.
Thanks to the high-definition and large screen. It has a CNS oxygen toxicity graphic indicator with PO2 adjustable between 1.2 -1.6 bar and FO2 between 21 -50 per cent.
The device is water-activated, and it will start the Dive Air mode below four feet. It comes with a backlight which is designed for poor light conditions. The metric and imperial settings can be rest to display meters or feet, centigrade or Fahrenheit. It also comes with a date, temperature, and calendar display.
The display is easy to read underwater
The menus are easily accessed with a single button
It's easy to view the battery life indicator icon
No wireless air integration
No built-in compass
Too simple for professional divers
Why we like it: The Dive computer by Garmin has a sleek design with a well-featured GPS software.
Salient Features:
Whether you dive in saltwater or fresh water, with or without tanks, breathing trimix or nitrox- Descent MK1 is a must-have dive computer for professional divers. It's a watch-sized dive computer which offers surface GPS navigation with location reference and full-color on-screen mapping.
It helps you to mark the dive entry and exit points. Descent Mk1 provides easy-to-access features including real-time data you need for swift and smooth diving experience.
The device is designed in a way you can set the vibrations and audible tone alarms to act as reminders as you dive deeper into the sea. The device supports up to six different gas mixes, including trimix and nitrox.
In addition to GLONASS and high-sensitivity GPS, Descent dive computer offers a full range of ABC sensor capabilities for seamless navigation. It's infused with an easy-to-read compass. It can be paired with your compatible smartphone to help you receive emails, smart notifications and text messages.
Furthermore, Descent Mk1 provides features set of fitness, sports, outdoor navigation, and training. You can tap into a myriad of running dynamics, physiological metrics, and tracking features.
Great and accurate dive computer
Incredibly versatile for a myriad of activities
Comes with a rechargeable battery
Long battery life
Expensive
It does not support air integration
Why we like it: The Oceanic Geo is a perfect example of an excellent mid-range dive computer. It's suitable for a novice with a little bit higher budget.
Salient Features:
The Oceanic Geo supports two programmable nitrox gas and air mixes up to 100-per cent oxygen. This decent wrist watch has 4 operating modes: Norm, Gauge, Watch, and free diving mode. Navigating the menus is easy, thanks to the step-back system. The backlight works incredibly great for low light situations.
This great dive computer is designed with a 24-unit memory that is enough for most divers. More so, you can transfer data to a computer using an optional USB connector. Visually, the design is sharp, and the compact size makes it a must-have dive computer.
The device has a programmable maximum depth that will alert you once you reach the maximum depth. The watch will automatically go into dive mode once you down. It comes with a diver-replaceable battery with data retention. The powerful Lithium battery has an operational depth of 100 meters with an altitude adjustment of 916 – 4,200 meters.
The watch is available in two colors and comes at a competitive price. the surface material and build quality are durable. Additionally, the gadget is user-friendly, and it's a perfect device for beginner-intermediate range.
Sleek design
The watch is user-friendly
Easy to use and read display
Excellent mid-entry level dive computer
Fairly priced
No air integration
It has only 24 units in memory dives
Why we like it: It's designed with several safety features to make new divers get the courage to get underwater.
Salient Features:
One of the safety features infused in Mares Smart dive computer is the ascent rate lockout. the manufacturers had to ensure the beginners feel safe as they take a turtle tour or while snorkeling. The ascent rate locks the device for 24 hours only of the excessive rate has been maintained consistently for more than two-thirds of the set depth. This feature minimizes the risk of nitrogen injuries.
The dive computer features sleek looks with a slim profile. The Mares Smart is available in various colors and has an elegant design. The two buttons make navigation seamless with a great display to make it easy to read. It's manufactured with three display windows: safety stop, miscellaneous information, and depth.
The dive computer is distinctly designed with beginner mode in mind. It has all the salient features that beginners and the mid-level diver would need. It has four distinct dive modes: gauge, watch, free diving, and Air and Nitrox. The maximum depth is 492 feet, making it suitable for divers who would want to sharpen their diving experience.
Operating altitude- with decompression- is approximately 12100 feet. There is a broad temperature measurement range measuring from -10°C to about 50°C.
The backlight is bright
Easy to use for beginners
Inexpensive
It has audiovisual alarms
Sleek design
Small display
No compass
It does not support air integration
Why we like it: The Aqua Lung i750TC is infused with all the necessary features that would make a beginner feel safe and courageous underwater. All these great features are pieced in a compact, attractive design.
Salient Features:
Aqua Lung is one of the best dive computer in the market with four operating modes: gauge with a run timer, Air, Nitrox, and free dive mode which tracks calculations that enables mode switching between free and Dive. The i750TC OLED display is crisp and bright.
The color-coded alarms are helpful in monitoring safety underwater. Once the Aqua Lung gets paired with the Aqualung transmitters, it can never be repeated since it gets paired for life. It makes the device easy and simple to use for years.
Data management and Bluetooth allows you to analyze your dive data. Interestingly, you can easily program the gadget remotely. You can easily store and share your dive videos once you pair it with your smartphone. The data retention saves your settings and dives data, even when you're replacing or changing the battery.
The compact design is appealing with stealth-mode PVD finish. It's durable to last you for years. The 3-axis compass, tank-switching abilities, and a range of diving modes make the device a versatile dive computer.
3-axis digital compass
A bright and highly-visible color screen
User-updatable software
Four operating modes
Versatile
Quite expensive for a beginner
A bit complicated to use
Why we like it: Shearwater Perdix AI is a tiny, lightweight super-processor that fit in your pocket. It goes with you from a novice recreational diver to a professional diver without a beat.
Salient Features:
When it comes to performance, Shearwater Perdix AI is always up to the test. Shearwater is committed to quality and excellent functionality. Like most dive computers, it will retain your basic dive information. The huge array of advanced configuration options set it apart from other dive devices. Flexible and durable, the Perdix AI can be configured to various kinds of dives to suit different divers.
The device will keep track of five gases for either closed or open-circuit diving. On board, it has a 3-axis compass that adjusts with unmatched speed. You can adjust the algorithm to lo, medium, or high, track whether you're diving in fresh or salt water. You can change the colors of the main text and titles. Furthermore, the device has an option of adjusting the brightness of the display.
Bluetooth connectivity is enabled by the Shearwater Cloud, which helps you to upload the dive data directly to your PC, tablet, or smartphone. Furthermore, shearwater includes padded cases for transmitters and computer. The Perdix is rugged, low-profile and durable.
Easy-to-read, high-resolution display
It has a customizable display
Bluetooth connectivity
Supports wireless air integration
2-button menu interface
Simple to navigate
Expensive
A bit bulkier than regular dive computers
Why we like it: This scuba diving computer by Suunto is easy to use and a great entry-level gadget.
Salient Features:
If you are a novice, you need a gadget that will offer maximum safety and is easy to use. Suunto Zoop happens to be that reliable device. Whether you're exploring underwater adventures or taking baby steps in diving, Suunto Wrist Unit has everything you need. The nitrox mode and full decompression capabilities mean that the device is explicitly designed to give your years of endless fun.
The dive computer also features an easy-to-use, super bright phosphorescent display.it has a continuous decompression planner that is perfect for helping you plan for the upcoming dives. It features an optional computer interface that gives detailed and precise graphical logbooks.
The push buttons make it easy to navigate and use the device. A straightforward menu makes it easy for beginners to follow. You can swear by Suunto Zoop as an elegant wrist unit or better mount it on the Suunto's combo console. The several modes make it a highly versatile dive computer.
Although it feels too big to be worn as a regular watch, the Suunto is your reliable and durable dive computer. It uses changeable battery whereby you need a few seconds to replace the cell. Audible alarms and built-in dive planner sets it ahead of other dive computers in the market.
Great item for dive beginners
East to use
Inexpensive
Durable
It can be hard to operate especially for the novices
Why we like it: The Teric Wrist Dive computer promises a myriad of features that ensures your scuba diving experience is fun and safe. Its terrific screen is clear, bright, and large.
Salient Features:
When it comes to performance, Shearwater Teric outperforms other dive computers in the market. To start with, the large screen with clean lines makes every figure clear. Even in the cloudiest of waters, you will still manage to read the displayed information.
The compass functionality on the screen is large enough to make everything readable. More so, it gives accurate readings all the time even after contorting, twisting, or tilting your wrist. The readouts are clear and crisp. The stopwatches functions and countdown timers are easy to adjust and use.
The gadget has three distinct types of air control to give you flexibility in your dive. The multiple preset modes like free diving, recreational, and gauge enables you to customize the readout seamlessly. Shearwater Teric is a responsive dive computer that allows you to interact with it while diving.
The buttons push easily even with the thickest dive gloves. The alerts are fully customizable to allow you to choose between audible or vibrations alerts. The Teric Wrist dive computer connects via Bluetooth once you get out of water. The interface is also readable and easy to use.
Customizable, easy-to-read display
Sleek design
A myriad of dive modes
Automatic digital integration and log tracking
The price may be high for people joining scuba diving
Best Dive Computer Buying Guide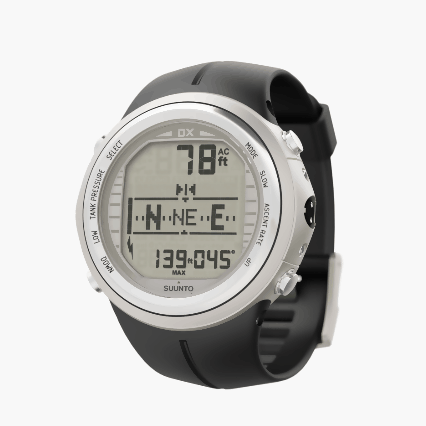 With the market heavily saturated, getting the best dive computer is a walk in the jungle. As you plan your tour to swim with dolphins in the beautiful shores of Hawaii beach, you need to arm yourself with a decent diving computer. But if you don't know what to look in a dive computer, you will end up getting disappointed. Below, we have outlined 7 factors to consider when you're searching for a dive computer.
1. Readability
Getting a dive computer means you need a gadget that you can easily read and access information. Therefore, check the display of the computer before you decide on buying it. However, it might be easy to see the information on the display without wearing a mask.
Think about how the data will get displayed when underwater. In this case, ensure your potential dive computer is designed with a backlight that will make it easy for you to read the information even without enough light. Furthermore, check the digits to ensure they are big enough.
2.Your Level of Experience Matters
Are you a beginner or a tech-diver? As a beginner, you need a simple yet high-quality dive computer that is easy to read and navigate. You don't want to get panic attacks while underwater for failure to use the gadget. Professional divers require devices that are infused with more advanced technology. They'll obviously choose a computer that's is on par with their skills.
3. Stick to Your Budget
One of the greatest tricks to enjoy your summer vacation is by having a snorkel tour in Maui- one of the most stunning Hawaiian Islands. And as you plan to explore underwater, you will require a gadget that will keep you safe. Having a dive computer is fun. But it doesn't mean breaking your bank account to own one.
There is a myriad of diving computers in the market that offers great features. High price doesn't translate to great performance. But be wary of low-ball costs. It could mean you're being sold a substandard device that won't last you for long.
4. Data Transfer
Many divers – beginners and professionals- like the option where they can easily upload the data of their dives to a home laptop, tablet, or PC. The option allows you to transfer graphs and data easily to give you a simple tracing tool. It creates a rich memory store where you're able to see your diving progress. You can upload depth, time, nitrogen percentage, ascent rate, and air consumption.
5. Nitrogen Compatibility
It's always recommended to use a watch that is nitrox integrated. It doesn't matter if you want to use nitrox for your scuba diving of considering switching in future. A nitrox watch is imperative. This kind of a dive computer enables you to dive with nitrox or air, giving you an opportunity to dive with whatever you want.
6. Replaceable Batteries
One of the reasons why replaceable batteries are recommended is because they will you enough power to dive the whole day. You can carry another set to replace a dead battery. Dive computers will still retain your dive data even when replacing the batteries.
7. Digital Compass
At the deep sea, you will see how magical it is.
As you book your Turtle tour
, do not forget to go with your dive computer. But on the scariest moment when underwater is to lose your direction. You need to ensure you're headed in the right direction. Therefore, get a watch that is designed with a digital compass.
Features of the Best Dive Computer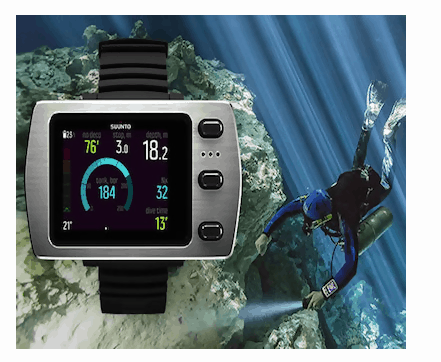 Scuba diving is the same as swimming only that this time to have to dive deep sea. It can be scary, but with the right training and gears, you can sail through. A scuba dive computer has the following features:
Ease of Use
Whether you're a beginner or a professional diver, you need to purchase a device that is easy to use. Even with the most crystal clear LCD screen and advanced technology, if the computer is not easy to use and navigate, it's not worth it. well-spaced, large buttons will help you use it easily.
Before buying a dive computer, read reviews from previous clients to get invaluable information about the gadget.
Gauges
You need to know the amount of air and the time you have underwater. Therefore, being updated on time will give you peace of mind and prevent anxiety. Knowing how much battery and air you're left with is paramount.
The best dive computer will accurately give you all the dive information you require. These gears are designed with algorithms that precisely factor in time and depth.
Connectivity
Diving is for fun, but you can track your progress. Connecting your diving computer to a tablet, smartphone, or PC will help you to compare the dives. It shows the progress and statistics you could not have noticed while diving.
Pricing
Diving computers come at different prices. The price depends on the
material used
, the brand and the features included. As a beginner, you need a simple computer that is easy to operate. You can get an inexpensive one with essential features. However, properly-trained divers require devices with advanced features and technology. Such devices come at a high price.
Mounting
The best dive computer is easy to mount on your
wrist
, and it should fit snuggly. More so, you can look for a lightweight device that will not feel like a burden on your wrist.
FAQs
What is a Dive Computer?
A dive computer is a fantastic gadget used by divers. It measures the depth and time of the dive to calculate the safe ascent profile.
How Many Types of Dive Computers Are Available in the Market?
There are three main types of diving computers:
Watch Style – This style is ideal for holiday diving. You can use it as a watch when not in water. It automatically gets to the diving mode when you're underwater.
Console Computer – A console computer does an amazing job at monitoring depth, safety, and oxygen levels.
Wrist Style – This is one of the most popular dive computer styles in the market. It's easy to read, convenient, and lightweight. More so, it sits perfectly on your wrist.
What Are Dive Computer Algorithms?
Algorithms are the tools integrated into your dive computer that helps in calculating maximum dive time, surface intervals, and depth.
Is a Dive Computer Ideal for a Beginner?
Absolutely yes! Although you can dive without a dive computer, it's a necessary tool that will give you peace of mind by indicating the real-time, depth, and the amount of air remaining.
Why Use a Dive Computer?
Dive computers help divers in calculating their dive. It is easy to use and helps you in keeping track of your dive progress. Furthermore, a diving computer provides supreme safety, flexibility, and updated log of your dive.
Do you Need to Be Excellent in Swimming to Scuba Dive?
No. Swimming is generally keeping your afloat on water. However, scuba diving, you can either float or sink deep under the sea. The difference between swimming and scuba diving is the kicking style. Learning to breath underwater is exhilarating but a bit scary.
Overcoming this fear, it will make you a professional diver. But the study shows that recreational diving is more of safe swimming but with potential risks.
In Conclusion
Scuba diving is exciting and has a decent record if safety. But accidents to happen. One of the best ways to prevent an accident is to ensure you have the right gear with you. A dive computer offers excellent features that ensure you're safe underwater. Ensure it's operating well, with enough power and accurate readings. Apart from a diving computer, you need an appropriate mask and a torch, or any other device required.
Garmin Descent MK Dive Computer is our top pick gadget. It is a GPS-enhanced dive computer infused with powerful tools. The Fenix 5X is ideal for everyday activity tracking. The combination of HR monitor, altimeter, and powerful GPS on a sleek screen sets the device ahead of others. It's the only dive computer with GPS maps and track which is displayed on a 1.2″ appealing colour screen.
Live Your Aloha Dive Computer Review
Snorkel Mask
★★★★★
"
I wish I had found this post earlier as I purchased a useless dive computer a few months ago. However, I'm happy to see how beautifully you've described different features of dive computers. thanks for helping me out
"