Hawaii is an unbe-lava-ble place.
BTW, we are going to attempt to slip in ALL of the volcano puns we know in this one article.
It's a land where all of the elements come together- you can splash in cobalt blue waters, feel the stir of hibiscus scented air, run your fingers through deeply dark volcanic soil and gaze into the murderous fiery eye of a volcano.
Volcano tours in Hawaii are great for staying active (get it?), fabulous for letting off steam (too easy) and encourage you to explore the islands while still going with the flow (yep, we went there). Ok, we are sorry, enough is enough.
The smoky island doesn't only offer tours that allow you to hike molten lava fields, but you can also enjoy a Hawaii helicopter tour soaring above puckered peaks, kick back on black sand beaches push your way through tangled coffee plantations and even watch the bloody lava flow into the sapphire sea.
From the verdantly brilliant West Maui Mountains to the mysterious Mauna Loa, here are the volcano tours in Hawaii that are so f-ing hot right now (one last time we swear).
Volcano National Park (For When You Want It All)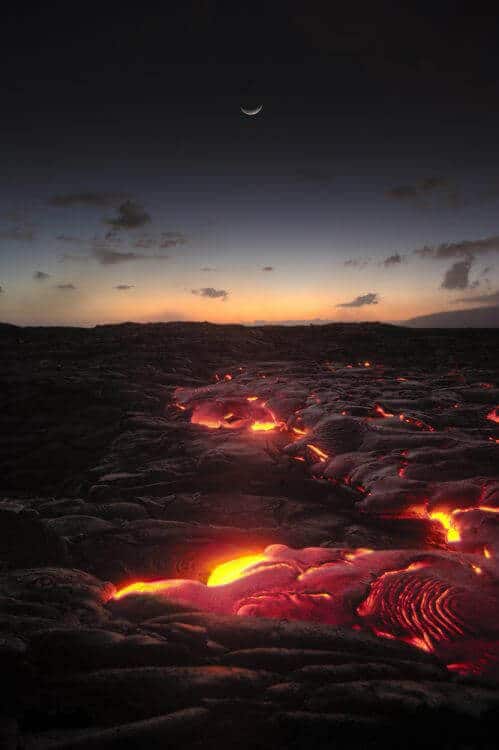 If you are seeking an all-you-can-eat buffet of ash, lava and colorful cloud formations swirling above volcanoes – then this is your number one stop.
Volcano National Park is Hawaii's tour de force, a place where you can listen to the rumblings of the ancient world and spend days or weeks exploring.
The infamous and moody craters and chasms of Kilauea can be found here. Arguably one of the world's most restless volcanoes – if this volcano was a superstar it would be Diana Ross, for sure. When she isn't spitting and spewing, you are ever aware that bubbling below the surface is something terrifyingly fierce.
You can drive the 11-mile rim road, breathe in the Sulphur fumes of the Halema'uma'u crater, creep through the mind boggling Thurston Lava Tube and watch flowing lava run red into the crashing surf on the epic Chain of Craters road.
Throw into the mix plenty of tropical hikes, observation centers, museums and a rare bird park and you have a Hawaiian package tour of incredible magmatude (Shoot.  Sorry). Get the lowdown.
Volcano Helicopter Tour (To Feel The Burn From Up High)
If you really want to feel the heat, then take a volcano tour like the famous Blue Hawaiian Helicopter tour.
We know it sounds like a terrible idea to fly over the gates of hell with open doors, but as long as you don't lean out too far, you are sure to be fine. Probably.
Hailed as the hottest helicopter tour on Earth, the company called Paradise Helicopters actually offers a fly-by…sans doors. You can alternate feeling the breeze in your face, with feeling the hiss of steam and smoke against your skin. Consider it like a really expensive, but awesome, facial from 500 feet.
Have a blast, as you swoop down low over the cosmic rumbles of the Kīlauea Volcano, crest over the vistas of Mauna Loa and feel the cooling mist pouring from the tumbling waters of Rainbow Falls.
Your captain will be right there next to you, to point out all the wondrous sights of Hawaii's luminescent landscape, as you skirt and shimmy through the skies. Helicopter tours of Hawaii are the numero uno thing to do, but take yours one step further.
For a magnanimous experience, check it out… (close enough pun)
Volcanic Thermal Pool Swim (When Fire Isn't Actually Your Fave Element)
If flying or hiking Hawaiian tour packages haven't quite piqued your interest, then perhaps the idea of plunging into steamy blissful waters will have you falling back in lava (love…damn auto-correct) with volcanoes. That last pun was Superbad, we kind of ran out of steam on that one (whoa).
Ahalanui Park is a place that is sure to make you swoon. Not only do you get an impeccable pale and sandy beach, for stretching out with the latest bestseller, but you also get a volcanic spring-fed pool to lounge in.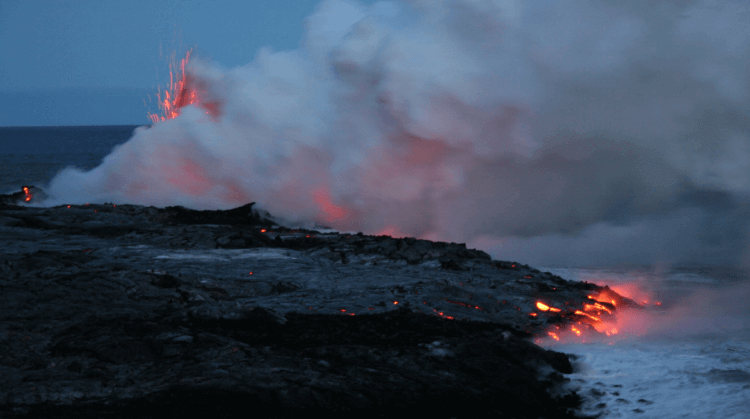 On one end of the pool, the ocean seeps through, keeping it cool and bright against your skin. Being also heated from a hot spring that flows from the dense and dark volcanoes close by means that you get waters that shimmer and simmer at around 32-35 degrees Celsius.
From the pool, you also get picture perfect images of the ocean.  And, if you glance down through the iridescent blue waters you are sitting in, you will also spot silver flashes of fish shimmying past your feet.
This is what Big Island life is made of.
Volcano Night Lava (When You Don't Want To Go To Bed)
Forget stargazing, that is so last year. Instead, feast your eyes on watching a volcano spew its chimney red and pumpkin orange top.
Volcanos look pretty impressive, whatever the weather, but, when you set them against a velvet black backdrop and truly see the colors froth, it's enough to make your jaw hang down to the floor.
There are a bunch of companies scattered across the Big Island that offer night gazing tours. Often, most pile you into an air conditioned car and whizz you around some of the major sights at sunset, which is pretty cool, since you get to watch the last fingers of sunlight reach through the mists of Rainbow Falls.
After a dinner, somewhere close to Volcano National Park, when the sun has sunk like a stone, you will be whisked away to a grand vantage point. From this spot, you can watch the volcano spit her insides up into the night air.  You can see the flow of lava and you can, of course, count the planets strung across the sky.
Whichever Hawaii tour you choose, you should certainly ensure that volcanoes plays a major role in at least one of them. They are the modern day gods of fire and fury (what a great name for a rock band), they are the pinnacles of the past and they are probably going to help determine our future as a species.
Bottom line; volcanoes rule! So book a tour and go and see some.