Hawai'i was recently named the second most expensive place to live in the country, falling just centimeters behind Connecticut. Some call it paradise tax, but we call it a small price to pay for living in one of the most incredible spots on Earth.
Plus, with its abundance of natural beauty and eternally-glorious weather, one doesn't have to go far or spend much to have a spectacular time.
Have five bucks to spare? Whether you're here on vacation or have lived here since birth, here are eleven ways to enjoy Hawai'i without breaking the bank:
Get Wet.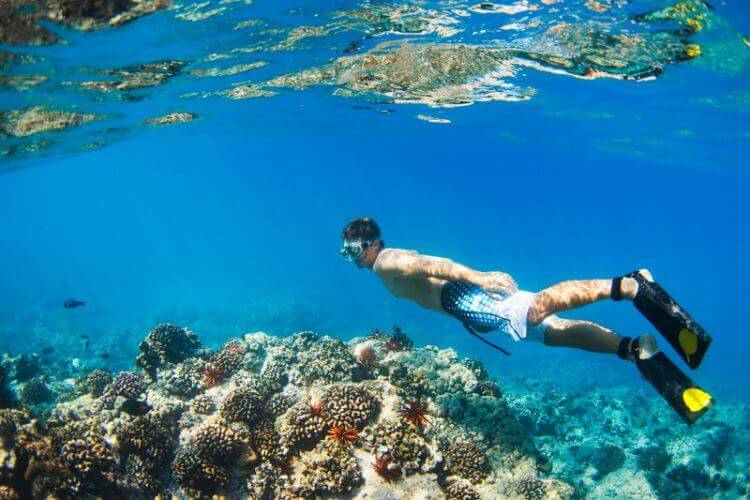 With snorkel sets going for $1.50 a day at Boss Frog's locations around the islands, you can watch some aquatic life shimmy by for less than it costs to buy a latte. Snorkeling definitely makes the list if you want to be that parent who nails the "things to do with kids in Hawaii" list.  Be sure to check out Maui's Ahihi Kinau. This natural reserve in La Perouse is home to a host of stunning sea life, while also offering outstanding views of the neighboring islands.
Say Awe.
Seriously—there are few views as dazzling as those seen from the lip of Kaua'i's Waimea Canyon. Known as the Grand Canyon of the Pacific, this red-hued wonder is fourteen miles long and over 3,000 feet deep. Throw down that five for gas and spend an afternoon with a part of the world that reaffirms nature's tremendous magnificence.
Be a Lush.
One of the beauties of the Hawaiian Islands is that you can drive several miles and find yourself in wildly different environments. Go from the warm, arid shores of Maui's south and west side beaches to Iao Valley—a sacred historical site that's as verdant as it is mesmerizing. Take a dip in its freshwater streams, pause to read about its storied past and then climb a series of stone steps to peace out with panoramic vistas. Bonus tip: Run into Minit Stop on your way to fuel up on Spam Musubi and iced tea.
Step Back into the Past.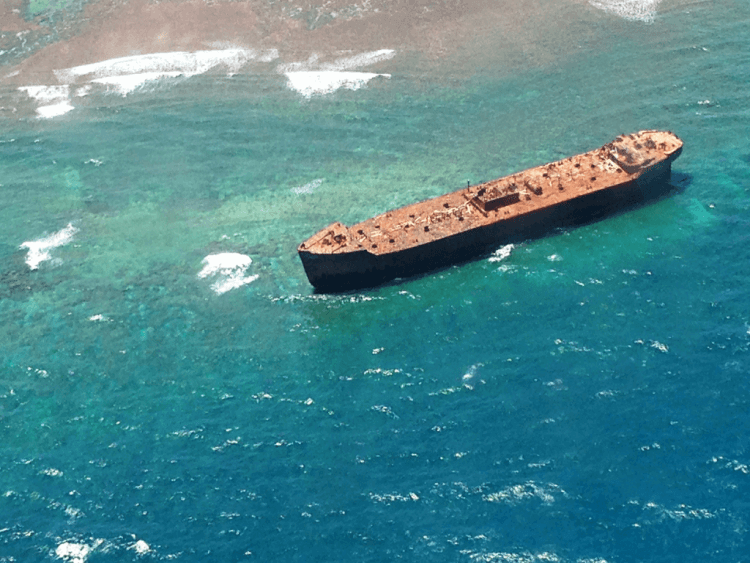 Lana'i isn't just home to the world-renowned Four Seasons at Manele Bay: The rugged island off of Maui's west shore is a veritable paradise for intrepid travelers. Of its many spellbinding spots, Shipwreck Beach ranks near the top. This eight-mile-long stretch of oft-deserted sand boasts one of the most beguiling sights to behold in the Hawaiian Islands: Liberty Ship, a rust-ravished relic of World War II that hugs an outlying reef just off the beach. Come for a picnic (get cheap eats in Lanai City before leaving) and stay for the truly indelible view.
Go Green.
With wonder, that is: The Big Island's Papakolea is one of two green-sand beaches on the planet. (Yes, green.) Thank olivine for the hypnotizing hue—a glassy mineral otherwise known as "the Hawaiian Diamond" that's found in the island's volcanic cinder cone. If you're looking for free things to do on the big island, this destination is a no-brainer.  The 2.5 mile hike to this gem-toned cove carries a good gust—and a whole lot of heat—so spend that five on water and a piece or two of fresh fruit.
Dive In.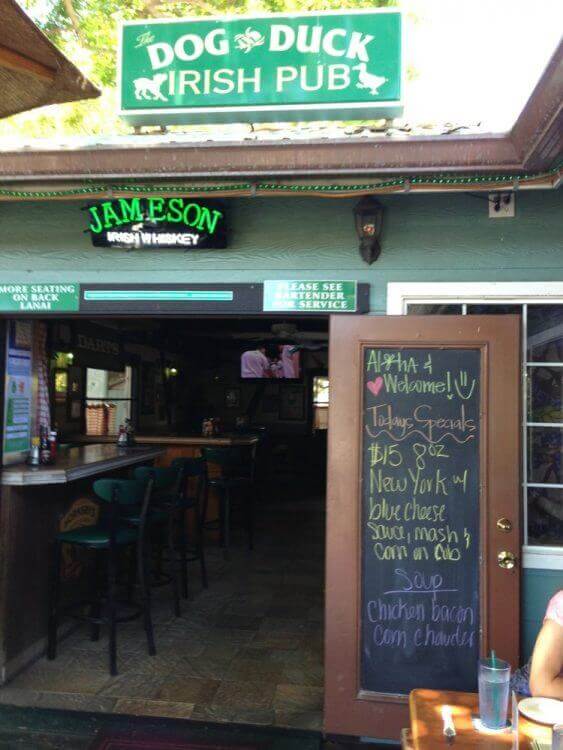 What's a vacation without a libation? While all of the major islands abound with excellent Happy Hours, we have a soft spot for Maui's Dog and Duck—if for nothing else than the pure novelty of an Irish pub across the street from a tropical beach. This beloved South Kihei bar bursts with divey aloha ambience and offers draft beers for less than five dollars from 3-7 pm daily. Nurse your brew on a Thursday for their fantastic, often-unruly Trivia Night.
Bliss Out.
Lush, vertiginous mountains are a massive part of Kaua'i's magic, but taking a cruise to see the Na Pali Coast costs a pretty penny and hiking in requires some serious muscle and perseverance. Bali Hai, or Makana Mountain, is an accessible peak that you can view from one the island's most breathtaking beaches—and it doesn't cost a dime. Come see why South Pacific filmed its most iconic scenes with this beauty in the background. It'll make you feel as if you're in a place so extraordinary that "exotic" barely comes close to an apt description.
Drop that Jaw.
Waikiki might be brimming with crowds and activity, but the gorgeous Nu'uanu Pali Overlook on O'ahu is where you'll find a slice of Old Hawaii's grace and peace. With parking for $3, you can score humbling views of the Ko'olau Range and Kaneohe Bay.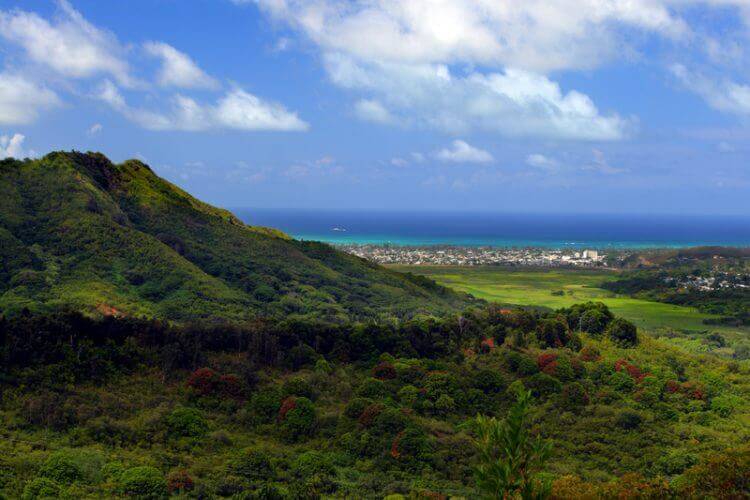 Say Amene.
One doesn't have to be an avid churchgoer to enjoy an affecting Hawaiian service. Maui's Keawala'i Congregational Church—a tranquil, oceanfront stone chapel that was built in 1832—offers two Sunday services, with nearly half of the hymns and prayers in Hawaiian. Make like a local and leave your slippahs at the door, and then give Kiko a quick pet—she's the Kahu's cherished dog and Makena's sweetest mascot. Tithe a little and then head to Kihei with your change for an artisan coffee at the tres chic Belle Surf Cafe.
Soak Up the Sun.
While nearly every beach on O'ahu is worthy of getting your feet wet, the windward side's Lanikai offers it all, from sugary sand and toothpaste-blue water to views of the outlying islands. Save that five for shave ice at Kailua General Store for when you're pau chilling out on your towel: Nothing tastes better than a frosty treat after a day at the beach.
Swoon Under the Moon.
Stargazing is no idle pastime on the soul-stirring vastness that is the Big Island. While Hawai'i's largest island brims with prime spots from which to ponder the constellations, Mauna Kea provides some of the most awe-inspiring celestial views. The Visitor Information Station on the way to the summit supplies telescopes, volunteers, and amateur astronomers to guide you through the heavenly galaxies. Bring a jacket (at 9,300 feet above sea level, the station certainly has a nip) and get lost in the stars.
From rainforests to secret coves, cliff jumping to relaxing on sun-soaked shores, Hawai'i is brimming with exhilarating outdoor activities—all of which remind us that the best things in life are free.