Travelers aren't always the happy-go-lucky people that you believe them to be, joyously skipping, shackle-free, around the world, as they prepare to tackle their next adventure.
The truth is that sometimes, traveling is utterly miserable. Especially when you are going solo.
Not only do you have a long plane journey with nothing but bad Nicolas Cage movies to keep you company, but you don't have anyone to share your fears with.
On the beach, who will agree with your fear of getting eaten by sharks?
Who will you raise an eyebrow at, when some smiling local tries to give you SPAM for the first time?
And, who will drag you up to do the limbo at a poor hotel party?
Instead, you will stalk the island like a lone tiger, half scowling at the happy families in the sand and half losing yourself in the utter bliss of being alone.
That's only partially true.  There is a few sharp things that you can do to keep sane when traveling solo…
Now, Maui isn't the easiest island for those who are feeling the pangs of loneliness.  You are sure to find doe-eyed honeymooners at every turn. But, don't let love grind you down.  Life in Maui can be way more fun on your own! Check out these super cool solo Maui activities to keep you entertained on the luscious island…
Take a Surf Lesson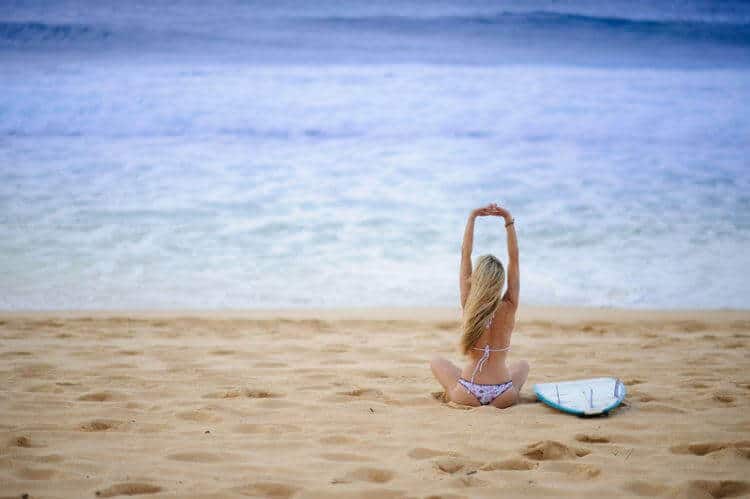 Who needs friends when you look super cool riding a surf board to shore? And, have you ever seen a miserable surfer?  Actually, don't answer that question!
We can't promise that surfing will make you look cool.  In fact, for a while, it may make you look even more miserable. Water up your nose, the feeling of being thrown in a washing machine and the complete incapability to balance – sounds like fun, huh? Don't be fooled, this is still one of the coolest things to do in Maui!
The funny part is that it is actually super fun, like the most fun that you can have in the world. Book a surf lesson and charge into the water to catch a few waves.  We can almost guarantee that, at some point during your lesson, your face will be split into the biggest grin that you could ever muster.
Also, if you love it, then you can totally spend the rest of your time in Maui out in the water and dancing on the waves. No friends necessary.
On a side note –  surfing will also make you feel like you have run a thousand marathons, which means that you can skip mingling at the awkward hotel luau listening to endless 'how we met' stories from boring couples and can just pass out in your bed.
Pro Tip- you'll be so sore after your first surfing adventures that you won't be able to lift your hands over your head.  Bounce over to SuperCuts for a shampoo or practice contorting your body so that you can shampoo with your feet.
Go on a Group Hike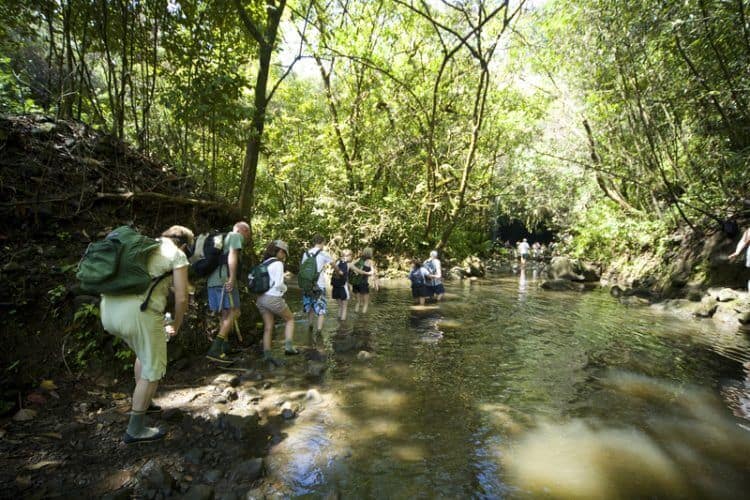 Maui is a whirlwind of jaw dropping sights.  In fact, you may as well just open your mouth now and keep it that way until you get back on your homeward bound flight.
The lush landscape is dotted with tumbling waterfalls, wild flowers growing deep in the rainforest, bright birds singing hypnotic melodies and sacred pools that seem to dazzle with mysticism. Of course, you can go off exploring on your own, but sometimes a group hike is so much better.
Walking alone is great, when you want time to your thoughts.  But, solo Maui hikes can be smattered with confidence shattering moments…
Did I go the right way?
Was the sound of that twig snapping a small rodent / anaconda / serial killer / ghost from mars?
Am I lost? Will I be stranded on this mountain all night and be forced to drink my own urine?
You get the picture.
Yet, when you join a group hike, you can bash about the rainforest with ease, you can run up mountains and not waste a single moment with your head stuck in a map.  We recommend the Haleakala sunrise tour or Road to Hana tour if you want to go hiking.
Climb Aboard a Whale Watching Boat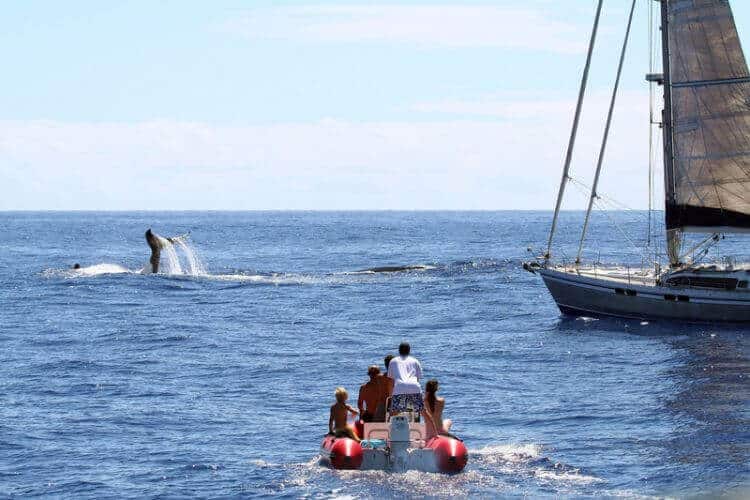 Close to the wild and wonderful shores of Maui, you can go snorkeling at Molokini Crater.
Here, over 250 species of fish shoal their way through the waters.  As soon as you stick your head under, you are bound to be blinded by an array of color.
Yet, to truly make the most of being out of your comfort zone, you should head into the depths of the deep blue sea and try a Maui snorkel tour.
Who needs friends when you have whales? The second you see your first humpback jumping from the water and causing a splash, you will know that you would have sold all of your friends to medical research for the chance to see it again.
Pick your tour carefully and try and find a non-profit organization who will pump the tour money back into keeping the gentle giants of the sea safe and the waters wonderfully clean and pristine. They deserve the money more than suited and booted execs, up in their ivory castles. What could capture Maui fun more than a bunch of whales slapping their tails and leaping out of the water?
Be Ace to Yourself
When you are surrounded by couples clinking cocktails, ordering lobster, and gazing longingly into each other's eyes, you may have moments where you want to hold their heads in a bucket of champagne or to hide in your room and watch all of the Harry Potter movies.
But screw that.  You can have an ace time by being ace to yourself. We are talking about not scrimping on the dollars and treating yourself to a massage or groan inducing spa day at the Willow Stream Spa at Fairmont Kea Lani Resort.
We are talking about eating your weight in SPAM musubi, indulging in delicious Maui delights aboard a dinner cruise and then spending hours snoozing in a hammock, waking only to take another sip of your Tequila Sunrise.  These are the best things to do in Maui! You should also totally eat your way through the following list.
We are also talking about buying yourself beautiful shell jewelry, renting a car and going on awesome adventures, galloping across the sands on horseback and booking yourself the whole penthouse suite (ok, maybe don't go that far, you don't want to bankrupt yourself). Indulging in a little luxury is a reminder that you are awesome and you are worth it, and will make your Maui trip a lot less miserable.