If you're a nature enthusiast with a penchant for adventure and incredible views, you're in for a treat. Hawaii is renowned for its stunning landscapes, and when it comes to hikes near Kualoa Ranch on Oahu, you're in for a Hawaiian experience like no other.
As I lace up my hiking shoes and get ready for trail exploration, join me on a journey through a list of remarkable hiking destinations near Kualoa Ranch.
The Best Hikes Around Kualoa Ranch:
Koko Crater Railway Trailhead
Our hiking escapade kicks off with the Koko Crater Railway Trailhead, often dubbed "The Stairway to Heaven." With its steep ascent and unique challenge, this hike feels like a journey to another world, or perhaps even a scene from Jurassic Park.
As you make your way up the old railway tracks, you'll be treated to breathtaking views of the Pacific Ocean and the rugged terrain that was featured in some of the biggest blockbuster movies like "Jurassic World" and "Kong: Skull Island."
Don't forget your bug spray, as the Hawaiian critters are always ready to join the adventure!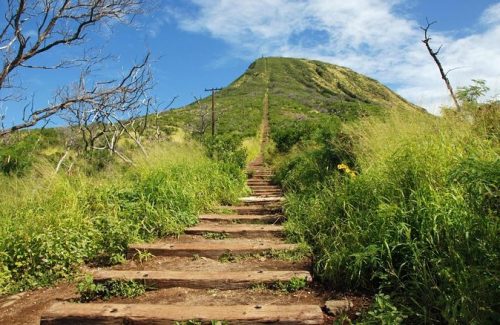 Mānoa Falls Trail
From the adrenaline-pumping Koko Crater hike, let's transition to a more serene adventure on the Mānoa Falls Trail.
As you tread along the dirt trails of Manoa Valley, you'll find yourself surrounded by lush rainforest and the soothing sounds of birdsong. Be sure to wear sturdy shoes, as the trail conditions can get a bit muddy.
The reward at the end? The mesmerizing Manoa Falls, an amazing waterfall that cascades gracefully into a pool below, offering a truly Hawaiian experience.
Makapu'u Point Lighthouse Trail
Next up, we head to the Makapu'u Point Lighthouse Trail, where the ocean breeze greets us with open arms. This is the ideal hike for those seeking incredible views without a grueling climb.
The paved path takes you to the historic Makapu'u Lighthouse, and along the way, you'll witness stunning views of the coastline and perhaps even spot humpback whales during whale season.
Crouching Lion Hike
Prepare to embark on a more adventurous hike, known as the Crouching Lion Hike. This trail is like a hidden treasure chest tucked away from the tourist crowds.
It offers a challenging hike, but the payoff is unparalleled views of the ocean and the iconic "Crouching Lion" rock formation. The hike itself can get a bit steep, so make sure your level of fitness is up to the challenge.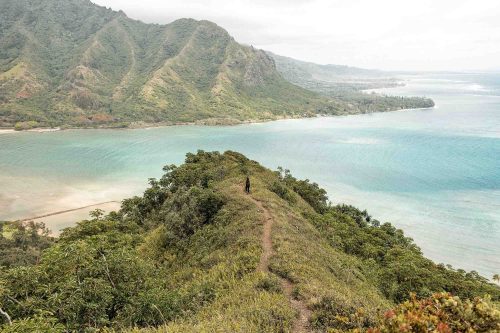 ʻAiea Loop Trailhead
Our hiking journey continues with the ʻAiea Loop Trailhead, a hike that takes you deep into Oahu's rainforest. This trail is a delightful mix of adventure and serenity.
You'll walk amidst lush greenery, passing through a forest of Norfolk pines and enjoying panoramic views of Pearl Harbor and the Waianae Mountains.
Kaʻena Point Trail
Now, let's head to Kaʻena Point Trail, where the land meets the sea in a spectacular fashion. This hike will take you to the westernmost point of Oahu, and along the way, you'll encounter tide pools, birdwatching opportunities, and a sense of solitude that's hard to come by.
Keep an eye out for the Hawaiian monk seals that occasionally grace the shoreline.
Hauʻula Loop Trail
For a more tranquil hiking experience, we'll explore the Hauʻula Loop Trail. This hidden gem offers a peaceful hike through a tropical forest.
With its well-maintained trails, it's a great option for hikers of all levels. The loop brings you close to nature, and you might even stumble upon a secret waterfall if you're lucky.
Wiliwilinui Ridge Trail
Prepare to conquer the Wiliwilinui Ridge Trail, which offers a challenging hike along the ridgeline. As you ascend, the views become increasingly mesmerizing. This hike offers some of the most incredible views on the island, making the effort well worth it.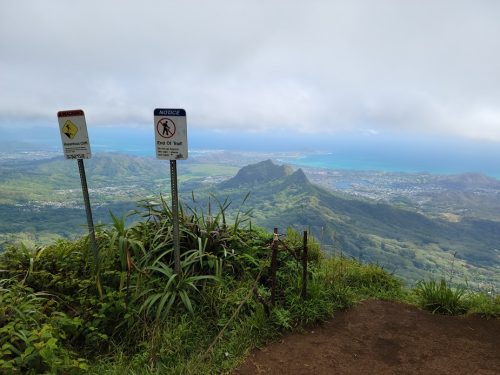 Kuliouou Ridge Trail
The Kuliouou Ridge Trail promises an adventurous hike filled with beautiful scenery. The trail is known for its native flora and fauna, and it offers a decent workout.
You'll be rewarded with breathtaking views of the Koʻolau Mountain Range and the lush landscapes when visiting Oahu.
Mt. Olomana Trail (Three Peaks)
Our hiking journey near Kualoa Ranch wouldn't be complete without tackling the three peaks of Mt. Olomana.
This challenging hike is for the adventurous souls who crave a true adrenaline rush. The ascent involves steep climbs, rock scrambling, and a bit of daring. But the 360-degree panoramic views from the summits are simply unforgettable.
Friendship Garden
After our high-intensity hikes, let's slow down a bit and visit the Friendship Garden. This peaceful oasis offers a chance to relax and reconnect with nature.
Stroll through the tranquil flower gardens, take in the serene surroundings, and find a moment of calm in the midst of your hiking adventures.
Hamama Falls
Venture deeper into the lush rainforest as we visit Hamama Falls. This hidden waterfall gem can be reached via the Hamama Falls Trail.
The journey through the dense forest is an adventure in itself, and the reward is an amazing waterfall surrounded by tropical greenery.
Mokoli'i Island
As we move toward the coast, we come across Mokoli'i Island, famously known as "Chinaman's Hat."
While you can't hike to the summit of this small island, you can take a kayak or boat tour to get up close and personal with this iconic landmark. The views from the water are just as incredible.
Maʻakua Ridge Trail
For those seeking rugged terrain and a challenging hike, the Maʻakua Ridge Trail is an excellent choice. This ridge hike takes you through dramatic landscapes and offers breathtaking views of the coastline and lush valleys.
Waimea Valley Trail
As we venture to the Waimea Valley Trail, we not only explore the natural beauty of Oahu but also immerse ourselves in Hawaiian culture.
This hike takes you to Waimea Valley, a place of great historical and botanical significance. Along the way, you'll discover botanical gardens, ancient Hawaiian temples, and a beautiful waterfall.
Makaua Village
Our next destination, Makaua Village, offers a peaceful coastal retreat. The beauty of this area lies in its simplicity, with picturesque views of the coastline and the sound of waves crashing against the shore. It's a perfect spot for a leisurely stroll and some quiet reflection.
Kahekili Highway
While not a hiking trail, the Kahekili Highway offers a scenic drive along Oahu's north shore. Along the way, you can make stops at various lookout points to enjoy the incredible views of the coastline, mountains, and the Pacific Ocean.
Koko Crater
Returning to the Koko Crater area, we explore another gem, the Koko Crater Botanical Garden. This peaceful garden is nestled inside the volcanic crater and showcases a wide variety of plants and flowers. It's a tranquil place to unwind and enjoy the serenity of nature.
Hawaii Loa Ridge Trail
Heading eastward, we find the Hawaii Loa Ridge Trail. This hike offers incredible panoramic views of the island's windward coast. The ridge trail leads you through lush forests and opens up to breathtaking vistas that will leave you in awe.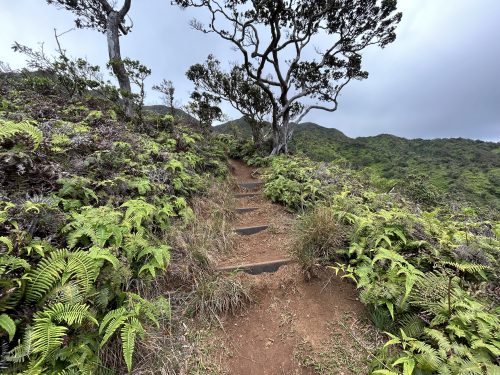 Hanauma Bay Ridge Trail
For a unique perspective of Hanauma Bay, try the Hanauma Bay Ridge Trail. This ridge hike takes you above the iconic bay and offers views that are nothing short of spectacular. It's a moderate hike that rewards you with incredible scenery.
Diamond Head Crater Hike
No trip to Oahu is complete without conquering the Diamond Head Crater Hike. While it's one of the more popular hikes, it's a classic for a reason.
The relatively quick hike takes you to the summit of Diamond Head, where you'll be treated to panoramic views of Honolulu and Waikiki Beach.
Pu'u Manamana Hike
Our hiking journey near Kualoa Ranch concludes with the Pu'u Manamana Hike. This is not for the faint of heart, as it's one of the most challenging hikes on the island.
The trail takes you along narrow ridges with steep drop-offs on both sides. If you're up for the adventure, the views from the summit are absolutely worth it.
Kahana Valley Road
As we wrap up our adventure, let's take a leisurely drive along Kahana Valley Road. This scenic route leads you deep into Kahana Valley, where you can enjoy the lush greenery, serene river, and the feeling of being surrounded by nature.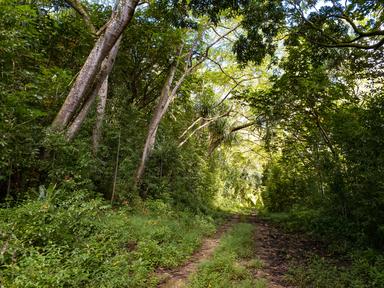 Wrapping Up
Mahalo for joining me on this adventure, and may your hikes near Kualoa Ranch be filled with aloha and eco-friendly experiences that leave you with lasting memories of Hawaii's natural wonders!