When you think of Oahu, the image of crystal-clear waters, lush landscapes, and warm sunshine often comes to mind. But no visit to this Hawaiian paradise is complete without indulging in one of its most beloved treats—shave ice.
Oahu's shave ice is a vibrant and flavorful experience that perfectly captures the island's essence. I'll guide you through the best places to buy shave ice on Oahu to ensure you make the most of this tropical delight!
Matsumoto Shave Ice
A true Oahu institution, Matsumoto Shave Ice is nestled in the charming town of Haleiwa on Oahu's North Shore.
For over 60 years, this family-owned establishment has been serving up a dazzling array of flavors. Expect to find long lines when you approach the store; after all, it's a beloved North Shore tradition for both locals and tourists.
Its signature rainbow shave ice, adorned with a sweet azuki bean paste and a scoop of vanilla ice cream, is a must-try.
With more than 40 syrup choices, you can create your own customized masterpiece that tastes like the Hawaiian rainbow itself.
Waiola Shave Ice
Waiola Shave Ice, located in the heart of Honolulu, is a local favorite and a well-kept secret for those in the know.
They offer a variety of classic and tropical flavors, with favorites like Li Hing Mui and haupia (coconut cream) syrup.
Don't forget to add mochi balls or condensed milk for an extra layer of decadence!
Uncle Clay's House of Pure Aloha
Uncle Clay's House of Pure Aloha, or UCPA as it's affectionately known, is an artisanal shave ice haven.
This spot stands out for its commitment to quality ingredients and an atmosphere that exudes the aloha spirit.
The store uses natural and organic syrups, and its shave ice is topped with fresh fruits, coconut flakes, and honey for a healthier yet equally delightful treat.
Its "Naughty Passion" shave ice is a fan favorite, featuring passion fruit, lilikoi, and li hing mui syrups.
Shimazu Store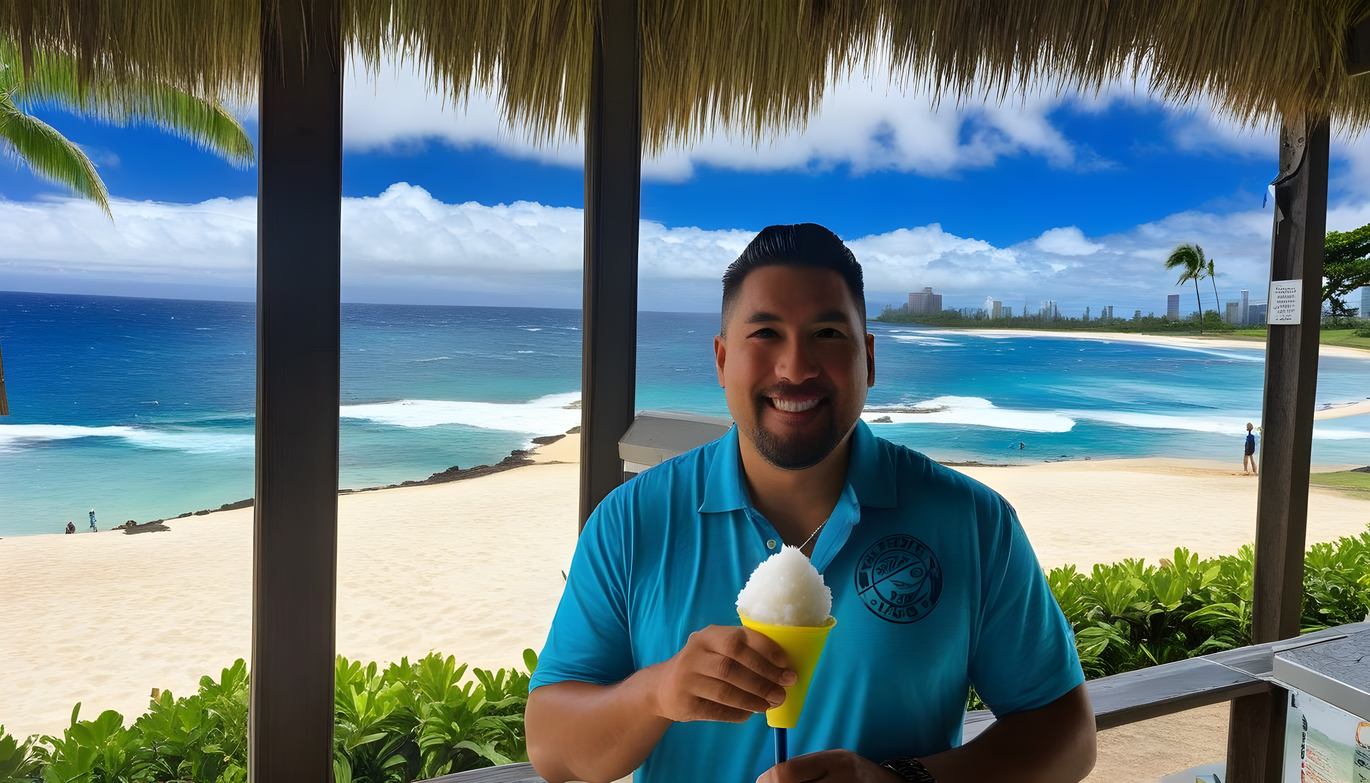 Shimazu Store, situated in the bustling heart of Honolulu on the island of Oahu, is a store that has been serving up some of the most delicious shave ice in Hawaii for decades.
One of its most notable features is its remarkable variety of flavors.
With an astounding selection of over 50 syrup flavors, Shimazu offers something to satisfy every palate.
The options range from timeless classics like strawberry and blue raspberry to the exotic, such as lychee and lilikoi.
Patrons can even opt for sugar-free syrups, catering to those with dietary preferences.
The shave ice itself is finely shaved, resulting in a velvety, snow-like texture that allows the syrups to penetrate every bite.
The portions are known for their generosity, making each visit a sweet and satisfying experience.
Aoki's Shave Ice
Aoki's Shave Ice, located in the laid-back surf town of Haleiwa on Oahu's North Shore, is a charming family-run establishment that has been delighting visitors for years. The shop's ambiance exudes old-school charm and captures the spirit of the North Shore perfectly.
While the setting is nostalgic, Aoki's Shave Ice doesn't shy away from innovation. It offers a wide array of unique syrup flavors that celebrate local favorites like li hing and green river, ensuring that every visit is a true taste of Hawaii.
Customers often find themselves transported back in time to a more authentic and genuine Hawaii, making Aoki's Shave Ice a standout choice for those in search of a traditional shave ice experience.
Kaimana Shave Ice
Nestled near the world-famous Waikiki Beach in Honolulu, Kaimana Shave Ice offers more than just a cool treat; it provides a breathtaking backdrop for your shave ice indulgence.
The shop's location near the azure waters and sandy shores of Waikiki makes it an ideal place to relax and enjoy shave ice after a day of sun and surf.
Among its selection of enticing shave ice flavors, their Hawaiian Punch shave ice stands out as a favorite. This refreshingly tangy option perfectly complements the tropical surroundings, making Kaimana Shave Ice a postcard-worthy way to savor the flavors of Hawaii.
Monsarrat Shave Ice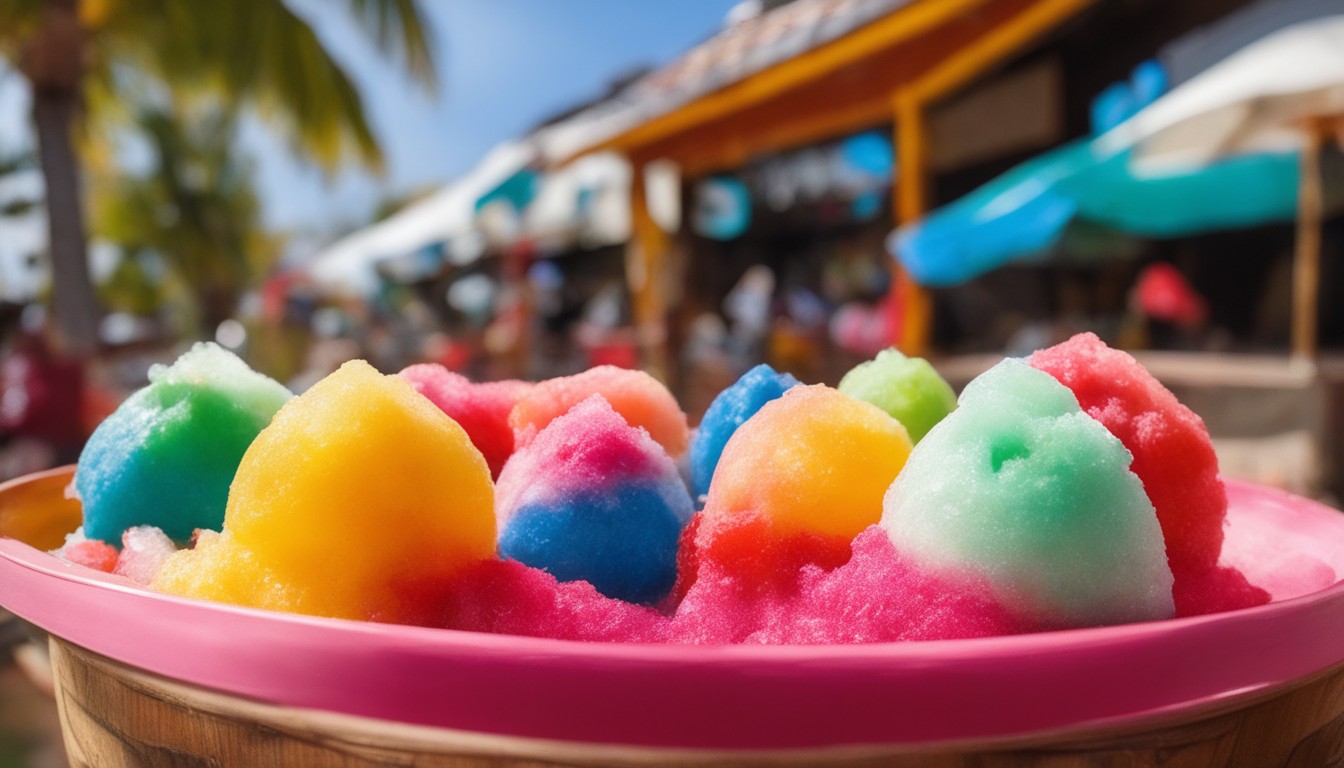 Located in the heart of Honolulu's lively Waikiki area, Monsarrat Shave Ice is a hidden gem that's well worth seeking out.
The ambiance at Monsarrat Shave Ice is reminiscent of a laid-back Hawaiian surf shack. The colorful decor and friendly staff contribute to a relaxed and welcoming atmosphere. It's the kind of place where you can take a break from the sun, sit at a picnic table, and savor your shave ice while appreciating the true spirit of aloha.
At Monsarrat, you can expect flavors like Lilikoi (passion fruit), Haupia (coconut cream), and POG (passion fruit, orange, guava). Furthermore, It also offers a variety of creative combinations and toppings, including fresh fruit and mochi balls.
Island Snow Hawaii
Established in 1979, Island Snow is a fusion of authentic Hawaiian shave ice with a premium, locally-made clothing line.
The store is filled with a carefully curated collection of surf apparel, gear, and accessories. As you wait for your order, you can browse through racks of colorful board shorts, stylish flip-flops, and trendy beachwear.
At Island Snow, you'll find an array of syrup flavors that span the spectrum of Hawaiian tastes. Classic options like strawberry and blue raspberry are available, but it's the tropical selections that truly captivate. Think creamy coconut, zesty guava, and tangy passion fruit.
These syrups offer a genuine taste of the islands, allowing you to explore the diverse and vibrant flavors that make Hawaii unique.
Final Thoughts
Whether you're exploring the North Shore, soaking in the urban energy of Honolulu, or chasing adventure in the remote corners of Oahu, you're never far from a delectable shave ice stand.
From timeless classics to innovative, health-conscious offerings, these five places are just the tip of the iceberg when it comes to enjoying the best shave ice on Oahu.