There's nothing insignificant about swinging plane tickets to Maui, particularly if your heart got gracious for once and you bought seats for your parents, partner or hell, little sister.
But, plane tickets to the island are just one part of the equation.
Like, one really, really, really small piece of the pricey pie that is vacationing on the Valley Isle.
Couple in a rental car, bar bills, bail money and the obligatory Hawaiian activities and chances are you'll be deadbeat broke by the time you come crawling home with a sunburn.
While I can't necessarily help you with accommodations—corporate hotel rates, squatting laws, my parents in the other bedroom, all that—I can assist you with keeping that opu happy while you're visiting our one-of-a-kind island.
Here are Maui's best cheap eats and why you should line up at these places like us broke-ass locals:
Coconut's Fish Café, Kihei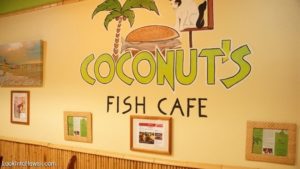 Ten years ago (let's be real: two), I would have laughed if someone suggested I dine at a place that doesn't serve alcohol, or even—gasp—allows you to bring your own bottle.
But, even my boozy genes kicked back in a beach chair long enough for me to enjoy my first experience at this stellar Kihei gem.
The views here are a tad shoddy (for Hawaii)—the café is tucked into one of the busier strip malls on the island and what views you have are mostly of cars in a parking lot. But, the food is epic enough to excuse the dearth of both vistas and libations.
Super fresh island fish, like ono and mahi mahi, are grilled to perfection and nestled into corn tortillas so toasty and delish that I swear they were handcrafted by Aztec gods.
But, it's the toppings that take these babies from standard fare to something exquisite: Locally grown tomatoes, mango salsa and the best coleslaw west of the Rockies give these tacos depth and nuance (seriously). Meanwhile, the upbeat staff is fast and efficient.
Which is a good thing—if you're anything like me, I bet you're just dying to get to the bars.
Mulligans on the Blue, Wailea
Speaking of bars: Mulligans on the Blue one is one of the most rocking and rolling taverns on the island.
Situated on Wailea Golf Course and offering oh-my-gawd views of the outlying islands, this local favorite has it all: Live entertainment that's anything but pedestrian, awesome bartenders and enough Irish soul to wake up your drinking prowess.
And, while it may be located in poshy-posh Wailea, there's nothing spendy about their kick ass happy hour.
Fish and chips, Cajun-seared ahi, mac and cheese with crisp bacon, even Shepherd's pie—this is the place to fuel up on cheap eats while drinking cold beers.
Get your grind on and then stay for a spell: Mulligans gets rowdy after that sun-sets-with-a-green-flash-thing you tourists love to natter on about.
Foodland, Kihei, Wailuku, Kahului, Pukalani, & Lahaina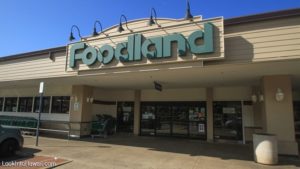 Grabbing eats from a grocery store sound sorta lame for your I'm-on-a-vacation-dammit spirit?

Think again, princess: Foodland carries some of the freshest Hawaiian cuisine on Maui, turning a pricey lunch into an economical buffet of wholesome choices.
One of your best bets? Their ultra-fresh poke bowls, which are served on a bed of hot rice and come in an array of splendid flavors.
Also impressive? Their SPAM musubi—a salty, scrumptious Hawaiian staple—and croissant sandwiches made fresh at their deli.
Aloha Mixed Plate, Lahaina
With Fleetwood's, Longhi's and Kimo's, Lahaina's world-renowned Front Street is famous for its assortment of fabulous restaurants.
But, most of the top spots cost a pretty penny, leaving you with less loot to spend on hula skirts and sunblock.
Cozy on up to Aloha Mixed Plate instead. This bright, cheery place might serve meals on paper plates, but what they dish out is nothing short of fantastic.
Make like a pro and go for their Kalbi ribs with rice and mac salad; there's enough protein here to last you half a lifetime.
Carbs more your thang? Their Chow Funn is greasy goodness at its best, with great thanks to its generous heaps of garlic sauce.
Get lost in the view as you ladle up—the views here are worth every double shift you worked to get your butt to the island.
Tasty Crust, Wailuku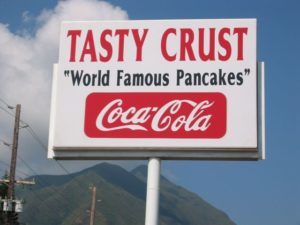 The name might bring to mind an entry in Urban Dictionary and the surrounding environs are sketchy as hell, but this fifty-plus year establishment has soared through economic downfalls for a reason: The food is quick, cheap and does the job right, kinda like a Waikiki hooker.
Sidle up to the old school bar for breakfast, where the inspiration behind the café's name is evidenced in banana hot cakes so divine you won't give a f*** what they're doing to your arteries.
Koho's Bar & Grill, Kahului
If you're in Kahului for a spell (as we say in Hawaii, "poor ting!"), put your fancy-pants tastes behind you and snag a table at Koho's Bar & Grill.
As iconic of a fixture on Maui as nearby Tasty Crust, this place prolly opened before Hawaii was named the 50th state and, by the looks of it, some of the staff has been around that long too. (That's commitment!)
All that aside, this kinda-divey, perpetually-dim tavern has a special place in many-a-Mauian's heart, because of its tacky décor and inexpensive bites.
Teriyaki hamburgers pair well with cold Coronas, while their taco salads haven't a damn healthy thing about them (and I say that with fondness).
Come for their Happy Hour for blast-from-the-past prices—and to enjoy the 70s feel of their laidback, neon-lit lounge.
Leoda's Kitchen & Pie Shop, Olowalu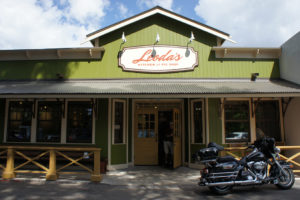 True, true—your health nut of a g-friend would probably have a panic attack of Lovato proportions, if she found out you were indulging in pie for breakfast.
But, if not now, when? This is your vacation, Clark Griswold.
Indulge that sweet tooth at a sweet-ass price at Leoda's Kitchen & Pie Shop, a dope little bakery off Honoapi'ilani on the way to Lahaina.
The pies are absorbable enough to lure in your bae, and come in an array of miraculous flavors like Mac Nut Chocolate Praline, Olowalu Lime, and Banana Cream.
Searching for something less saccharine? Try one of their savory handheld pies, such as a flaky crust brimming with Hamakua mushrooms, shallots, and Parm, or Kula corn studded with cojita cheese, lime zest, cilantro, and chives.
Best part yet? Nothing costs more than $15. Which means you can afford a forty-ouncer on the beach at sunset. I mean, that's why you made this Hawaii trip, amiright?
Now, you can eat cheap and save mo' cash for those shitty souvenirs everyone back home is waiting for!! Aloha!!