Ah, the pains associated with snorkeling.
From water flooding your tube (and by extension, your mouth) to having a foggy mask, you can have a poor first-time experience when snorkeling if you aren't careful. Fortunately, you can save yourself from a ruined underwater trip provided you have a dry snorkel at your disposal.
In addition to their built-in special valve – which seals the snorkel shut in the face of water – they have a special purge valves which removes any water that may have succeeded in getting in.
List of the Best Dry Snokels You Can Trust
Throw into the mix their float valve mechanism – which opens the snorkel when it is on the surface before closing it when it is submerged – and it becomes easy to see why the best snorkels are a must-have.
However, choosing the best snorkel isn't always easy, as on the surface they can look quite similar.  In order to help you sort out the good from the bad, we've put together this list of the best snorkels in 2019.
While we have a couple favorites in this list, all of the models listed below will get the job done and make sure you have a great experience, it just comes down to personal preference, and what is best for you based on your needs.  So, without further ado, let's take a look at which snorkels made the list!
Comparison Table: The Best Dry Snorkel
IMAGE
DIVE LIGHT
DETAILS

Material:

100% high-quality silicone

Great For: Diving, Swimming, Snorkeling
Price:

$$

Check Price

Material:

Quality Silicone

Great For:

Diving, Snorkeling

Price:

$$

Check Price

Material:

Food-Grade Liquid Silicone

Great For:

Diving, Snorkeling

Price:

$$

Check Price

Material:

Corrugated silicone

Great For:

Swimming, Snorkeling

Price:

$$

Check Price

Material:

Silicone

Great For:

Snorkeling

Price:

$$

Check Price

Material:

Rigid Rubber/Vinyl Material

Great For:

Semi-Dry Snorkeling

Price:

$$

Check Price

Material:

Corrugated hose, Silicone Mouthpiece

Great For:

Diving and Snorkeling

Price:

$$

Check Price

Material:

Flex Tube

Great For:

Diving, Swimming, Snorkeling

Price:

$$

Check Price

Material:

Flexible Silicone

Great For:

Swimming Laps, Snorkeling

Price:

$$

Check Price

Material:

Food-grade and Odorless Material

Great For:

Swimming Laps and Snorkeling

Price:

$$

Check Price
Best Dry Snorkel
Available in nine color patterns, the Cress Alpha Ultra Dry is not only suitable for snorkeling but you can also take it to diving. Have doubts about this claim? Then you must check out the features of this model.
Features
One feature which sets the Cressi Alpha apart from other snorkels on the market is its float mechanism. The moment the snorkel is submerged – whether purposely or accidentally, this mechanism will close it instantly, thereby preventing water from entering the snorkel.
However, even if the water still manages to enter the snorkel, this model's purge valves allows you to instantly remove it. So, you can count on this snorkel to take no chances with your safety.
Additionally, it has a highly flexible tube which moves easily through water and reduces jaw fatigue. You can also fold the tube for easy storing or to carry it in your travel pack. The bore of this model, meanwhile, has an elliptical shape to increase air flow capacity and allow for easy breathing.
Furthermore, since the mouthpieces of snorkels are prone to wearing out after extended use, the Cressi Alpha resolves this problem by providing a replaceable model in the package. That means that you won't have to buy a brand new snorkel if the mouthpiece gets damaged.
Final Verdict
For those of you who are planning a snorkeling trip or are interested in diving, you could do much worse than including the Cressi Alpha Ultra in your travel pack.
Has a replaceable mouthpiece
Float mechanism keeps water at bay
Purge valve and flexible tube
Scour the market for dry snorkels, and you'd come to realize that not many offer a splash guard in their package. That, however, isn't the only unique selling point of the Cressi Adult Driving.
Features
Choice is the one word which comes into mind when one's looking at this dry snorkel. For one, it is available in a massive 21 color patterns, so you'll have no issues matching it with your favorite wetsuit. Though this model offers much more than eye-pleasing aesthetics, a fact confirmed by the presence of an adjustable, quick release keeper in its package.
Just like its counterpart we reviewed above, the Cressi Adult has a flexible breathing tube which folds compactly for easy storage and moves seamlessly through the water. Its wide bore, meanwhile, allows for more airflow to aid in breathing.
Then there is its purge valve which does exactly what it claims, and it has a replaceable angled mouthpiece too which is made from silicone and is hypoallergenic. Its end part has a corrugated piece that would keep a distance between your mouth and the snorkel to ensure comfort.
Finally, this model has an added clip that allows it to connect to goggles with ease. Though we won't recommend wearing goggles as the heaviness of the snorkel can put them off.
Final Verdict
If you were infatuated with the features of the Cressi Alpha Ultra – but were deterred by its high asking price, the Cressi Adult Driving Dry Snorkel is simply a must-have.
Fits larger facial profiles
Hydrodynamic design
Comfortable, angled mouthpiece
Who said you'd have to compromise on features when buying an inexpensive product? With the Aegend Dry Snorkel, you could get an above-average model for a below-average price.
Features
First things first, having a quick-release adjustable clip provides this model with various benefits. Not only can you attach the clip to mask / goggles of other brands, but you could also move it up/down the tube to get a comfortable position.
Furthermore, its food-grade liquid silicone mouthpiece has a corrugated design which allows it to complement your face shape and provide a good seal. Also, if the mouthpiece gets damaged after extended usage, you could easily remove it while keeping the snorkel intact.
What's more, while most other dry snorkels go for an elliptical tube, the Aegend has gone in for an oval-shaped one. The larger diameter of the tube gives you full breaths with its upper curved area preventing your mouth from getting dragged.
Lastly, with an upper dry valve, this snorkel closes automatically upon coming into contact with water. It also has a splash guard to prevent the entry of water after the overhead crashing of waves and a purge valve which clears water even when you're still under the water.
Final Verdict
The Aegend Dry Snorkel is one of those models which allow you to swim through laps of water without having to deal with the nuisance that is water entering into your mouth.
Easy to attach keeper
Food-grade removable mouthpiece
One-way purge valve
Splash guard and top dry valve
Question marks about the sturdiness of the clip
If you are a firm believer of the maxim that you only get what you pay for, then the features of the Kraken Aquatics Dry Snorkel might force you to doubt your beliefs.
Features
Starting with the best that this dry snorkel has to offer, and its floating ball system comes into play. Located at the very top, this system keeps all moisture out by closing when you're submerged in water before reopening as soon as you get your head above water.
You won't have many problems while putting on/taking off this snorkel as it has a quick release clip which would easily attach to your face mask.
Another essential feature of the Kraken Dry Snorkel is its incredibly comfortable silicone mouthpiece. It is form-fitting and soft and is also replaceable should the need ever arises. Then there is the corrugated silicone hose around which makes it a cinch to keep the model in your mouth.
How? Say hello to the natural curve in the hose which is located just where your lips are, so as to allow easy grip. A one-way purge valve is also provided to remove moisture both under the water as well as above the water surface.
Final Verdict
Provided you have no qualms about the fact that this snorkel sports a conservative all-black design, there's no reason why it shouldn't accompany you on your next snorkeling tour.
Corrugated silicone hose
Floating ball system
Quick release clip
Available in one color only
Though not as famous as its predecessor – the XS Scuba 3D Flex – the M-Line snorkel still has everything necessary to make it a darling of scuba divers.
Features
The XS Scuba M-Line has a dry top which closes the moment it comes into contact with water. Though that isn't its unique selling point. What sets the model is its floating valve system which automatically opens upon surfacing to dismiss any chances of a vacuuming effect getting developed.
While an adjustable mouthpiece on its own would have been enough, XS Scuba further sweetened the deal by including a dual-ball joint in there to give you an almost perfect fit. You also get an easy-to-use button which will purge any water which might have entered the snorkel when you were underwater.
Also, while its description states otherwise, customers who have bought this model claim that it comes with the same corrugated flex tube of its predecessor. That feature is important as it allows the mouthpiece to drop away from your mouth when you're scuba diving.
Final Verdict
Having looked at the features of the XS Scuba M-Line dry snorkel, it should go without saying that it is one of the best dry snorkel on the market. Therefore, if your plan is to try scuba diving next summer, this model has shown all the traits to accompany you.
Stylish design
Adjustable mouthpiece
Corrugated flex tube
Are you looking for a low-profile snorkel which won't attract undue attention when you're underwater? If your answer to this question is in the affirmative, then you're in dreamland with the Riffe Stable.
Features
In case you were wondering, the low profile design of this snorkel won't only lead to an anonymous underwater trip. Instead, since it gives way to a comfortable mouthpiece which you can mold as well to get an easy fit for your mouth.
It also has a flexible vinyl tube which folds compact for easy storage and a dry top which moves seamlessly through water without getting entangled with any floating debris. Also included is a purge valve which allows you to easily remove any water that may have made its way into the tube.
That said, the low profile of this model might come across as a double-edged sword – as it might make it difficult for the boaters to notice your presence. On the plus side, its shark-fin style shape means that cleaning this model is a cinch.
Final Verdict
Provided you have no complaints about the low-profile design of this model – or you prefer to snorkel only when it's extremely bright out there, the Riffe Stable Scuba Diving Snorkel deserves your attention.
Comfortable mouthpiece
Won't get entangled with any floating debris
Has a purge valve
Low profile might make presence difficult to notice for boaters
Though not as well-established in the market as some other models in this review, the useful features of this model point to a bright future for the Mares Ergo Dry.
Features
In terms of functionality and comfort, the curved mouthpiece of this model goes a long way. Not only does it provide superior comfort during extended drips underwater but its unique design also makes it easy to clean the snorkel with its unidirectional purge valve.
Then there is its lightweight design which means you won't notice this model in your travel bag. And to make sure it fits easily, the flexible tube of the Mares Ergo allows you to fold it compactly.
What's more, it has an adjustable dry snorkel keeper which conforms the shape of the model to your face position by adjusting into a plethora of positions. It also has a sliding snorkel clip using which you can effortlessly connect the snorkel with your goggles, mask or other equipment.
Final Verdict
As stated earlier, this model isn't famous in the market because it has arrived only recently. Yet, as its features make clear, it has all the traits to be a comfortable companion for your underwater trips.
Hide a sliding snorkel clip
Purge valve is a cinch to clear
Dry snorkel keeper with multiple positions
Might collect dirt easily due to its flexible ridges
The Phantom Aquatics Dry Snorkel is one of the least expensive models in the market. Though you won't be able to gauge its low price once you've gone through the features of this snorkel.
Features
To virtually eliminate the inward flow of water, the Phantom Aquatics has a dry top design which seals the tube in the face of incoming water. It has a quick-release buckle using which you can attach/detach this snorkel with a single hand.
Equally useful is the purge system of this model which takes care of any remnants of water which may have succeeded in entering. A streamlined oval-shaped bore, meanwhile, provides the tube with plenty of space – thereby ensuring effortless breathing.
Finally, while the angled mouthpiece of this model is comfortable, Phantom Aquatics have made it replaceable so that you don't have to purchase a new snorkel if the mouthpiece gets worn down after extended usage.
Final Verdict
All being said, the Phantom Aquatics Dry Snorkel is a fairly price model which offers bells-and-whistles generally available in models costing twice as much.
Quick-release buckle
Large self-draining valve
Comfortable angled-mouthpiece
Competitively price
Question marks about the performance of the dry valve
Simple yet safe. That's the first thought which comes to mind once one goes through the features of this model which are innovatively designed to ensure your safety.
Features
What's it that makes this snorkel incredibly safe to use? Its colored whistle housing. If you feel that you're in trouble – or want to get the attention of other people – all you have to do is to rotate the whistle's housing and blow the whistle and everybody will become aware of your predicament.
On the functionality side, you get a quick disconnect retainer which is effortless to connect with compatible goggles and mask. A one-way purge valve is also there to drain out accumulated water and you also get a splash guard which prevents water from splashing into this snorkel.
Lastly, its pre-curved silicone mouthpiece moves seamlessly through the water to save your jaw from getting fatigued. And you cannot ignore the importance of a hinged seal as well as it snaps shut when the snorkel is submerged before opening when you're back on the surface.
Colored whistle housing
Has splash guards
Pre-curved mouthpiece
For larger faces, the mask can get too tight
Are you a first-time snorkeler who is still learning the basics of snorkeling? Then this entry level snorkel might help you out with its easy-to-learn features.
Features
Before you order this model, it's important to know that it comes in two types: Zionor T1 and Zionor T2. While the former model's open-tube design makes it perfect for training, triathlons and swimming, the latter's purge valve and the dry top is the reason why we recommend it for snorkelers.
Obviously, since both these types target different audiences, their features are different too. While the T1 has a quick-release design for easy installation and removal, the T2 comes with a center-mount design which allows you to improve your stroke efficiency.
Further, in contrast to the T1 – whose flexible mouthpiece helps reduce jaw fatigue when snorkeling, the T2 has an organized mouthpiece which focuses more on stability than comfort. And while the T1 has a spout to allow smooth airflow, the T2's floatation mechanism prevents water from entering the snorkel.
Also, both of them have engineered purge valves which allow you to remove the water which may have succeeded in entering the tube. Despite this sole similarity, however, both these models target very different set of users
Final Verdict
The Zionor Snorkel Lap is a highly versatile model, one which you can use for both swimming a marathon as well as extended trips underwater.
Available in two types
Allows for comfortable breathing
Quick-release design
Engineered purge valve
The user manual isn't very helpful
Types of Snorkels
Just like everything else in life, snorkels don't come in the one-size-fits-all category. Depending on how you're going to use them, they come in three different types.
Classic Snorkel
The most basic version, a classic snorkel is open at the top and has no valve to keep the incoming water at bay. Worse, it doesn't have a purge valve either, so you'd have to manually clear it. The upside, provided you can call it that, is that they come ridiculously cheap.
Remarkably inexpensive
Easy to wear
Readily available
Doesn't have a purge valve
Is open at the top
Semi-dry Snorkel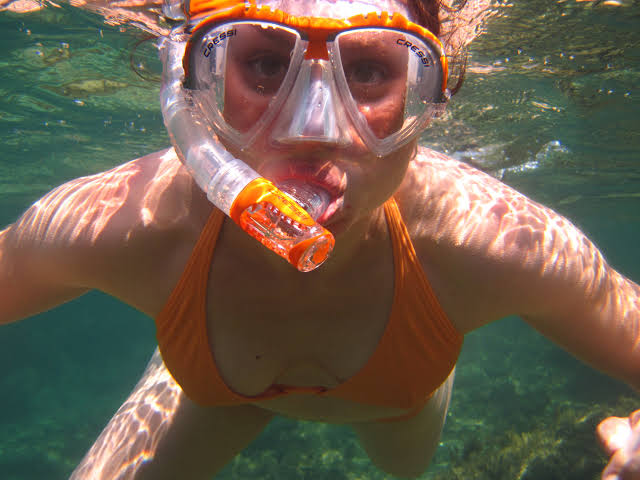 Unlike its classic counterpart, a semi-dry snorkel has both the splash guard on the top and a purge valve on the bottom. While the former prevents the easy entry of spray and splashed water, the latter blows the accumulated water out of the tube.
Has a splash guard
Moderately cheap
Purge valve allows for easy clearing of water
Might not seal effectively against water and air
Dry Snorkel
With all due respect to the semi-dry snorkels, they aren't impenetrable either to water or to air. That means that if you aren't careful, they might choke you on water. Fortunately, thanks to their special valve, a dry snorkel is completely impenetrable to water. They also have a float wave mechanism which automatically clears the snorkel when you're back on the surface.
Completely impenetrable to water and air
Has a splash guard, purge valve, and tube
Snorkels Buying Guide – How to Choose the best good dry Snorkel
Now that you've gone through the type of snorkels which are available on the market, let's turn our attention to the features which separate the best snorkels from the riffraff.
Material of Mouthpiece
Similar to your diving mask, the material of your snorkel's mouthpiece needs to have these three characteristics:
It should be comfortable to wear and removable
It must be flexible so as to complement your face shape
It should have a longer shelf-life
In case you're wondering, this is not a wish-list. Instead, as you can see in the products mentioned above, almost all the best snorkels fulfill this criterion with aplomb.
Hydrodynamic design
One thing which most of us underrate when choosing a snorkel is its design. That's a huge mistake – one which could ruin your whole snorkeling experience – as poorly designed models won't go through the water easily, thereby tiring your face as you try to push the snorkel through.
Therefore, when choosing a snorkel, make sure it has a hydrodynamic design, which means that it should streamline through the water with ease. Snorkels with a small surface area generally fall in this category as they don't pose much resistance to the incoming water due to their small size.
Quick Release Masks Strap
Especially with the cheap snorkels, you get a strap which makes it extremely difficult to separate the snorkel from the mask. Hence the reason why we recommend that you get a mask strap and quick release – as it makes getting the mask on/off much easier.
More importantly, snorkels with a quick release strap have a rear pad which evenly distributes the strap pressure, making your mask all the more comfortable. So you can wear the snorkel for hours on end without any discomfort.
Size of the tube
As you might already know, best dry snorkel come with tubes of varying sizes. If you're a beginner who is just learning the trade, make sure your tube's diameter is on the bigger side – as they are relatively easy to breathe through because there is more space for airflow.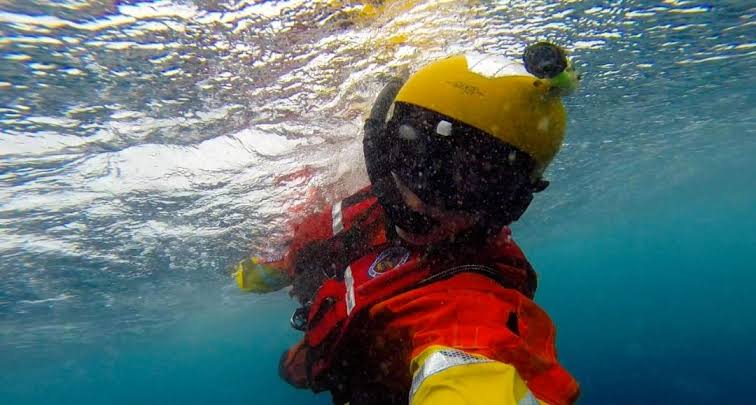 Professional divers, on the other hand, can easily make do with smaller sized tubes. Since they accumulate less space than their larger counterparts, these tubes leave more space for other equipment. So they blend well with any other piece of equipment that you may be wearing.
Purge Valve
When you're snorkeling, there's nothing worse than having some water in your mouth. And if that water is salt-water, you can say goodbye to having a pleasant experience underwater. Still, even with the best snorkels, water can sometimes get in, which is why we recommend having a purge valve.
Thanks to its strategic positioning at the bottom, a purge valve lets you easily clear the tube of water. Make sure the valve is easy-to-reach and its water-purging mechanism must be straightforward as well.
Flexible Tube (Optional)
Snorkels which have a flexible tube tend to fit at an angle which complements the shape of your face. Most scuba divers prefer this feature as it lets the tube fall away from their face when they're not using the snorkel.
However, not everyone should get a flexible tube, as some snorkels who have this feature tend to be flimsy and unstable. So the comfort which they provide thanks to the tube is counter-balanced by the flimsiness of the whole model.
Conclusion
Even though all the models in this review are best in this own right, the Aegend Dry Snorkel stand head and shoulders above other snorkels. While its dry top keeps water from entering, the presence of a splash guard means this model won't cave in under pressure from waves. Throw into the mix its purge valve and food-grade removable mouthpiece – features which we recommend in the buying guide – and this snorkel is easily the best on the market.
"
Believe it or not, it's the best post I've read about the dry snorkels. They've shared the details one needs to know when buying the dry snorkel.
"