Every beach destination offers you attractive, colorful, under $100 boards, but the question is, are they worth your money? Well, if you are serious about bodyboarding, better get serious about the gear you go for too.
Make an informed choice and go for the ones that can make wave riding exciting. Throwing yourself on the water can be absolutely thrilling, but not without the right gear. This is why price alone cannot be the determining factor for which board to choose.
Better performance, greater satisfaction and your safety are more like the options that you must consider. After all, you are hurling yourself into the rough waters with these boards. They have to be good enough to stand the test of time and adversity.
Today, we are going to discuss some of the best bodyboards in 2020 so far when it comes to boogie boards. These are not just the best boards in terms of reliability or composition. These are absolute mean machines with mastery on the wild waves. Replete with some of the best features and innovative inputs, they follow some of the best safety measures imaginable.
Sounds good right? Let's get started with exploring these, but first, here's a quick look at the top boards.
10 Best Bodyboards in 2020
| | | |
| --- | --- | --- |
| Name | Rating | Pros |
| Wave Weapon | 4.4 | EPS Core For Better Performance |
| Thurso Surf | 4.6 | Durable, Lightweight |
| Legendary ProX | 4.4 | Detachable Wrist Retention Leash |
| BZ-T10 Pro Body | 4.6 | Easy to use |
| California Board Co Magnum 45 | 4.0 | Molded Contour Deck |
| Goplus 41 Inch Superbody Board | 4.7 | Versatile |
| Bo-Toys Body Board | 3.8 | Better Maneuverability |
| Wham-O Mach 7 | 4.8 | No Mesh HDPE Slick |
| Lucky Bums | 3.2 | Dynamic Design |
| Mike Stewart Science Style | NA | Flexible |
Reviews of the Top 10 Bodyboards
Now that you've seen the list, it's time to take a look at each inividual board, and see why they're on this list. We've taken into account things like speed, maneuverability, weight, price, and safety, in order to give you a comprehensive list. No matter if you're just starting out, or have some experience under your belt, you'll find the right board to meet your needs below. So, let's get into it! Here is a quick look at some of the best options available in 2020.
Wave Weapon Super Lightweight Bodyboard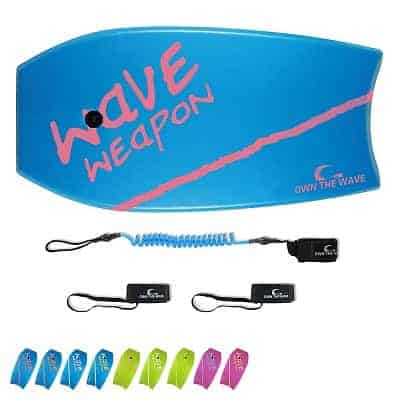 This is an extremely lightweight bodyboard with the premium leash and fin tethers. This makes sure that however rough the water might be, you are unlikely to lose your bearings. These are also designed in a way that the user comfort is not compromised in any way. Relative comfort and convenience are perhaps the most striking features of it.
The EPS core, the high slick bottom surface and crescent tail are among the most striking features of this board. The EPS core with the rear channels guarantees satisfactory performance. Additionally, the crescent tail makes for an extremely stable deck. This also enhances the versatility of the product and makes it a great option for knee drop bodyboarding. This no doubt makes it a suitable choice for beginners and experienced riders alike.
The designing is sleek, and the core material is extremely durable and sturdy. The board is manufactured in a way that it can withstand all types of waves. The 60:40 rails ensure maneuverability and control along with speed even in the face of rather difficult and frequent wave formations.
This board is available in a wide range of length and size options. That ensures that whatever your body size may be, you are sure to find an option that fits.
Pros
Durable and sturdy despite repeated use
Comfortable bodyboard with comprehensive manual
Strong and lightweight core
Versatile and flexible in terms of size and weight options
Cons
Needs careful storage or else the board becomes deshaped
THURSO SURF Lightning 42" Top Bodyboard with PE Core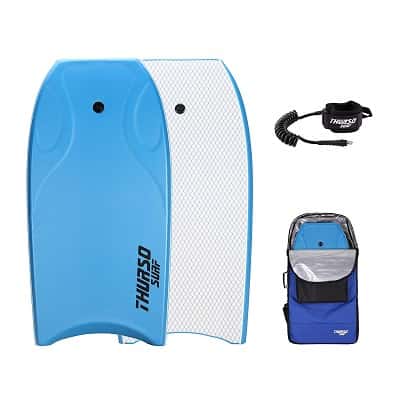 When you are looking for the best bodyboard, this 42-inch board is one of the top options. Lightweight and durable, this board is made of superior premium density polyethylene. It is stable, strong and highly responsive.
This also comes equipped with a high-density heat laminated bottom slick. It has a dual purpose. On the one hand, it increases the speed, and on the other, it makes it extremely stiff and adds strength.
The PE core is relatively rigid and has two FRP stringers. As a result, it is quite buoyant along with being lightweight. In terms of speed, it is on par with some of the most reliable options and offers a long-lasting bodyboarding solution.
In terms of maneuverability and control, this board offers advanced level performance. So whether you are a beginner or a veteran, you can enjoy tackling the waves using this deck. The board is also stable, guaranteeing long-lasting comfort, especially for users who are still getting used to the rough waves.
Pros
Stable with appropriate control and maneuverability
Sturdy but soft material offers both strength and comfort
The coiled strap prioritizes user comfort
Cons
Not well suited for every wave type
Lacks versatility and flexibility of use
Legendary ProX Top Boogie Board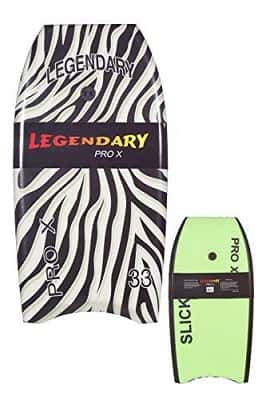 The most striking aspect about this bodyboard is that it is a heat sealed board and not glued. So, the risk of the lamination peeling off or bubbling is reduced to a large extent. The heat sealing is a unique method that bonds the multiple layers in a board together using heat. This also makes the board a lot stiffer. As a result, it also becomes considerably more durable and long lasting.
Interestingly, it is still a fairly lightweight board that offers speed, control and maneuverability in a balanced manner. In terms of height and width, it offers a plethora of options for users. Whether you are 6 feet tall or under 5 feet, they have a bodyboard that caters to your needs.
This board is slightly old in terms of the shape of the tail. The crescent-shaped tails stick to convention and promise a stable and comfortable ride. The Styrofoam cover with slick bottom further enhances the efficiency level. The string attached leash further ensures quality as well as the safety of the users.
In case you like a bit of variety and range, this is one bodyboard which will never disappoint you with the wide number of color options and varied combinations. They don't just offer you a quality ride but also make sure that your style quotient remains intact.
Pros
Heat sealed board
Sturdy and reliable
Comprehensive bodyboarding package
Cons
Inconsistency in the quality of the wrist strap provided along with the board
BZ-T10 Pro Body Boogie Board (Top Bodyboards)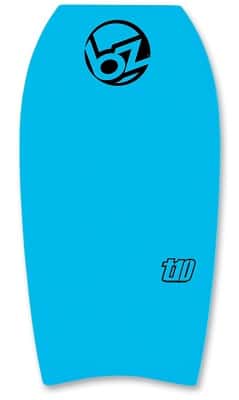 This crescent-shaped board is another prominent option when you are drawing up the list of the best bodyboard available. The overall build quality and feature allocation are at par with the most popular brands, and the vibrant blue color makes this board stand out even amidst large waves. The rail configuration, as well as the tail shaped like a crescent, makes it an extremely stable board. But that said, the controls and maneuverability of the board help optimize the relative performance.
In terms of durability, the PE core can take a pretty good beating. An affordable and reliable option, performance excellence is the biggest talking point for this board. The T10 is one of the most highly regarded offerings from the BZ group. The comparative stability, speed, and controls make it a great option for beginners as well as intermediate level riders. It is both dependable as well as an all-round performer. The channels at the bottom help the board maintain a decided degree of speed and performance when you're out on the water.
Pros
Dependable board with value-driven performance
Stable and ideal for beginners
Cons
There is no cord to attach the feet. That surely undermines the safety aspect of the board to a certain level
California Board Co Magnum 45 Bodyboard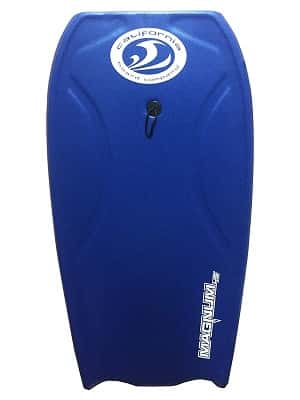 The next one in our list of best bodyboard belongs to the California Board Company. The Magnum 45 is a well-molded board that ensures comfort and compatibility. Safety and superior ride experience feature as the central objective. It is made of water-resistant Polystyrene with a polyethylene slick bottom.  The bottom channels along with the high-density polyethylene lend both speed and efficiency to the board.
It is a rather conventional board in terms of design and delivery. The crescent-shaped tail guarantees control along with comfort. This is a rather sturdy board and guarantees a quality ride irrespective of your height and weight, because it accounts for varying heights and body weight.
Additionally, this board is also equipped with a strong leash with the pivot, which enhances the relative safety element of the board. It also has a unique design feature in that it offers thumb bulbs for better control.
One thing to point out is the quality of the laminated top. Most users feedback indicate that it does not peel off as easily as many others, an the occurrence of bubbling is also limited.
Overall, this is a solid, conventional board, with some unique features, that make it a fun choice for beginners and experienced riders.
Pros
Versatile with consistency in performance
Affordable value buy
Sturdy with a fair ability to withstand hard waves
Cons
The graphics at the bottom sub-par
Inconsistency in quality of the material on top of the board
Goplus 41 inch Super Bodyboard with EPS Core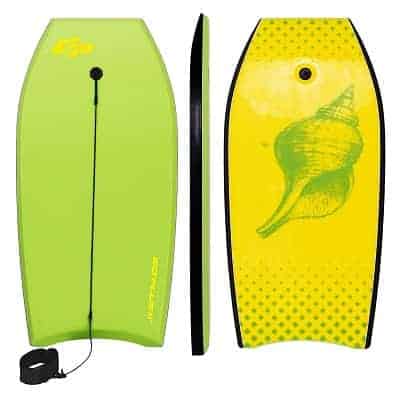 When you are looking for a top rated bodyboard, there are some features that are more common than others. However, the question is invariably about what else is there to offer. In this context, when we are reviewing the Goplus 41, the engineered EPS core needs to be mentioned. This is one of those features that make this board stand out and delivers without fail. The EPS core makes the Goplus 41 buoyant, durable, and lightweight.
When it comes to the deck, the light IXPE deck of this bodyboard is soft and light, but that said, it is also sturdy and durable as well. In many ways, it is an interesting mix of comfort and convenience. The dynamic design comes with the 60:40 rails, channels at the rear and the conventional crescent-shaped tail. The core idea around this board is to guarantee speed and maneuverability along with control and efficiency.
For a cherry on top, the money back guarantee from the company reassures users about the company's commitment to quality. In many ways, that also helps build an aura of goodwill around the product.
Pros
Sturdy with shape intact even after many uses
Lightweight and durable
Proactive customer care facility to address user problems
Ideal for beginners and kids
Cons
The quality of the harness cable attached to the leash is relatively sub-par
Bo-Toys Best Lightweight Body Board with EPS Core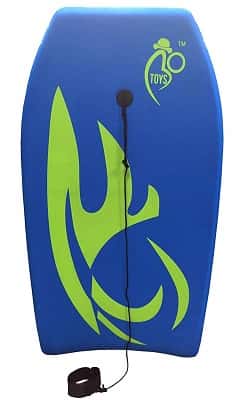 The Bo-Toys bodyboard is a stylish, lightweight and durable board. This board has an EPS core, along with layers that are heat laminated. This limits instances of bubbling to a large extent and improves the relative durability of the board.
The overall design of the board offers a compact feeling while riding waves. It is water resistant even in the face of large waves and the 60:40 rails improve the overall performance to a large extent. The rail placement and configuration also improves the maneuverability of the product, and makes it relatively versatile irrespective of the wave conditions.
The quality of construction also deserves mention in this context. The board is made of HDPE or high-density polyethylene. This accompanied with a super slick bottom makes it a rather attractive buy. It also has adequate safety features and safety gears in place, such as a leash with a wristband to make sure the board doesn't get away from you.
Overall, this is a solid board at an affordable price. Able to withstand tough waves, while still offering great maneuverability, you'll definitely have fun when you're out on the waves with the Bo-Toys Bodyboard.
Pros
Solid board with a proven performance track record
Consistency in overall quality of material used
Outstanding response even when used against tough waves
Value buy for vacation with kids
Cons
Not meant for everyday use
Wham-O Mach 7 Body Board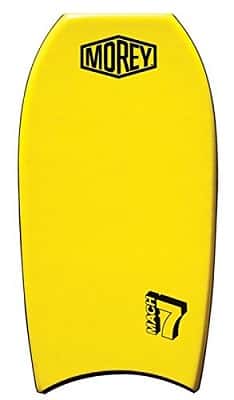 If you're looking for a premium board and don't mind shelling out for it, then the Morey Mach 7 won't let you down. With superb quality, and expert craftsmanship, this is the board of choice for serious bodyboarders.
The core PE and the TC8 deck makes the Wham-O one of the best bodyboard on the market today. This one is also made of HDPE or high-density polyethylene. The advantage of this type of material is that it has the stability and control of polyethylene and at the same time also promises speed.
This board is also equipped with Single Power rod stringers that play a crucial role in delivering high-speed performance. The maneuverability is also enhanced as a result of the overall designing of the product.
The shape of the board is both conventional and classic. The crescent shape is often associated with stability and control, and whether it is a young kid beginning to learn or a veteran at bodyboarding, this deck provides comfort and control to all.
Overall, the Mach 7 is a bit on the pricey side, but considering how durable it is, and how well it moves through the water, you won't be disappointed if you do decide to pony up an spend a little more on a board.
Pros
Durable delivering top-notch performance
Superior craftsmanship
Long lasting board with a striking level of efficiency
Cons
Speed can be a concern for advanced level bodyboarders due to the crescent shape of the board's tail
Pricey
Best Lucky Bums Body Board with EPS Core Slick Bottom and Leash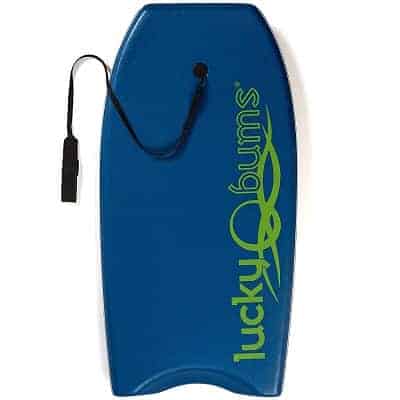 If you are keen about some fun at the beach and exploring options for the best bodyboard, it is unlikely that you've never heard of Lucky Bums. Lightweight, durable and robust, this board is known for its dynamic design. The rear channels, the 60:40 rails and the HDPE slick bottom combine together to assure top-level performance in any type of waves.
The HDPE slick bottom is also known for lending exceptional control to the board. This is particularly important if you are a relative beginner in this area. The speed and strength associated with the design are also worth mentioning.  This board also comes with an engineered EPS core. The advantage of this is that there is a quality assurance that is always tied to it.
Overall, this is a solid board for beginners or recreational users. The EPS core and HDPE slick bottom will offer you a fun ride regardless of the wave type.
Pros
High on safety and security with a great quality leash
Relatively lightweight and longer, promising better performance
Good quality board suitable for kids, teens as well as adults
Cons
Inconsistency in the quality of the material used to make the deck of the board
Some of the screws not cored straight resulting in a discrepancy of performance
Mike Stewart Science Style Premium Throwback Bodyboard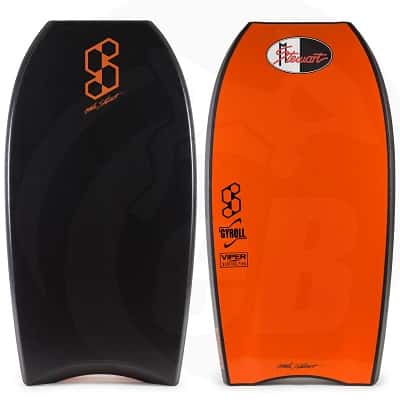 As a leader in the bodyboarding industry, Mike Stewart has been hitting the waves for most of his life. He has quite a bit of credability tied to his name due to the fact that he has nine world titles, so he clearly knows a thing or two about bodyboarding.
Mike Stewart bodyboards are considered as some of the best bodyboards manufactured for designing excellence and performance brilliance. So, if you're looking for the best of the best, this is the board for you. This is a one-stringer polyethylene board that is classic and conventional both in design and performance.
The overall board is designed with a crescent tail, and that always raises the question of control vs speed, but this board offers both. This is one product that comes with 2 stringers and Surlyn slick assuring both maneuverability and control.
The slick mesh, the tension tech and the 55:45 double rail are the other key aspects that need mentioned. All in all, this board is a comprehensive package that promises a premium ride that is unmatched. It's just a matter of whvalue ride.
Pros
Durable and sturdy
Channels enhance the overall performance
Quality brand
A Comprehensive Buying Guide for the Best Bodyboard
Deciding on the best boogie board is never that simple. You have a wide range of options, and each one boasts of a wide range of features. The question is how to differentiate what is necessary and what is not? With that in mind, we have brought together an easy buying guide to help you identify the key features. This will help you match the features with your needs in an appropriate way.
How to Choose a Boogie Board
There are several elements that you must take into consideration.
Size Chart: When you are looking for the best bodyboard, the right size can make a huge difference. Most bodyboards have a size reference chart. All you need to do is measure the distance between the ground and your belly button and the distance between your chin and knees. Normally this is in the same range. If the difference is more than just a few inches, you have to average it out.
The other option is to hold it in your arms and see if you are able to reach the bottom rail. Ideally, you should be able to curl your fingers around it without resulting in a huge gap under your armpit.
The kind of waves that you will be tackling is also worth considering. Typically a big bodyboard works better in tackling smaller waves. In case of larger waves, slightly smaller boards offer much better maneuverability. The size also impacts the overall control and precision with which you manage the board.
Quality of Material Used: Most bodyboards are made of either PE or PP, or a combination of both. The PE, or Polyethylene boards, offer relatively better flex and gives you more control. This is ideal for areas with cooler water. The PP is a better option in warm water. These Polypropylene boards are lighter and sturdier than the PE ones. As a result, they offer a relatively faster ride. Also, these have a better ability to recover their shape. However, the lack of flex can be a challenge for some using the PP boards. You have to make a choice depending on the kind of water and temperature you are bodyboarding in. The PE cores will enable easier navigating amidst big sucky waves while the PP is the top choice for smaller waves.
 Stringer: This is often fitted inside the board for better strength. This is also a handy innovation that makes the board get back to its original shape sooner. Normally one stringer is enough. If you have too many, it can make the board too stiff.
The carbon fiber stringers are among the best. These often taper through their length offering greater flex, especially in the top half. This is an important fact. Mesh and stringers are primarily attached to boost the overall strength.
Design: The moment you consider maneuverability and control, the design of the bodyboard comes under the scanner. After all, the final speed, performance and safety are all dependent on this crucial element.
Tail Positioning: The Tail design and positioning, in fact, is one of the most important design elements to take into account. On average, you have two alternatives, the Crescent and the Bat tail. The crescent-shaped tail is a relatively older style and the bat fashioned tail a modern variant. The crescent tail is synonymous with stability while the bat tail is all about speed and relative lift. Depending on what you need will determine what tail positioning is best. For example, as a rider, I am on the heavier side. As a result, the bat tail offers better speed and lift to me. But, I would recommend it only for experienced riders. Beginners are better off with the crescent one.
Rails: The rails are the critical element that you need to consider. The edge of the bodyboard is referred to as the rail. Essentially these impact the maneuverability as well as the speed of the board. If you choose the recent 60:40 configuration, you have better maneuverability. The more traditional 50:50 configuration gives you higher speed. So, you have to determine what is important to you, and what you prefer while you are out on the water.
Thickness: A quick review of some of the best-rated options indicates that bodyboards are available in two primary thickness, 51mm and 55mm. There can be some exceptions, but this is the general thickness. If you are looking for slower boards with more control, you can choose the thinner ones. The thicker boards are much faster, but you lose a bit of control because of it. As a result, if you are surfing in areas with small waves, you will be comfortable using the thicker ones. But the rough and the big waves can be maneuvered only with the thinner boards.
Width: When you consider the overall design of the bodyboard, the width also needs to be considered. Traditionally, these boards have been wide, but they have their own demerits. The widest point between the two rails and its distance from the nose affects the overall maneuverability. Increasingly, we see that the bodyboards are veering towards relatively narrower designs. This makes them more streamlined. Needless to say, it also improves the relative control of these devices to a large extent.
Rocker Control: The rocker refers to the upward curve in front of a board. When you are looking for the best bodyboard, this is no doubt a very important factor. This is what ensures 100% control of the board. The lesser the rocker, the board tends to move faster. On the contrary, if this rocker or the upward angle is more, it will result in better maneuverability. As an astute bodyboard user, you have to establish this crucial balance between these two factors to maximize the overall performance in a meaningful way.
Unique Features: Competition is extremely tight in this space. Almost every month, you see offers and advertisements of new boards with an array of interesting and unique features. But, you have to carefully consider these. Don't jump to a conclusion just because it's the new kid on the block. Weigh the pros and cons and check if the particular feature can really enhance performance. There is no end to innovation, but the question is whether you need it. You have to look at the relative cost-reward ratio with and without the specific features before deciding on the best option.
What are the advantages of bodyboarding?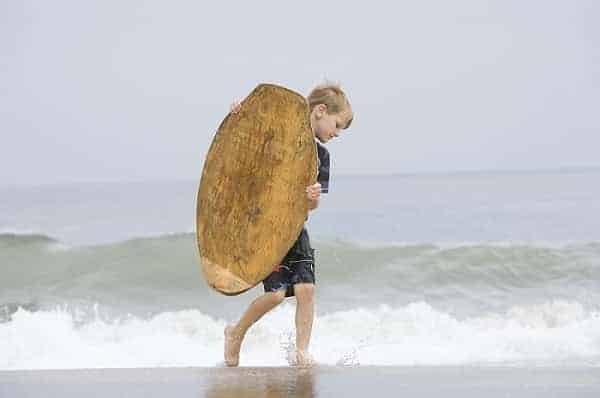 The jury is still out whether bodyboarding is better than surfing.  In my opinion, it's just a fun alternative.  Not better or worse, just different.  Let's take a look at some of the advantages of taking up boogie boarding, as compared to similar sports like surfing and stand-up paddleboarding. 
It helps you undertake a comprehensive fitness regime that improves your cardiac health, lungs, and joints. This is because they have to work more efficiently to pump oxygen through your body, and as a result, the blood flow through your body also improves.
The directional pedaling enhances the muscular strength in your arms and propelling using your legs also tones leg muscles.
The concentration and the balance that you need to control and stay onboard improves your coordination skills to a large extent.
Unlike surfing, bodyboarding is relatively easy to master. In most cases, all you need is this board, the balmy beach, and a little bit of practice. As a result, this makes it a lot more enticing for people like me who want a fun watersport without a steep learning curve.
The sheer affordability in owning a bodyboard also increases its popularity. In fact, a professional boogie board is often half the price of a conventional surfboard. This, no doubt, enhances the appeal.
The proximity to nature and water maintains body harmony and ensures a healthier you.
It motivates you to take on risk and also enjoy the fruit of your hard work in a constructive manner. It also encourages you to spend quality time with family.
What's the best way to use a bodyboard?
There is no age barrier in terms of when you can use a bodyboard. But here are some handy tips on how to use your board. Remember, it is never enough to just buy the best bodyboard. You have to master the best way to use it too.
Master Swimming: Before you set out with your board, make sure that you can swim well. This will ensure that you are comfortable even when the sea is rough and know how to maintain the weight of the board in turbulent water.
Don't Miss The Wetsuit: The wetsuit does more than just keeping you dry. It gives you the necessary confidence and the strength to navigate and maneuver the board in the rough sea. Even when the waves are huge, you can maintain your balance.
Wax the Bodyboard: Waxing the board regularly is important for better grip. This ensures that you are able to maintain the grip between your chest and the board even in cases of turbulence.
Don't Forget The Leash: Another way to maximize the performance of the board is to ensure that you hold on to the arm leash. This helps in both offering better control and creating a stable base. It also makes sure the board is not too far in case you get wiped out.
Position The Body Correctly: Positioning your body is another important factor when you are looking to optimize the performance of the bodyboard. The proper balance between these two ensures a quality riding experience.
The Key Negatives to Look For in Bodyboarding
When you are looking for the best bodyboard, remember that the most expensive one may not always be the best bet. If you are buying online, always go through the user reviews so you can get a feel for the actual user experience. In case you are buying these from a shop, look for test run options to decide what's best. With that being said, here are a couple things to look out for when buying a boogie board.
Don't compromise on safety features to get a bargain deal.
Avoid boards without a proper and durable arm leash.
Don't fall for innovative features unless you are sure about its benefits over the long-term.
The individual measurements vary so do not buy a bodyboard because a friend just got one. The best ones for you are the ones that level your belly button properly. Make sure you pay attention to these measurements closely.
Frequently Asked Questions
That said, here are some frequently asked questions that anyone looking for the best bodyboard may pose.
What's the difference between the locally available cheap bodyboard and the advanced versions available online or in specialized stores?
On the face of it, most bodyboards look similar. However, it is the core that differentiates a good quality one from a mediocre board. Most local corner stores invariably keep the most rudimentary versions because they are cheap and sometimes beginners just buy it for occasional use. But if you are serious about taking up bodyboarding, you need ones with advanced features and proper grip. For this, you may have to either go to a specialized shop or look online. 
Why can't we just buy one body board and use it, why do we need to match our height and weight to the bodyboard?
The stability and maneuverability of a bodyboard are dependent on your level of control and grip. In fact, the distance of your bellybutton from the deck is the best determinant of control. For most, this parameter will differ from one person to the next. That is why it is absolutely important to get a board that matches your body measurements. This will optimize grip and comfort and enhance the ride quality. It also ensures that you pick it up much faster than others.
Is the leash mandatory while using a bodyboard?
If there is one safety feature on the bodyboard that you cannot compromise on, it has got to be the arm leash. In case you get wiped out by the wave or lose touch with your board, this leash keeps it close to you and allows you to instantly get back to the board. Tie the leash on the right side in case you are right-handed. If you are left-handed, it is better to tie it on the opposite side.
Are the deck options different for beginners and veterans?
The PE boards are generally softer and more stable. As a result, they are better for beginners. Perpetual use makes the end indented. They do not get back to their original shape but the indented shape actually offers better support to new learners. The veterans, however, prefer the PP-PE combination decks that guarantee more control and maneuverability compared to basic PE decks.
Is there any other mandatory gear necessary along with the bodyboard?
The wetsuit is a mandatory gear when you go out bodyboarding. This suit does not just keep you dry but also protects you from potential injury. Additionally, it helps you maintain better control and maneuver the bodyboard with better agility.
Conclusion
All in all, you can well understand that the search for the bodyboards is never that simple. However, when you take all the factors in consideration, the Mach 7 from Morey is one of the best value for money buys. It is simple yet effective. The design is pretty conventional but has sheer brilliance in execution.
When you go through the various features and unique elements of this bodyboard, you can easily understand how well it stands apart. Be it in terms of speed, maneuverability and extent of usage, this is a clear winner. It is long lasting and durable and offers top quality ride to both beginners as well as experienced.
But you can also go through the rest of the options depending on what addresses your needs best. In case you are confused, you can simply go through this comprehensive list of options for the best buys in town.
Live Your Aloha Bodyboards Review
Snorkel Mask
★★★★★
"
I've found answer to all the questions I had on my mind. I've learned quite valuable information about bodyboards. Most importantly, I've found the best bodyboard for my needs. Thumbs Up!!!
"