Annoy Your Friends in Style, Tips for Buying the Best Ukulele on your Trip to Hawaii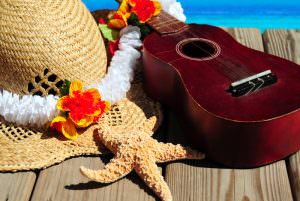 Ukulele haters gonna hate, you see them everywhere, rolling their eyes at the ubiquitous little instrument, lamenting the loss of the guitar and calling everyone strumming them a kook. In fact, one study showed that most ukulele related tweets all hissed in a negative tone.
Let's wait for that information to sink in a second.
Now ask yourself, has there ever been a better way to annoy your friends?
This is the passive aggressive movement of all movements, slowly and surreptitiously picking up the four-stringed instrument, as you stare your housemate's dead in the eye. This will teach them for letting those dishes fester in the sink for the full two weeks you were on vacation in Hawaii.
[mc4wp_form id="4788″]
So, who do we have to hate on for the rise of the ukulele? Probably Zooey Deschanel and her adorkable embrace of all things cute and quirky. If you don't know what the hell we are talking about, then here is a solid case built against the manic pixie dream girl who wishes everyone looked like kittens…
But jokes aside, the lovely little ukulele shouldn't suffer so much hatred – it is an instrument that captures the laid-back love of Hawaiian culture, it brings people together around the fire.  And, apparently, every sound you strum on it sounds good.
On your next trip to Hawaii, you should be sure to seek out one of these little bad boys, take a look at our guide to buying the best ukulele you can find in Hawaii.
Size Matters….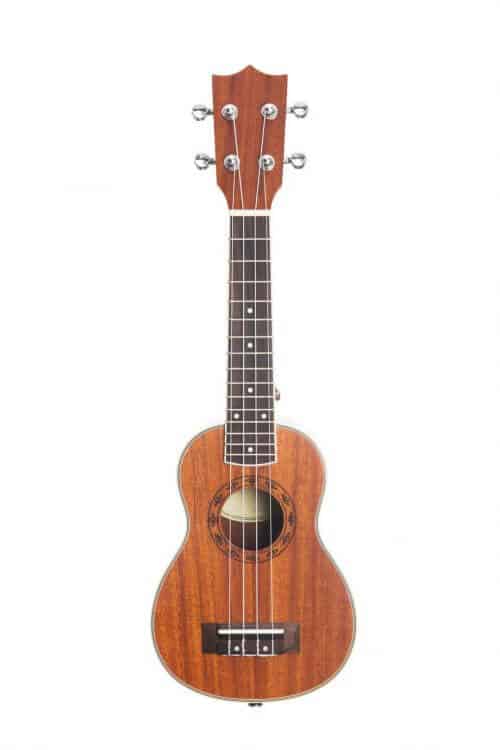 It's not how big it is, it's what you do with that. The same ethos can be applied to musical instruments, although obviously, a cello always sounds waaaay better than a recorder.
The uke comes in four different sizes – soprano (nope nothing to do with James Gandolfini), concert, tenor and baritone. The soprano ukulele is the smallest and most popular – it's the vision of what people think of when they hear the word ukulele.
If you don't have hands like Donald Trump, then you may want to step it up a notch and opt for the slightly bigger concert model which is easier to wrap your sausage fingers around. For those who want to steer clear of the twiddle and twang and want something deeper, then most pros pick up the tenor ukulele.
When chilling on your Hawaiian escape and catching virtuoso ukulele concerts you are most likely to be hearing those crooners cranking up their tenor ukulele. The baritone ukulele is for when you want someone to say 'hey dude nice guitar', and you can quip back with smug satisfaction, saying 'actually it's an ukulele'. Kind of like the whole champagne, sparkling wine thing.
You know, be one of those guys…
And I Think to Myself What a Wonderful Wood….
Would you believe that grain makes a difference, when it comes to how awesome your ukulele is bound to sound?
If you want the cream of the crop, the top of the branch or the pick of the litter when it comes to making good wood choices – then be sure to go for Koa.
Not only does the word Koa mean warrior (let's face it, probably the coolest word ever associated with a ukulele and a bit of an oxymoron at that), but it is also a beautiful wood with a gorgeous grain and a heady warm sound. Koa wood is used to curate the best ukuleles, so for those traveling in Hawaii without a tight budget – be sure to seek out the kooky and cool Koa kinds.
Check out why Koa is such a sought-after wood…
If you want something a little more cost effective, then mahogany comes in for the midrange choice and spruce ups the ante for discount pieces. Try and select solid crafted ukuleles rather than laminates. In the words of Cher Horowitz, you don't want a full-on Monet. It may look pretty from afar, but up close it's a big old mess.
It's All in the Craft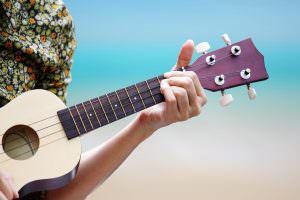 When we talk about the craft, we aren't referring to the 90's teen goth movie. Even though we think this movie was SERIOUSLY underrated. Witches, Skeet Ulrich being hurled from a window and a battle cry for women everywhere – Bustle knows what we mean…
But, away from witches and back to ukes. When trying to find a fabulous ukulele, you want to find someone who knows how to whittle a piece of wood into something spectacular.
If you don't want to splash the cash and you just want to fake it til you make it, then you can pick up some pretty and vibrant ukes for $20 at any old ABC store.
For those who want a noble ukulele that captures the art of prestige with that true and honest to god made in Hawaii stamp – then the islands have several masters.
Kaka'ako Instruments is located in the Kaka'ako District of Honolulu and has been making handmade ukulele's and Hawaiian lap steel guitars since 2011. If you are on Oahu and want to purchase a concert, soprano, or tenor ukulele this is the place to stop. If you get a chance, check out the "bedrock" of Kaka'ako Instruments – the Solid Acacia Ukulele. Not only are these handcrafted ukulele's elegant they are affordable and can be shipped to various locations at no extra cost. So if you would like to purchase during your vacation, but don't want to pack your new baby – it can always be shipped at no additional cost (throughout United States, Canada, and Japan).
Kamaka Hawaii Inc are probably top of their game in Oahu and are the most fabled uke makers in the all of Hawaii. Since 1916, these guys have been crafting traditional musical instruments, making a limited number each year to retain their authenticity and art. For the privilege of a name with a century of history behind it, you won't pay less than $800.
[mc4wp_form id="1057″]
Another bright and breezy name is KoAloha, who make the bold statement of being better than the weather. A family business run by Pops?  Who can resist the magic of popping in for a hand crafted ukulele and being invited to sit down and dine on some of Hawaii's finest superfoods?
Basically, if you want to buy an ukulele simply to punish your mates for not wiping down the toilet seat properly then by all means, pick up that $20 piece of pink junk at Walmart. But, if you actually want to get something back from the four-stringed little guy, then you should be ready to do a bit of research and spend about a hundred bucks. And, if you want to become the first person to make the cover of Rolling Stone holding an uke, then pick up those fancier handcrafted Koa models on your next Hawaiian adventure.