If you're planning a trip to Hawaii and thought about swimming with dolphins, then you chose the best place in the world!
Hawaii is the quintessential place in North America to enjoy an immersive experience with dolphins in their natural habitat (and there are several ways to do it).
Swimming with dolphins in Hawaii
Seeing dolphins while visiting the Hawaiian Islands is at the top of any first-time traveler's expectations, and the opportunity often ends up being one of the most memorable encounters of their life.
It's truly a rarefied experience to get up close to one of the world's most intelligent and highly social marine creatures. Dolphins have a unique relationship with humans and possess a major cultural influence around the world.
Let's dive a little deeper into the world of Hawaiian dolphin excursions.
What types of dolphins can you swim with?
There are two species of dolphins that are commonly found in the Hawaiian Islands: Spinner & Bottlenose.
Bottlenose dolphins
The bottlenose dolphin is the most famous species in the world. The public is familiar with this type of dolphin from aquariums and the TV show Flipper.
Bottlenose dolphins are proven to be highly intelligent and have the third largest relative brain size of any mammal. They have been used by militaries around the world to track sea mines and detect enemy divers.
Although bottlenose dolphins are hunted for food, they are considered a "least-concern" species and remain plentiful in the wild.
They are surprisingly large creatures, ranging from 330 to 1,400 pounds and up to 13 feet in length.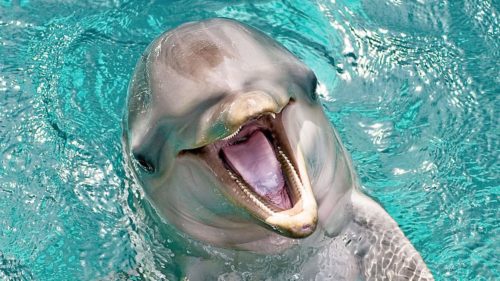 Spinner dolphins
The spinner dolphin (also called the long-snouted dolphin) is a small species located in off-shore tropical waters around the globe.
One of the four subspecies of spinner dolphins is the Hawaiian spinner dolphin, which is the type that you're most likely to encounter during a dolphin snorkeling tour in Hawaii.
Their resting grounds are situated in near-shore waters and bays around several of Hawaii's main islands. This is where they are most social.
Spinner dolphins are quite energetic and often shoot out of the water while twisting and turning. This makes it easy to spot them in the wild.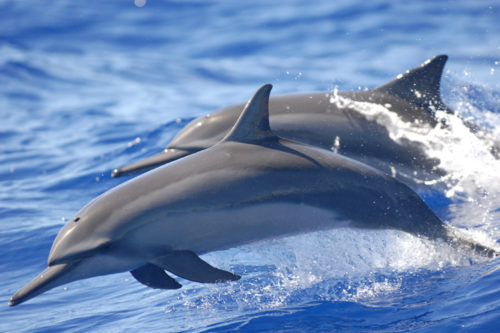 Which Hawaiian islands can you swim with dolphins?
The Big Island
The Kona and Kohala Coasts of Hawaii offer some of the best locations in the world to swim with wild dolphins. There are several snorkeling sites, such as coral reefs, which can be hotspots of dolphin activity (and other sightings).
Some of these sites include Kauhako Bay, Kealakekua Bay, Makako Bay, and Honaunau Bay.
Oahu
Oahu's west side is also a great area to swim with dolphins away from the bustling water activities around Honolulu. For example, Waianae Harbor near Makaha Beach Park is a typical place to start a dolphin catamaran dolphin tour in Oahu.
On the north east shore of Oahu, you can also swim with dolphins at Sea Life Park Hawaii near Makapu'u Beach Park.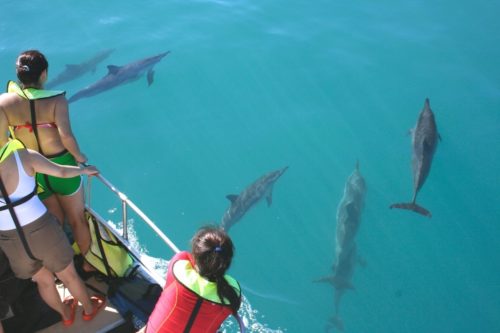 Maui
Maui is home to all kinds of spectacular marine life that inhabit coral reefs and underwater lava rock formations—making the island a top snorkeling destination in Hawaii (and one where you can swim with spinner dolphins in Maui at Lahaina Harbor)
If you want a raw and majestic snorkeling experience in a truly remote locale, consider an excursion to the Molokini Crater. Not only will this trip give you the once-in-a-lifetime experience of swimming in a partially submerged volcanic crater, but it offers a good chance to spot wild dolphins too.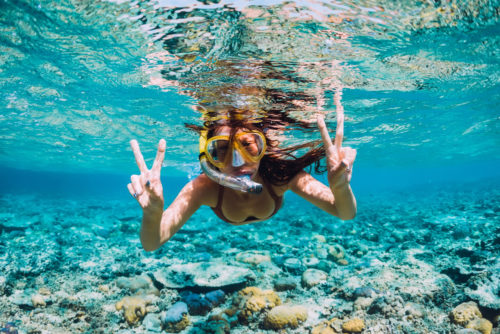 How do you swim with dolphins (the best way to see them)? 
The two main ways to swim with dolphins in Hawaii are by going on a snorkeling tour or by visiting them in captivity (at a beach resort or aquarium).
Snorkeling tour
Taking a boat tour to find wild dolphins in their natural habitat is by far the most exciting and adventurous way to swim with dolphins.
As you already know, there are numerous dive sites around the Hawaiian Islands that offer a good chance to spot dolphins swimming in the wild or resting during the day in shallow waters.
The worst-case scenario with snorkel tours is that, if you don't actually see a dolphin (which is unlikely), you'll still get to see other amazing marine life and underwater attractions.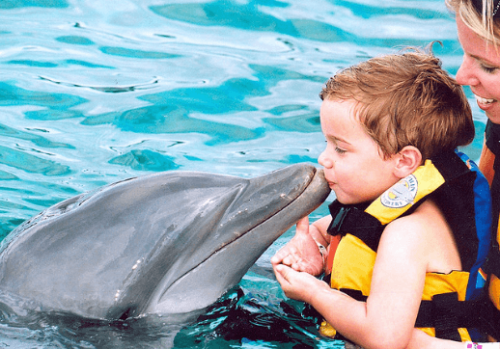 Captive dolphins
Snorkeling and diving tours aren't suitable for everyone—and that's perfectly okay. Many people are able to swim with dolphins at their local hotel resort (especially at family-friendly beaches like Waikiki).
It's easier and more accessible for a lot of people to swim with "resident" dolphins at hotels and aquariums, especially young children who are still weak swimmers. 
These establishments are usually accredited by the Alliance of Marine Mammal Parks and Aquariums (or certified by American Humane), and treat their precious dolphins with the utmost care and respect.