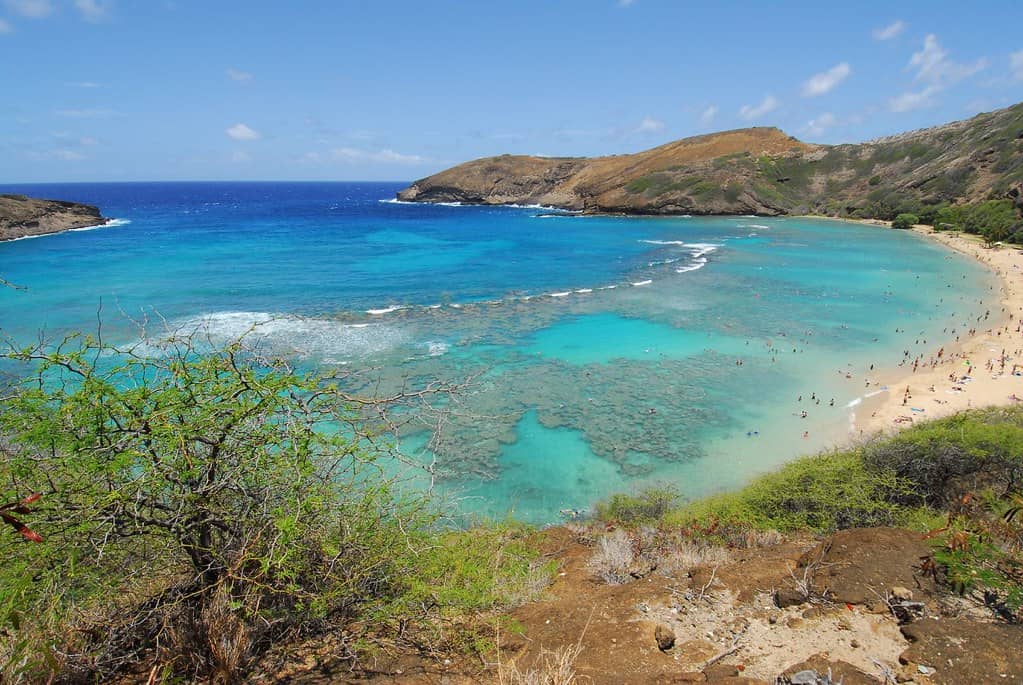 When you come to the Hawaiian Islands, you do not need to leave the island of Oahu to find great snorkeling. This is especially important when your vacation time in the islands is limited.
For snorkeling, Oahu has many spots, but you could go searching along all of Oahu's 227 miles of shoreline and never find the best snorkeling in Oahu.
List of Best Snorkeling in Oahu
Lucky for you, we have put together a list of the best snorkeling spots for beginners and for those with lots of experience.
Where and How to Snorkel in Oahu
Experienced individuals who know which locations offer the best snorkeling in Oahu will simply visit their favorite Oahu snorkeling spots. But, if you do not know the right spots, do not have the equipment, or are a beginner, there are lots of options available.
We suggest that you follow our list of locations for the best snorkeling in Oahu and pick a local tour.
Locations for the Best Snorkeling in Oahu
You can start with any of these locations. But, we suggest starting at the top of the list and working your way down. Even though you will love the first snorkeling spots, make sure to try out the rest as each has unique features that will make your time in the islands memorable.
If you are pressed for time, snorkeling in Honolulu is possible at Sans Souci Park next to the zoo and aquarium. If you will be staying overnight at an area, you may wish to target an Oahu snorkeling region, like the North shore.
1. Kuilima Cove
This North shore Oahu snorkeling location excellent spot for beginners and children is on the North side of the island, one an hour and ten minutes by car from the Honolulu airport. The beach is right next to the famous Turtle Bay Hilton and parking is available at the Turtle Bay Resort.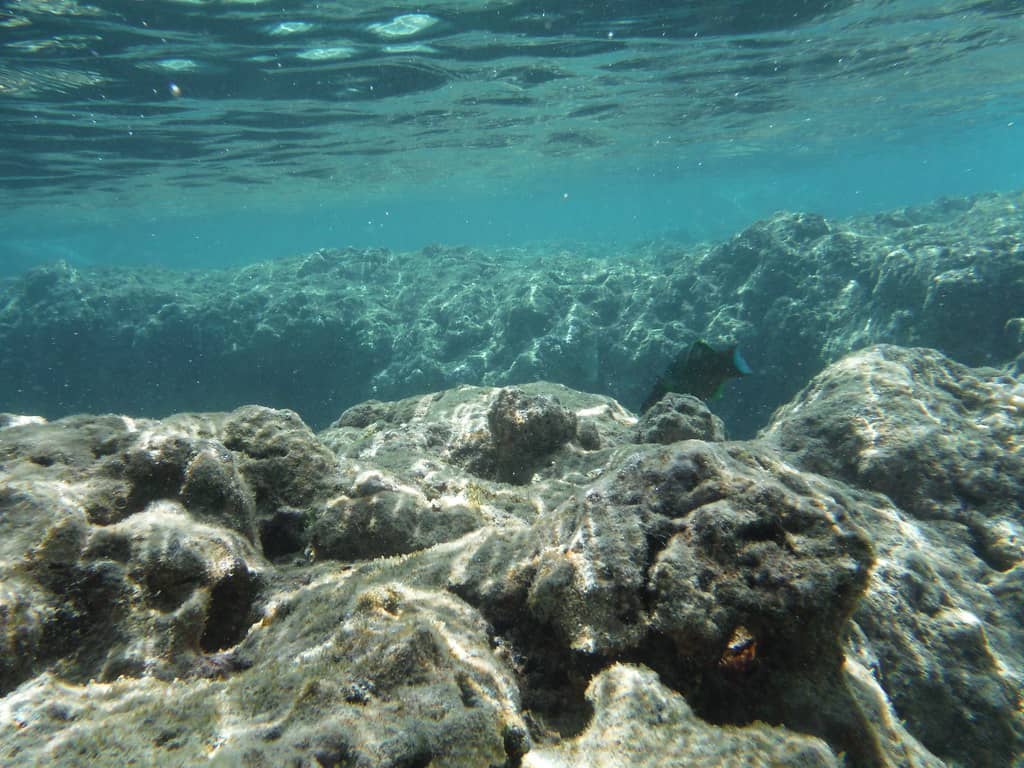 Kuilima Cove is surrounded by a barrier of natural rock so you are protected from the waves. This serene and sheltered spot for easy Oahu snorkeling is also on a lesser-known beach.
So, you will have lots of privacy to enjoy this sport and very clear warm water that averages only a few feet in depth and has lots and lots of fish.
If you are a novice or are bringing beginners with you, this Oahu snorkeling site should be at the top of your list.
2. Kahe Point Beach Park
This great Oahu snorkeling location is only half an hour by car from Honolulu on the Southeast corner of the island. This location also has great visibility and an abundance of fish.
You will find this spot north of the Ko Olina Resorts and may have better luck with directions from locals if you ask for "electric beach." (There is a power plant nearby.) This is also a popular scuba diving location.
3. Shark's Cove
The Shark's Cove Oahu snorkeling is on the North shore of the island (close to Kuilima Cove) a little over an hour by car from Honolulu. Despite the name, Sharks Cove is not infested with sharks. The Sharks Cove Oahu snorkeling site offers clear visibility, a lot of fish, and interesting underwater rock formations.
4. Hanauma Bay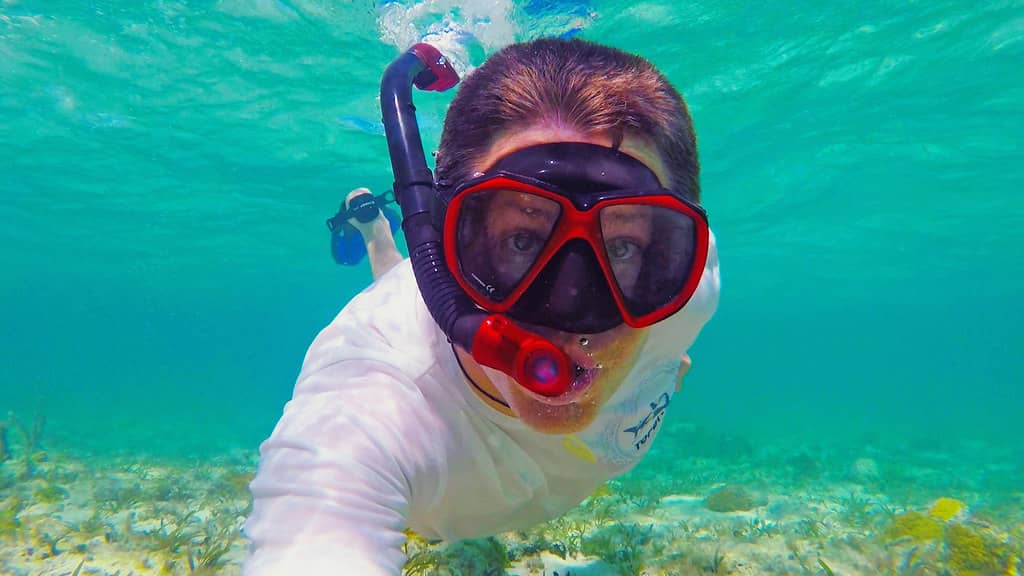 Hanauma Bay is half an hour by car to the East of Honolulu on the South coast of the island. It is an extinct volcano with one side blown out.
Thus, the white sand beach is protected and the snorkeling is like visiting a fish bowl with more than 300 fish species living around its coral reef! With great visibility, tons of fish, and easy access from Honolulu, this location fills up in a hurry.
The park limits access to 3,000 visitors a day. So, plan on arriving early and to share your spot with many others.
5. Kaena
Ka'ena is a secluded Oahu snorkeling location about an hour by car from Honolulu on the west shore of the island of Oahu. Ka'ena Point Park has a famous hiking trail where you can explore an excellent mile-long secluded beach along the Farrington Highway. Just park along the road and walk down to the white sand beach.
If you want to see parrot fish, wrasses, surgeonfish, butterflyfish, perch, and damselfish, this is an excellent location. Nestled down in the coral and rocks are crabs and live sea shells. For a quiet beach and fantastic scenery both above and below the waterline, spend the day at Kaena Beach.
But, make sure to pack a lunch and come prepared to enjoy the sport and beaches as this is not a commercialized setting.
6. Three Tables
Three Tables is a protected marine sanctuary and Oahu snorkeling site on the north shore of the island just over an hour by car from Honolulu. It is close to both Kuilima Cove and Shark's Cove.
But, it is not a sheltered Oahu snorkeling location. Here you will see lots of exotic fish, explore the reef, and have a great time during the summer months. From May to September the sea levels are very comfortable here. However, there will be 20 foot waves during the winter months!
At the time the surfers arrive, but only the experienced ones! Stick to the summer months for this Oahu snorkeling location.
7. Queens Beach / Sans Souci Beach
These beaches are only 20 minutes to the South and East by local streets from downtown Honolulu. The park is Sans Souci Park and the beaches are Queens Beach, which has disabled access, and San Souci Beach. These breaches are near the Honolulu Aquarium, Zoo, and Kapiolani Park.
Be careful of the weather when snorkeling here as the swells can be dangerous for inexperienced swimmers.
For snorkeling Honolulu has this convenient that is close to other attractions, it ranks at the bottom of our sites for the best snorkeling in Oahu and but is the only site for Honolulu snorkeling.
Choose the Oahu Snorkeling Site That Fits Your Needs
We list the best snorkeling spots in Oahu based on what we believe you will want in a great site convenient access and safety for novices. Obviously, if you are going to be staying on the North side of the island, Kuilima, Shark's Cove, and Three Tables will be at the top of your list because they will all be close to where you are staying.
And, if you are staying within or near Honolulu and easy access is important, Kahe Point, Hanauma Bay, and Queens Beach or Sans Souci Beach move up your list. And, if you have a car and the time to roam around the island of Oahu, a secluded site like Kaena becomes more attractive.
If you want the clearest water, go to Kaena and if you want to see the most fish at a single place, pick Hanauma Bay.
Oahu Snorkeling Tips
Never snorkel alone. Always have a partner even when ocean conditions seem perfect. And, even in calm seas, do not turn you back on the ocean. Even on a quiet day a "freak wave" can show up. If you don't see it coming, this sort of wave can be dangerous.
If you want to see the most fish, have access to a site like Hanauma Bay, get up and go to the beach early. It may be tempting to sleep late on your vacation, but morning is when the fish are more active and in many locations, the water tends to get cloudy later in the day due to the afternoon winds.
Look for underwater structures if you want to see marine life. These can be formations of the lava rock that is the foundation of the Hawaiian Islands, the coral that grows on it, or man-made structures. Small fish find safety within and around these areas and they are great food sources.
So, when you want to see the fish, look for structures because where there is a large sandy bottom, that area will be largely devoid of fish.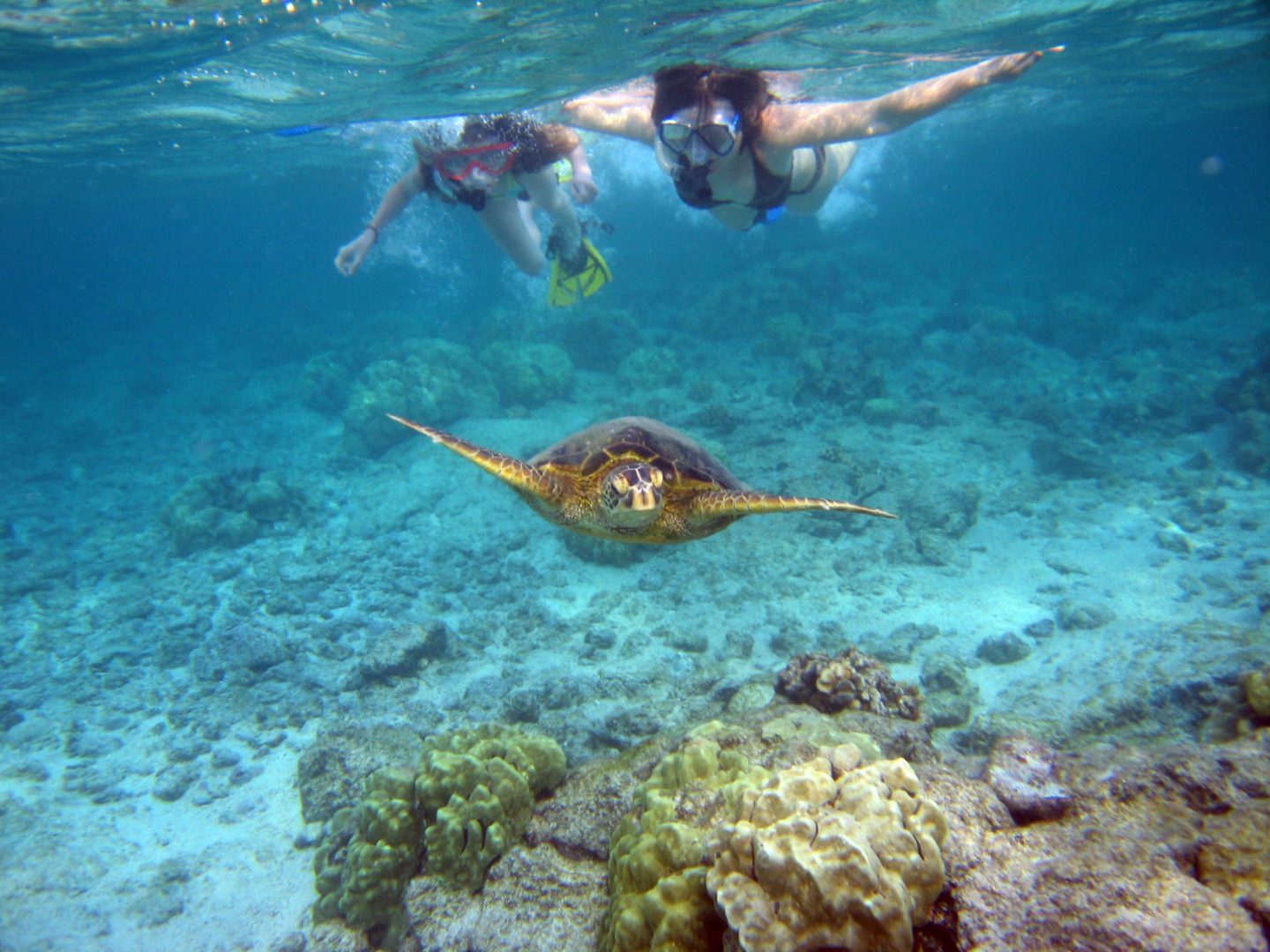 Wind and snorkeling don't always mix very well. You may be thinking that since you are under the water that the wind does not matter. But, wind blowing across the water creates currents and the currents stir up the bottom in the relatively shallow areas that are perfect for snorkeling.
Get going during the morning and focus on snorkeling over reefs and rock structures for the perfect water clarity. Always bring waterproof sunscreen. Even the cloudiest day has lots of UV sunlight that will burn you.
FAQ
Is it safe to snorkel in Oahu?
Many of the sites we mention for the best snorkeling on the island are in sheltered coves like Kuilima Cove on the North Shore and Hanauma Bay on the South Shore.
These are safe places to snorkel providing that you stay in the shallow areas and always bring a companion with you. And, never leave children alone when you are snorkeling!
How much does it cost to rent snorkel gear in Oahu?
Although you may choose to bring your own snorkeling gear to Hawaii, you don't need to bother. You can rent gear for $9 to $12 a day or about $36 a week. Alternatively, go to a Costco in Honolulu and buy new gear for $50!
Which Hawaiian island has the best snorkeling?
Once you are at the site, the best snorkeling in Hawaii is at Kealakekua Bay on the Big Island. Next is Molokini Crater which is only reachable by boat three miles off the shore of Maui. Number three is Hanauma Bay on the South side of the island.
When you factor in accessibility and convenience, the Hanauma Bay Oahu snorkeling site comes out as number one. It is an excellent site that is located on the coast near to Honolulu and offers views of hundreds of species of fish on any given visit.