As you sit in your office, miles away from the ocean, you stare at the postcard of beach heaven that your friend sent you from their last Hawaii vacation.  As you stare at the crisp blue water, you wonder what lies beneath the surface.  You have heard that Hawaii has some of the most colorful and diverse ocean life in the world.   This is true, but if you want to go snorkeling in Hawaii, you need to know where to go.
The State of Hawaii has worked hard to rebuild fish, coral and sea mammal populations surrounding Hawaii's waters.  This means that you have a good shot of seeing some cool marine life, including a sea turtle or two, at the hotel's beach or in the main strips.  But, to find the top Hawaii snorkel locations, you need to go off the beaten path.  And, while places like Hanauma Bay and Turtle Bay offer a lot to see while you snorkel, you'll often spend more time dodging others frolicking in the water.
And, if you're not all about buying your snorkel gear, you can rent what you need to snorkel at most hotels and many local shops before you hit the water.
When choosing our top three Hawaii snorkel spots, we considered where most tourists will be: Oahu and Maui being the most popular tourist destinations.  That being said, Kauai has some amazing spots along the Na Pali Coast.  You can learn more about these hot snorkel spots here: (Kauai Best Activities Blog).
If you are going to the Big Island, you will be experiencing some of Hawaii's healthiest reefs.  While there are also dozens of other great snorkel spots on Oahu and Maui, we feel that these are great reefs without zillions of people going there, radically increasing the odds that you can share the water with sea turtles or a manta ray.   If you aren't quite sure what island to visit, we are happy to help with this guide. 
Kuilima Cove, North Shore Oahu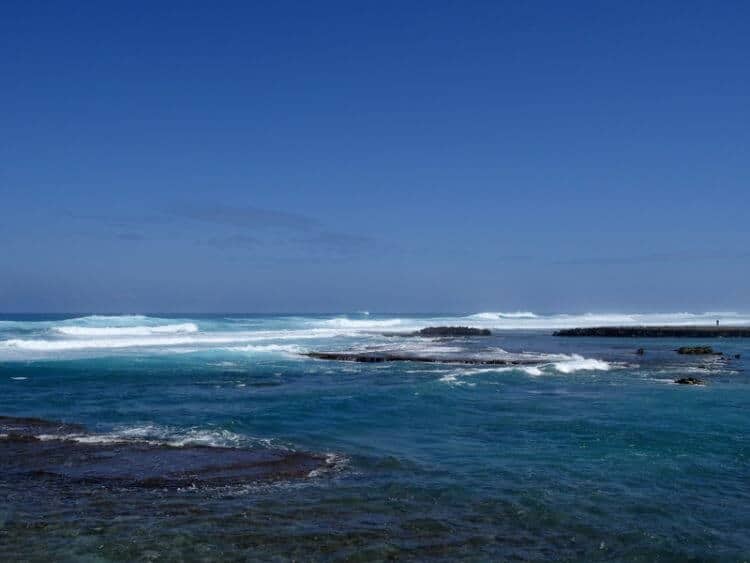 The North Shore of Oahu is respected around the world for its large winter waves, topping out over 30 feet with only the most experienced waterman taking their chances in the water.  Not far from the big wave action exist many protected coves.  Turtle Bay has been a popular location for travelers for decades.  Approximately an hour and a half from the airport, it's not the first place that Oahu tourists flock to.  The resort is designed to maintain the integrity of bay views from around the property and has a large bay filled with everything from eels to octopus.
On the eastern edge of the resort is another amazing cove that has a fraction of the people in the water.  The cove is filled with a bountiful reef, but is tucked nicely away from the larger swells outside of the cove's protection.  The result is clear water, a decent beach and an array of fish ranging from the symbolic state fish, humumumunukunukuapuaa (say that five times fast underwater) to porcupine fish,  parrot fish, surgeon fish and angel fish to name a few.
Parking is easy, located right at the Turtle Bay Resort on the right hand side of the property past the tennis courts.  It does take a bit to get out there, if you are staying in Waikiki or the Leeward Coast, so plan your day to enjoy the drive through historic Haleiwa Town, stop for brunch and a ton of selfies and then head out to enjoy the sea life.
As a general rule, any North Shore cove is going to offer a casual snorkel with lots of marine life.
Makaha Beach Park, Oahu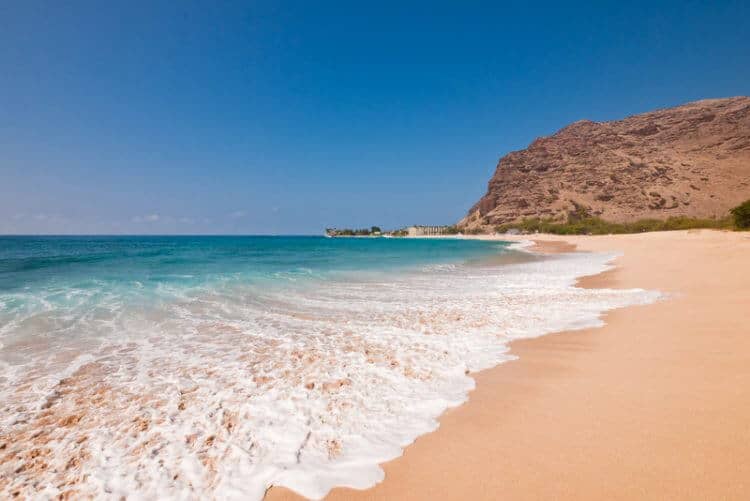 Even though Makaha Beach Park was featured as a top Hawaii snorkel spot, it is well out of the way of normal tourist transport.  Located on the western part of the island in Makaha, 35 miles northwest of Honolulu, the cove is home to many locals who spend their days snorkeling, surfing, fishing and free diving. 
Many popular snorkel tours on Oahu take people via charter boats to nearby locations for some of Hawaii's best dolphin experiences.  This means that you have a great change of seeing more than just colorful fish; keep your eyes open for the endangered green sea turtle and many dolphin friends frolicking about.
For your best experience, go further out in the cove, along the edge of the reef, where the gentle cove water meets the channel.  This is where the big fish meet the small fish and dolphins, manta rays and even a shark or two will frolic.  Most reef-dwelling sharks don't bother with humans and are actually quite shy. 
Use your common sense.  If the fish start acting strange, maybe a predator is about and you should calmly get back to shore as well.  Don't let the thought of sharks scare you, locals have been loving this spot for generations.  In fact, it is considered a local favorite on the Leeward side, so respect the beach and water there and be polite while enjoying your snorkel.
The aloha spirit is strong, but there is nothing locals hate more than tourists being dumb in their backyard.  You want those locals on your side, if there is a shark to worry about, not pulling out their phones to video it and put it on social media while you become lunch.
Also, please don't touch the turtles.  Besides being rude, it's also against the law and a really dumb reason to get ticketing during your marine life tours.
Molokini Snorkel Tours, Snorkel Maui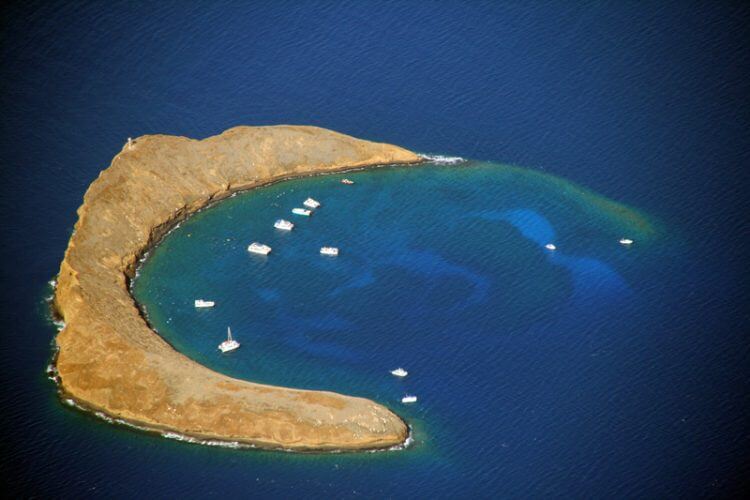 Geography lesson: Molokini isn't part of Maui Island.  You can't swim to it from Maui.  There are no planes or helicopters that land there.  You can only reach this volcanic atoll by boat charter.  Since the atoll is just south of Maui Island, the easiest and most convenient snorkel tours are based on Maui. 
While this isn't snorkeling Maui per se, if you are on Maui, you will want to take the time to book a tour to this reef, protected by the State Marine Life and Bird Conservation District.   You will see a diversity of sea life that you won't find anywhere else in the world.
Considered by most as the top snorkel location in Hawaii, Molokini Crater is more than one spot for water enthusiasts.  The crater forms a "U," just west of Maui. Closer to the atoll shore in the "U", there is Tako Flats and, as the name suggests, it's beaming with tako, octopus and other marine life protected by the rounded bay that the atoll forms.
For a bit more excitement, try Reefs End, the western tip of the atoll bay where morays, white tip reef sharks, ulua and whales intermix as the reef drops to the deep blue. 
The Backwall is for more experienced divers with depths exceeding 100 feet.  It's the southern wall of the crater, where the atoll erupted from the depths of the ocean, making it deep with strong currents.  You will see big fish, dolphins, rays and perhaps humpbacks.  If you're lucky, you might even see a monk seal hunting for food in the nutrient rich depths.  No fishing or spearfishing is allowed; this is only for enjoying the beauty while on a snorkel or dive tour.
Wherever you decide to snorkel, do so with a healthy respect for our Hawaiian waters.  These waters were pillaged of much of their beauty for generations and only through conservation efforts and the work of our amazing local waterman have our reefs recovered to a point where sea turtles, manta rays and other marine life like sharks are plentiful again. 
Pay attention to the ocean and weather, as things change in a heartbeat.  Be safe and post lots of pictures of the beauty only found in Hawaii.  Snorkel smart, snorkel safe and chum around with other tourists.
Pro tip- pick up a travel size tube of tooth paste.  Just before you enter the water with your snorkel gear, get the inside of your mask wet, then rub a small amount of toothpaste around and across the inside of your mask.  Keep rubbing until the film is almost clear.  This film will keep your mask fog-free during your snorkel.  Some people think they should use dish soap or body wash.  Seriously, do you know what happens to soap when you add water? 
And, never chum the water before your jump in.  That's just loco!