This is a list for the doers of the world.  Yes, there are a million things to "do" on Kauai island, Hawaii's oldest and arguably most lush and exotic of islands, but laying on a white sand beach isn't always considered "active."  So, if you are a doer, here is our Kauai activities guide that will get you up off your okole (Hawaiian for arse) while staying on the Garden Isle.
Kauai Zip Line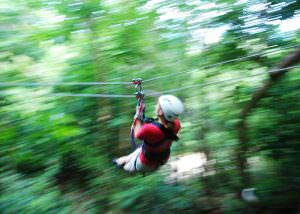 Kauai is by far the oldest child of all its Hawaiian Island siblings, boasting a youthful age of 5 million years old, compared to the baby of the family, the Island of Hawaii, which is still a growing teenager of 450,000 years old.  With age comes wisdom and wisdom with islands comes in the form of perfectly granulated white sand beaches  with diverse reef highways and lush rainforests grown out of mountains.  As far as Kauai tours go, this is unique.  This doesn't mean you can't do a helicopter tour and pretend to be Magnum PI circa 1988.  Just make sure that you pick one that won't make you lose your lunch. Strap on the GoPro and harness up to soar with the birds along one of the popular zip lines.  Covering thousands of acres of rain forest, you'll certainly feel the wind on your face, the trees brushing your feet and maybe a spritz of rain on the way down.  Be brave and keep your eyes open to take it all in, from the massive canopy of forest below to the waterfalls, the old plantation fields and bamboo groves. This is why they made GoPros, so get out there and be Tarzan, leaping into the ancient Hawaiian jungle.
Lazy River
I know you are thinking that a lazy river doesn't exactly sounds like a Kauai activity requiring a "doer mentality."  Stay with me on this one though: where else in the world can you take a tube down an old plantation irrigation canal?  In today's world, not many places, but this is a throwback to what kids did before amusement parks and it's worth the afternoon. 
Getting to the lazy river starting point is an adventurous start, as you take a four-wheeler or ATV into Lihue Plantation's back-country.  Your guide will give you the history lesson behind Kauai historical sites and background of the plantation, including the man-made canals used to irrigate the fields.  But, if you are here for just the history lesson, take that four-wheeler back down.  The rest of us will be donning a headlamp and grabbing a tube.  While the canal flow is mellow, as is most things in Hawaii, you will find yourself taking a deep breath through the dark caverns cut through the mountains.  Enjoy the refreshing water and the relaxing ride with lunch at the bottom.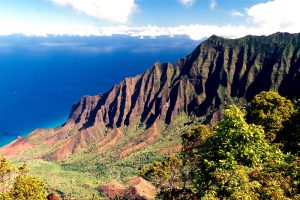 The NaPali Coast is a world-class backpackers dream and is considered one of the best excursions in Kauai.  Though only 11 miles, it zigs and zags as you traverse the breathtaking coast, gaining elevation with every step.   While many people make it a long day hike, getting to one of the several viewpoints along the trail, purists pack their gear for a two-day backpacking adventure of a lifetime.   
While Kalalau Beach is the ultimate goal here, you will need a permit and it does require camping overnight at the halfway mark.  But if you don't have the time, or are a bit weary of centipedes in your sleeping bag, Hanakapi'ai Beach is beautiful, can be done in a day and without the bother of a permit. 
Now, a couple things to keep in mind: safety and safety.  People die here, no joke. Weather is a big concern for those going in.  Poor planning can have you on narrow trail ledges with 5000 feet of gain and loss.  So don't do it in your slippers (flip-flops); wear real sneakers or hiking shoes and be prepared for wind, rain and darkness. 
The other part of safety is the water safety.  The ocean at Kalalau Beach is rough, and I mean rough like grandma's face with her 5 o'clock shadow.  People die here, so know that the waves pound the shore with crazy rip currents.  The stream is considered safer but know that, during the rainy season, it too will be dangerously swollen.  August is the busiest time for the trail, so if you feel safer in numbers, this is the time to go.  If not, know you are on your own so let friends and family know where you went and when you plan on returning.
Snorkel Adventuring
If you don't want to spend a couple days hiking to the Na Pali Coast, there are many Kauai tours to take you snorkeling off the coast and away from the dangerous shore break.  On a good day, you will be able to swim among tropical fish, green sea turtles and dolphins.  On a great day, you may even see a monk seal or whale.  Sharks are there too; after all, it is the ocean. Look for a fellow tour goer that is more attractive to a shark than you.  Your guides are happy to assist. 
Snorkeling adventures take you away from the shoreline reefs that don't always reflect the diversity of Hawaiian reef waters.  It also lets you see the island from the ocean, a perspective not soon to be forgotten.  For a real sight, go during whale season which is anytime between December to April and maybe you will catch a pod of humpback whales during their migration.
Kauai Kayaking and Paddle Boarding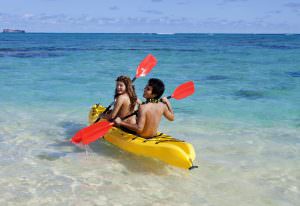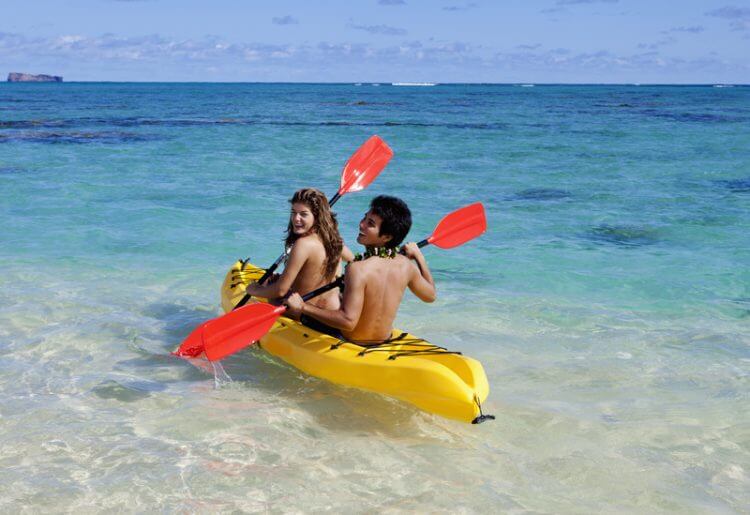 Both kayaking and paddle boarding allow you to be physically active while setting out on your own.  You can work your way up the Waialua River and then hike into the Secret Falls or you can take to the ocean and work your way up the coast to explore sea caves.  Either way, both allow you to move at your own pace while taking in the beauty of the island. 
As safety is always a consideration for our visitors (see Na Pali Coast Hike above), know that you will want to be in good physical shape particularly if you are paddling around the coastal waters.  But for those who are, you will be in awe of natures work with the sea walls, caverns and caves scattered about the North Shore of Kauai.  Rentals are found just about everywhere, so you don't need to preplan this adventure activity other than packing a lunch and picking a starting point.
Once you've had your fix of activities in Kauai, Hawaii, head over to Maui.  Even if you don't have much money left, you can have a ton of fun while following our vacationing Maui for cheap here.  And for those who read this and find these activities way too adventurous, don't worry.  There's still mile after mile of beach on which to sit and enjoy a mai tai with your favorite book.