We have all seen those lousy Hawaiian luau menus or sighed at soggy buffets left out in the sun too long.
The frazzled pig scorched black on the outside and raw on the inside, the gelatinous looking spam pooling onto a plate and taro root that seems to have formed a glue-like texture. Check more out here. 
If you are the one wailing in the kitchen over your tragic attempt at a Oahu luau menu, then there is only one way to save your reputation and avoid being hunted down by your friends, Lord of the Flies style and launched off a cliff.
Yes, we are talking about that glorious golden beam of light, that prickly on the outside and delicious on the inside fruit. We are talking about the perfect icon for island life.
The humble pineapple.
This is your secret weapon to bring your Hawaiian party menu up a notch or two. Even though it's fun watching your friends make polite excuses as to why they like to chew and spit food out, rather than swallow, these glorious globs of sunshine dishes are sure to get you on the next season of MasterChef.
Shrimp and Pineapple Tacos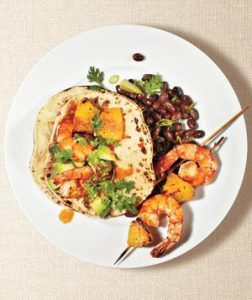 Sometimes your shrimpin' needs some pimpin'. Oh, god did we say that aloud?
Let's scratch that from the menu and start again. Simply put, can you think of anything more mouth wateringly delicious than salty pink shrimp with its tender white flesh, all piled into a taco and loaded with fresh pineapple chunks, zingy tomatoes, smashed avocado and a good old squeeze of lime.
Please stop salivating on your keyboard.
Hawaii is the land of pineapple and has an ocean of fish, including glorious jumbo shrimp. Yeah, we know that the term jumbo shrimp is an oxymoron.
Simply throw those bad boys (the shrimp! Not James Dean) on your skillet for a couple minutes, until they sizzle pink. Throw a few chili flakes and a twist a little lime on them first, if you want an extra dash of spice.
Then, load 'em into a corn tortilla. Add a salsa chop up with that beautiful bright pineapple, tomato, jalapeno, cilantro and red onion. Toss that on, too. Finish with some guac and sour cream and settle in for a feast.
Curried Pineapple and Plantains
OK we know you are in Hawaii, the sun is scorching and the melting pot is bubbling with Asian flavors, but hear us out.
You may think it's too hot outside for spicy Indian food, but remember it's hot in India, too.
This one may be not be Polynesian, but it is going to throw down fire at your Maui luau party table and impress the hell out of your guests.
We are talking loud and brash chunks of pineapple, soft and simmering plantains, a ton of scented spices –  all swimming in the cooling kiss of creamy coconut milk.
Of course, there is a lot of room for error when it comes to curry.  One pinch of spice too much and you are going to get punched in the face by your own food. One pinch too little and you suddenly have a dish that would win an award for being the most meh.
We suggest following the recipe to a tee.
Pineapple and Coconut Cake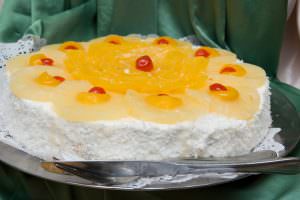 When it comes to pineapple and coconut cake, it's not the time to be shy…
We are just going to leave this right here.
Pineapple cake isn't something new on the island.  You can probably find slices of golden goodness at every turn. But, add a smattering of coconut and you have something you can definitely go loco for.
Light as air, drizzled with juices and soaked to the bone in sheer delight – this cake captures the art of balancing sweet and sour.
There are those in this world who know how to make cakes and then there are those who know how to eat cakes. We put ourselves firmly in the latter camp. An open invitation to feeders everywhere.
Hawaii is renowned for its dreamy delirious desserts, just take a look here and get your drool on…  find out more on our Kauai Tours Page.
Sparkling Pineapple Soup
Instead of hit TV show Will It Blend, we prefer to ask the question will it soup?
The world is full of weird and wonderful soups, from the dirt soup of the Chagga tribe to Vietnamese blood soup and let's not forget swallow saliva soup –  as in the bird, basically bird spit soup.
Don't believe us? Check it for yourself…
But, sparkling pineapple soup is something much more magical. Is it a soup, is it a dessert? Is it a drink? Who the hell knows!
It's basically sparkling wine, pineapple chunks, lemon juice shredded coconut and lashings of ice. All of these ingredients are blended up into a silky smooth, yet slightly sparkling, concoction. It does sound like a drink, but it can also be served as a refreshing appetizer to cleanse the palate.
Either way, you will be drunk and winning and your Hawaiian buffet guests will be thanking you.
Pineapple Jack BBQ Sandwiches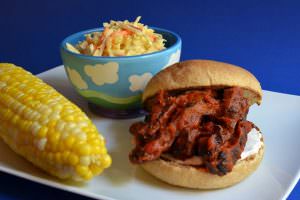 For those of you who love to chow down on barbeque, but don't want the guilt – seems like these pineapple jack sandwiches are going to be a game changer.
We aren't sure who discovered that jackfruit tasted like pork. But, they did and it does.  Now the world is happy.
For months,' vegans across the planet have been sizzling up jackfruit with BBQ sauce, slapping it onto a sandwich, washing it down with an ice-cold beer and thanking the food gods.
We have a way of stepping up your A game.
Yep, you guessed it – pineapple.
This glorious late night supper crushes in the pineapple to perfectly complement the glaze of whisky and the husky sultriness of liquid smoke.
These five fabulous recipes are sure to brighten up your luau party. Although we should add that after feasting on this array of foodie gems, you may collapse beneath your own weight when attempting to limbo.
You have been warned.