5 Gourmet Luau Dishes That Will Have You Drooling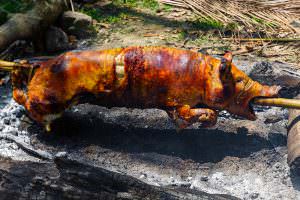 Some hawaiian luaus are lousy.
Think the dodgy twang of ukulele music that seems to belong in a 70's porn movie. Think sad looking paper pineapples and fake grass skirts made out of paper.
Think watching your grandma getting stuck halfway through the limbo when her back finally gives out. Think blue Hawaiian cocktails warming in your hand, with the coconut cream forming a layer of scum on the top of your glass.  Check out this NPR article on Luau Recipes.  
Think terrible SPAM recipes that certainly belong in a British air raid shelter. And think pineapple and ham mini pizzas with curling crusts. Who the hell would think that this luau party idea was a good one?  Is this a party?  Our Maui Tour Page can help you think up the best parties!
[mc4wp_form id="1051″]
Fortunately, we have scoured the epicurean delights of the World Wide Web to spruce up your sad little party and turn it into something that wouldn't look out of place in the Wolf of Wall Street, complete with gourmet luau menu ideas.
That's right, get these divine recipes on your luau table and you are sure to find Leonardo DiCaprio swigging champagne from the bottle, whilst simultaneously limboing and snorting cocaine of the stick on the way up. That's right people, we are here to present to you the finest gourmet luau menu ideas known to man, God, the universe and Carl Sagan.
Hawaiian Dog with Pineapple and Jalapeno Relish
With Trump in t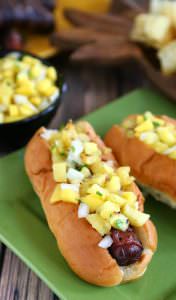 he driving seat, all you wanna-be Hawaiians may feel the need to untangle yourself from your American cousins.  However, perhaps you want to drown out the ill-fated feelings by embracing old fashioned Americana.
The humble hot dog may not be Hawaiian or a gourmet treat and probably won't be found at the Polynesian Cultural Center, but you can spruce it up so that it hits both these targets, tastes divine and nails the spirit of Hawaii.
Choose a dam good sausage and fire that bad boy up on the barbeque, before turning to the toppings. Wisk up a recipe that includes half a cup of honey mustard with a tablespoon of sweet paprika to slather on top of your dog.
For the relish, simply slice up some onions into rings and cut some fresh pineapple into planks. Toss in oil and even season with a little soy sauce before toasting under the grill for five mins until beautifully charred. Chop coarsely and toss in a bowl with sliced and diced pickled jalapenos.
Fancy some more fabulous hot dog ideas? Check it…
Wild Tuna and Seaweed Poke
Fresh, clean and utterly fabulous. There is zero reason to poke fun at poke. This delicious dish takes its inspiration from the sea and will literally leave your luau theme party guests raving.
If you don't want hokey poke, then you should be sure to find a fabulous Hawaiian recipe, like this one from Bon Appetit.
They combine all of the characteristics of Hawaiian cuisine perfection, by choosing the freshest bright red tuna, marinated seaweed strands from the depths of the salty sea, crunchy pickles with a perfect bite and fluffy fine white rice.
The whole bowl is then topped with a citrusy soy sauce dressing, diced avocado, scattered sesame seeds, green scallions and a dollop of mayonnaise.
Welcome to the better side of luau party idea paradise!
Uku Laulau with Ginger and Scallion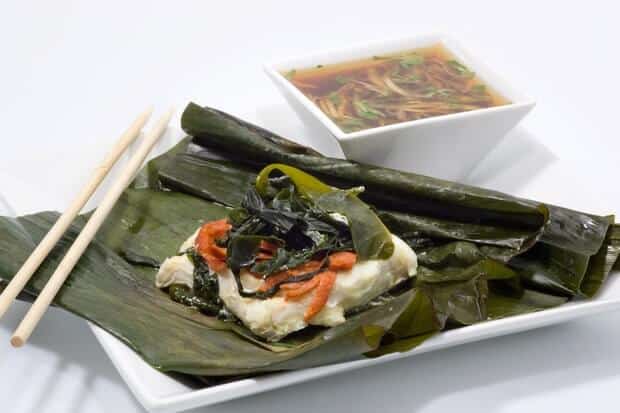 We have always loved the idea of serving things in leaves, ever since that scene in Lord of the Rings, when the elves sent those hairy hobbitses into Mordor with a bit of lembas bread tucked up in a leaf.
Did we just let our inner geek party out of the closet?
We meant to say, yeah cool things…
This recipe will not only look pretty as a picture on your luau table, but it will also taste divine!
We are talking sublime grey snapper (uku) fillets, nestled all snug inside a big banana leaf and steamed until all delicate and soft and falling apart on the tongue. Nom nom (remember nom nom, well we are making it make a hawaiian luau comeback).
Top the fish off with some ogo and lop cheong. Or, when this recipe is translated, seaweed and Chinese sausage. 
After the little packages are steamed, you carefully pry them open and pour the most wonderful sauce all over the fish. A sauce made from fiery ginger, biting scallions, dark soy sauce, fragrant cilantro leaves and hearty chicken stock.
More here…
Pineapple, Cranberry and Apricot Pie
This is another one of those recipes that fuses old fashioned American flavors with the bright and zesty aloha spirit.
Golden globs of yellow pineapple are combined with Californian apricots and bulging red cranberry kisses from the Pacific Midwest in this colorful pie.
The whole thing is baked beneath a bubbling and buttery lattice crust.  And, when you dollop a load of vanilla ice cream on top, you are surely sending someone to food heaven.
This is an awesome replacement for the tired and rather sorry looking pineapple upside down cake. This takes fruit pies and knocks them out of the park.
If you want to take this recipe to dizzying new heights, you can even throw on a grass skirt and add a maple glaze and swap out the ice cream for whipped coconut cream. We kid you not.
SPAM Agnolotti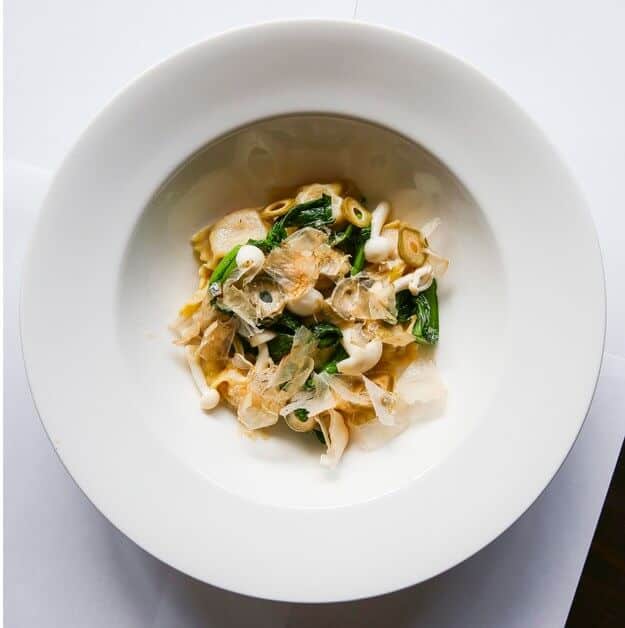 You may be shaking your head in disbelief at the idea of spam out of the can and into the city.
How the aloha can SPAM end up on a list of gourmet dishes from Hawaii?
It seems that the Hawaiian favorite food has made it across the water and into the mainland.
Posh nosh restaurant Noreetuh has taken SPAM and made it fabulous, by grinding it down, combining it with yummy things, twisting a little lemon zest on it and using it to stuff fresh homemade ravioli.
They went the extra mile by throwing some shaved truffles and cracked black pepper on top, along with wilted spinach.
You can totally replicate this in your own home – minus the shaved truffles, unless you are feeling loaded and fancy.
This is one of those Hawaii recipes that you can watch everyone drool over.
[mc4wp_form id="1057″]
So, there you go, five fab recipes that will trick everyone into thinking you are a secret Michelin-starred chef. Leave behind the terrible memories of soggy pizzas and poorly constructed Mai Tais and get your gourmet luau menu ideas on. We can't promise these platters of recipe finery will bring Leonardo DiCaprio.  But, if so, invite us, we will brush up on our skills of how to get leied at the luau.
Although only if you have a time machine, we are thinking of baby-faced Leo in Romeo and Juliet as opposed to frostbitten bear fighting Leo a la Revenant. Thanks.