Your Tiny, Expensive Painting is Downright Pretentious: Where to Buy Hawaiian Art without Cleaning Out Your Wallet
When I grow up, I'm going to do little more than wash my feet with Dom Perignon, eat gobs of Godiva chocolates, and pet my Pomeranian Pepe Wigglebottoms while my pool boy waters my bushes (in more way than one).
Oh, and buy heaps of heaps of original Hawaiian art, of course; my Makena mansion will be teeming with it.
In the meantime, however, I have a Lululemon habit, $100K in student loans, and no sugar daddy prospects to speak of. (Psst: I live on Maui.)
Which means that when I buy art—and I'm not talking about mass-produced black and white pics of British kids holding red roses in the rain (what up, Ross?)—it best be unique, it must be stylish, and it sure as hell has to be reasonable. Not like ten bucks "cost-effective"—that bag of blow sure did leave me with a migraine—but economical enough that I can still afford Taco Tuesdays and the occasional bottle of Kérastase shampoo.
If you're in the same boat—fresh off or otherwise—consider these 5 spots to buy Hawaiian art. Trust me: You won't feel financially violated.
Maui Hands, Paia/Makawao/Lahaina/Kaanapali, Maui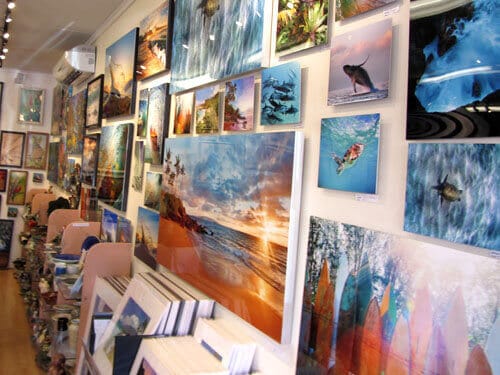 Being a Maui Girl (yes, I'm a grown-ass adult, but "Maui Lady" just doesn't have the same ring to it, does it?), I'm all for supporting the plein air peeps I used to see beaching it with their bottles of wine and easels while I was putting myself through high school serving milk shakes at Peggy Sue's.
Here, I bet you're thinking, putting yourself through college—is that what you mean, dear? No, high school, woman—have you not seen the price of gas here?
But back to the paint—I mean, point.
Now, some of these artists have lost their trust funds and I fear that if I don't support the inspiration they offered me as a child, I'll find them putting up a teepee in my backyard and asking for bus fare.
With that in mind, I head to one of the Maui Hands locations when I have some loot to spare. These carefully curated galleries operate as an island-wide co-op, only featuring art that's been made by Maui artists. And not transients, mind you—one has had to live here for something like ten years in order to be considered for inclusion.
The diversity of art found within each of these galleries' walls reflects the variety of Maui itself. Displays of glassworks edge against platters of purty necklaces while dazzling watercolors of Maui's beauty dangle overhead.
But one of the coolest discoveries I've made here is an ancient form of Japanese art called Gyotaku, in which fish are used to make realistic, even breathtaking prints. Come check 'em out—one of these bad boys would be the perfect souvenir.
Red Koi Collection, Poipu, Kauai
One Kauai activity that's often overlooked by millennials is the tremendous pleasure of browsing a gallery and envisioning your future digs showcasing similar masterpieces.
Kauai's Red Koi Collection is one such place to indulge your imagination.
Between the sultry lighting and glistening pics, this place will remind you why there's a point to climbing the corporate ladder—or whatever it is you, ahem, do to make money.
That being said, this family-run outfit also features slamdunkingly gorgeous paintings at pretty reasonable prices, many of which are created by the finest Garden Island artists.
While I wouldn't be so gauche to include the actual prices, let's just say that surgical enhancement you've been considering is only a fraction of one of these treasures.
Fishcake, Honolulu, Oahu
True, true—arrive in Honolulu and between the glossy waves begging to be long- boarded and the awesome array of bar hopping opportunities, the last thing you prolly want to do is gear up for perusing museum-quality boutique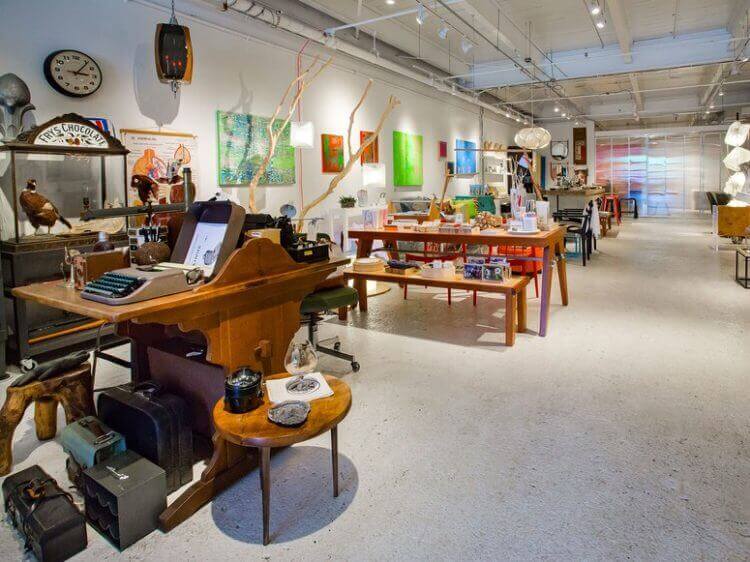 s.
But brush the sand off your feet for this sweet shop. Fishcake (cute, no?) is like walking into the mind-space of your trendiest, most fashion forward friend.
The brains behind this Kaka'ako-district gem know how to work a room—as in how to style it down to the knob on your desk. Furniture—think: glossy red chairs and spindly tables—is sold beside vintage goods that'll up your hipster cred. Pieces ranges from arresting photos to sculpture, and to top it all off, the place was created to support local artists. Now if that ain't the aloha spirit, what is?
Sunshine Art Gallery, Kaneohe, Oahu
Sure, the name of the place doesn't exactly scream chic, but this windward jewel has lots of rays—as in the light of artistic genius, dear shopper.
The first outpost of this Oahu tourist hotspot was little more than a Waikiki apartment peddling the founder's original creations. Today, over 3,600 square feet are dedicated to showcasing oils, acrylics, watercolors, and glass art by some of Hawaii's most gifted artists.
Best part yet? With the range of styles and prices offered, you're bound to find something for someone—most importantly, you. Fancy a surfing Santa? Well, gurl, you're not the only one.
Hana Coast Gallery, Hana, Maui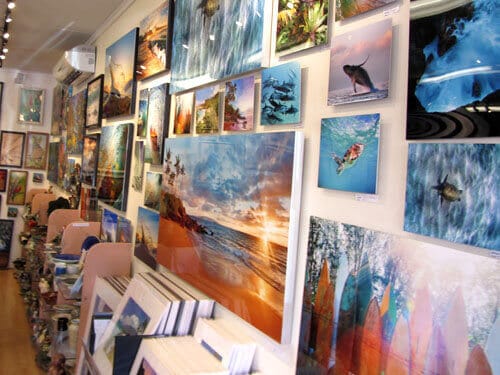 I'm totally kidding—with the amount of money I spend on BCBG dresses and blowouts (I did mention my eternal search for a sugar daddy, didn't I?), I probably couldn't afford a keychain in this place, let alone an onyx sculpture of some hot Hawaiian boy spearfishing.
But you'd be a fool if you didn't pop into this luxe gallery, even with all that epic Hana beauty available outside.
Happen to be the kind of person who needs celeb proof of a place's promise? Get this: Oprah waltzed in and bought nearly every painting created by my buddy Brent Cotton, which I'm pretty sure paid for one of his kids' college educations (yo, Dad, pick up a paintbrush, wouldja?)
What's more, Arya Azadi's marble effigies are on display; each one serves as a reminder that artistic talent is divinely appointed. And if you need to enhance your happiness back on the mainland, they've got numerous pieces by the ever-exuberant Ed Lane.
Get sticker shock just glancing at the gallery's website? Not to worry, budding collector: Nearby Hasegawa's has kitschy things that could pass for art while you pay off those bar binges on your Mastercard. They also sell micro-brewed beer, which is a mighty fine art form in itself. Grab one for me, won't you, pool boy?
[mc4wp_form id="4788″]