Are you finally visiting Hawaii? Get ready to experience one of the most scenically and culturally interesting places in the world. Hawaii offers many ways to get out and enjoy the sunshine and amazing views, but we especially recommend kayaking around it.
As rewarding as paddling around the Hawaiian islands is, finding the right location to start can be a pain. Tourists run rampant in certain areas, and in others you might miss out on the most picturesque scenery.
Here are our suggestions for the best kayak spots in Hawaii:
Napali Coast – Kauai
Difficulty Level: Hard
If you want a more secluded kayak spot, try the Napali Coast. No roads lead to this location, though it can be hiked, or even better, kayaked! Kayaking between Heana Beach Park and Polihale State Park takes about a day, and choppy waves might slow you down. In the end though, the views, water, and wildlife reward you for your sweat.
The Napali Coast houses towering rocky cliffs, waterfalls, sea caves, and green valleys. You also could spot a wide range of wildlife, including dolphins and sea turtles. Worth it!
Wailua River – Kauai
Difficulty Level: Easy
Looking for an easier ride? The eastern-flowing Wailua River offers everything you could want. The slow current, classified as "Class Zero", makes this trip a relatively manageable one, even for beginners or young family members. Beloved by kayak enthusiasts, this spot decimated the competition in Hawai'i Magazine's Ohana Poll. Greenery everywhere makes this route visually appealing– but the river being the only entrance to the Uluwehi (Secret) Falls really puts it out on top.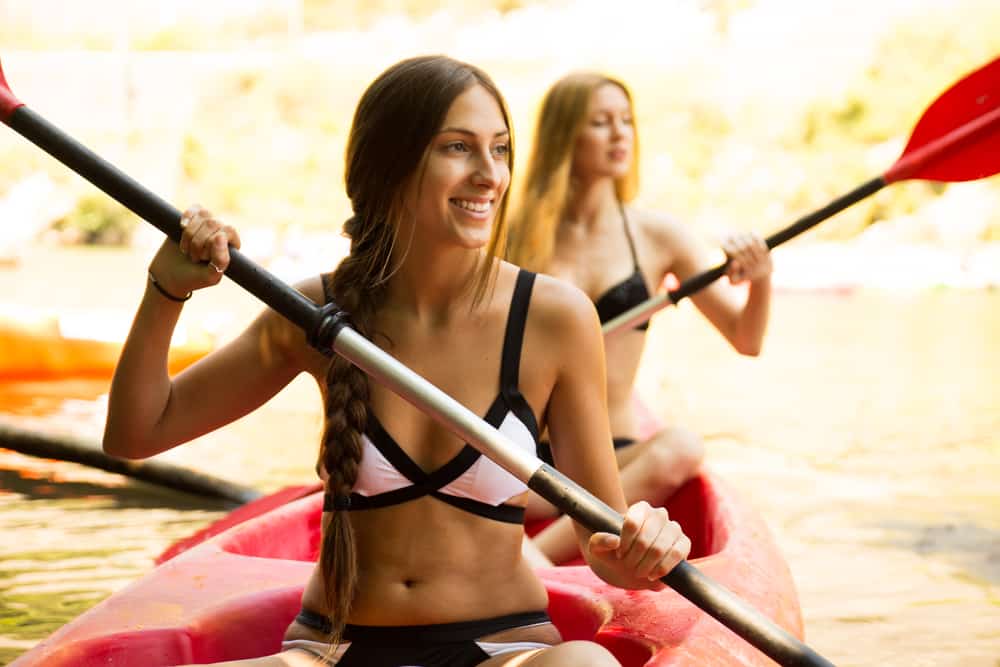 Kealakekua Bay – Big Island
Difficulty Level: Medium
A hot spot for dolphins and other marine life, Kealakekua Bay along the Kona coast of Hawaii also provides a pretty excellent spot for kayaking (after you get a permit). You'll find the Captain Cook monument about a mile across the bay.
The Kona coast is also a popular kayak fishing spot. You can haul some pretty huge catches, especially yellowfin or ono. We recommend contacting a kayak fishing group rather than doing it alone. You can of course bring your own fishing kayak.
Lanikai Islands – Oahu
Difficulty Level: Medium
Offshore islets, like the Mokulua islets off of the Lanikai Islands, offer a slightly more private kayak experience. This location makes the list because of the beaches; a pebble beach on the small island and a white sand beach on the larger one. This offers respite from paddling and a moment to enjoy nature.
With its clear, blue water, this area constantly makes lists as one of the most beautiful in Hawaii. The best part? These islands are just a stone's throw from the Kailua Bay, another attractive spot with another island to explore!  If not kayaking, then try Oahu parasailing or rent a jet ski in Oahu.
Anahulu River and Haleiwa Beach Park – Oahu
Difficulty Level: Easy
Take a break from the rapids and paddle through the Anahulu River with green sea turtles visibly swimming upstream to feed at the river bottom, while tortoises lurk at the water's edge. The 1-mile stretch can be covered in 30 minutes to 1 hour, depending on your kayaking experience. The river flows out towards the Haleiwa Beach Park, where you can continue your eco-adventure by snorkeling in crystal clear waters and marveling at the vibrant undersea paradise right off Oahu's legendary shores.
Honolua Bay – Maui
Difficulty Level: Easy
Though also known as a snorkeling and a surfing spot, Honolua Bay provides some of the best kayaking around. As part of the Mokuleia Marine Life Conservation District, the protected water teems with sea life including a large coral reef. You can expect to see extremely clean water, as the bay is cleaned regularly.
If you want to give surfing a go, check the bay out in the winter months. Kayaking and surfing only take place in the summer months, as in the winter, the surf tends to get a bit wild.
Where is your favorite Kayak spot in Hawaii? Let us know in the comments!