Kauai Helicopter ECO Adventure
With over 70% of the island being inaccessible by land, Kauai is truly best seen from the sky. On this incredible helicopter tour of Kauai, you'll experience views so beautiful they will take your breath away.
Explore the stunning Manawaiopuna Falls, also known as "Jurassic Park" falls, wedged in between the emerald green mountaintop of the Hanapepe Valley. Fly over the amazing views of the Olokele Canyon and majestic Waimea Canyon, often called the "Grand Canyon of the Pacific," where you'll catch sight of dozens of cascading waterfalls. Then, Kauai's magical North Shore reveals the sculpted green valleys and 3,000-foot sea cliffs of the Na Pali Coast, the pristine turquoise-blue waters of Hanalei Bay and the Princeville Resort area.
Lastly, weather permitting, your pilot will fly you to Mt Wai'ale'ale, a dormant shield volcano with over 450 inches of rainfall each year, making it the second wettest places on earth. Here you'll witness the most beautiful emerald green vegetation draped over the mist-covered mountain, with 3,000-foot cascading waterfalls filling each crevice—a truly awe-inspiring finish to your ECO Adventure over the Garden Isle.
Features
Tropical Rainforests
Cascading Waterfalls
Lush Valleys
Canyon
Coastline
Sea Cliffs
Add Ons:
A recording is made of your actual flight and may be purchased after your tour. DVD recordings are $25 and USB stick recordings are $40.Video recording systems may vary by aircraft. Our guest service agents will be able to share what format, DVD or USB, will be available for purchase after your tour.
Additional Information:
For each guest weighing 260 pounds or more, an adjacent, empty seat purchase is required to safely balance the aircraft. The charge for a comfort seat is reduced to 50% off of the regular tour price.
Know your aircraft before you book any tour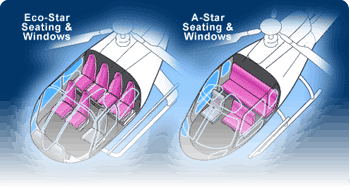 The helicopter you fly in has a huge impact on the quality of your air-tour experience. Compare our state-of-the-art Eco-Stars and A-Stars with some other tour helicopters used in Hawaii.
Featuring state-of-the-art, Eco-Star Helicopters. Our aircraft incorporate all the latest in cutting-edge technologies, materials, systems and avionics, and offer incomparable passenger comfort and fantastic sweeping views.
The introduction of the incredible new Eco-Star is the dawn of a new era in helicopter touring. Since the late 1980s, the Airbus A-Star has been the tour helicopter of choice for professional tour operations worldwide. In Hawaii it is the industry standard—favored by all the top helicopter tour companies for its open cabin design that affords a 180º sweeping view for each passenger. This feature has been further enhanced in the revolutionary new Airbus Eco-Star—the first touring helicopter of the 21st Century.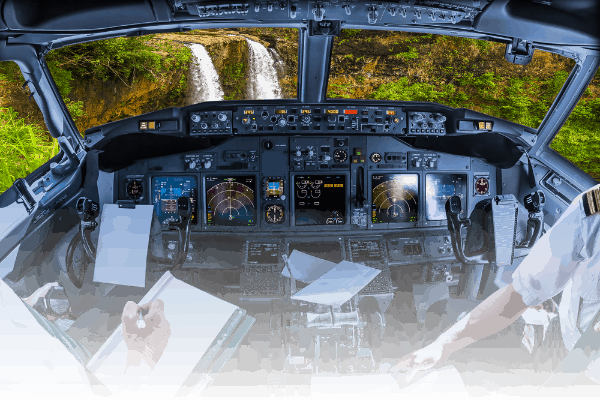 Upgrade to Eco-Star Helicopter
Eco-Star's 23% increase in cabin space over the A-Star affords significantly greater personal space for guests, along with improved visibility with over 65 square feet of glass for 180 degree unobstructed views.
Eco-Star features superior comfort; individual seats for every passenger afford the kind of shoulder room and personal space found in airline "First Class" seating.
Eco-Star features raised rear seating and wrap-around glass cockpit, for significantly improved visibility from every seat.
Eco-Star: First helicopter specifically designed for touring, utilizing the latest aircraft and avionics technologies.
Eco-Star: high-tech, enclosed "Fenestron," or "Fan in Fin," replaces A-Star's conventional tail rotor. Fenestron is: Safer, Quieter and More efficient—using 25% less engine horsepower, which can now be utilized by the main rotorsystem.
Eco-Star's state-of-the-art fuel control automatically optimizes main rotor speed for quietest operations and instant power response. Achieved with a "Full Authority Digital Electronic Control" (FADEC), utilizing  dual electronic channels with one electrical backup channel and a third hydro-mechanical backup control.
Eco-Star's engine uses latest "Grown Crystal" technology for turbine blades—increasing power, heat tolerance and fuel efficiency. This, along with the FADEC, is the same technology used in state-of-the-art airline engines such those on the leading-edge Boeing 777.
Eco-Star features dual hydraulic systems.
Eco-Star cost is over $2 million – approximately 30% more than a new A-Star.
Inclusions
Eco-Star Helicopter
Regular Seat
Eco-Star Helicopter
50-Minute Flight Time
Tour narration by pilots who are State of Hawaii Certified Tour Guides.
Block Seat (260lbs+)
Eco-Star Helicopter
Comfort Seat for passengers more than 260lbs
50-Minute Flight Time
Tour narration by pilots who are State of Hawaii Certified Tour Guides.
Items and Clothing to Bring
Dress comfortably, as our aircraft are temperature controlled (Please wear dark clothing to minimize reflection in photos)
Smartphones are OK; must be in airplane mode (Selfie sticks and extendable wands are not permitted aboard the aircraft)
No hats, scarves or bandanas
No iPads or tablet computers
No purses, bags or camera bags are permitted on the aircraft
For your safety, please do not scuba dive within 24 hours of departure
Tour times may vary based upon wind and weather conditions
Cancellation Policy
We require 24 hours notice in order to change or cancel your reservation. Cancellations and no-shows within 24 hours will be assessed a 100% cancellation fee. If you need to change or cancel your reservation please provide us with 24 hours notice prior to your tour time and we will be happy to accommodate you.