Hawaii has no shortage of health-conscious, mindful-living hippie types that shell out plenty of cash to help them attain the much talked about "yoga booty".
For thousands upon gazillions of years human beings have been moving and breathing their way into pretzel-like shapes, all in the name of almighty Y-O-G-A. By now even mainstream Midwesterners have caught onto the rather addicting buzz (and tight bod) that come as added benefits to your yoga practice.
Luckily for those loud music lovin' booty shakers who prefer a little cardio with their cat-cow, Hot Buddhi Yoga has been born in the middle of the Pacific Ocean.
Just think how liberating it would be to both get your down-dog on and twerk it out in one workout. If you do happen to be one of those serious types, stop yourself before pretentiously complaining about the word booty being placed next to yoga. It's actually "buddhi", the Sanskrit word for higher consciousness.
Created by Jen Liming of Kailua-Kona on Hawaii's Big Island, Hot Buddhi Yoga is described as a combination of yoga asana, dance, kundalini kriyas, cardio, plyometric movement and of course, twerking.
Or in even simpler terms, Hot Buddhi Yoga is Shakti Manifesting as Pure Joy, thanks to those circular hip movements paired with deep breath and core awareness. Go ahead- try and think of a yoga pose where you can't spiral your hips (ok, ok…only try this in an inversion if you are really brazen).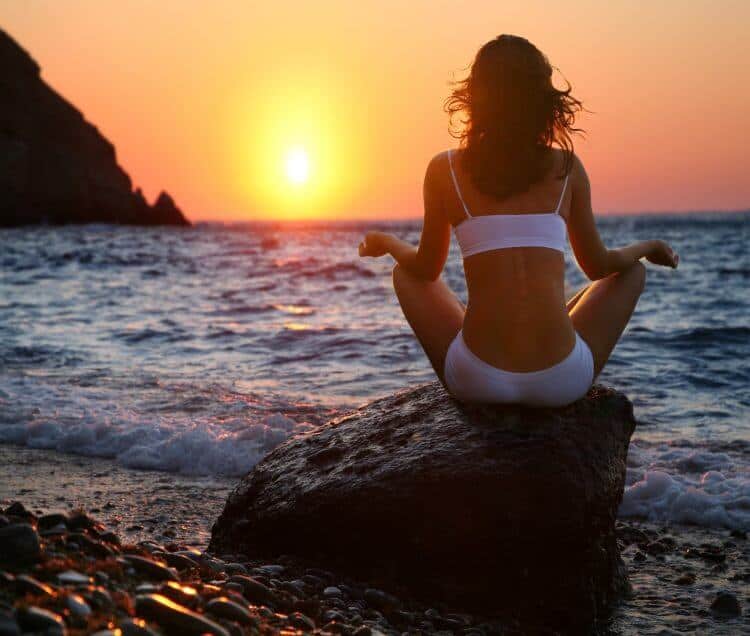 Are you one of those people that turns up hip-hop music embarrassingly loud while driving (of course you are)? Allow the reverberation of those bass lines to completely clear your mind while you tighten your glutes and low belly. From Beyonce to Boys Noize, Nicki Minaj to Diplo and a shitload of weird belly dance beats and underground trap tracks, each class and instructor bring something different.
No rhythm? No problem- each carefully curated playlist is played loudly in a darkened room creating the perfect environment to connect with your inner goddess (or god- some studios offer unisex classes, some are women only).
Closing your eyes is a surefire way to let go of inhibitions and shake some serious stress off your shoulders- without the unfuckingbearable hangovers that follow a night at the bar, where you spend more time awkwardly staring at the dance floor instead of actually using it.
Tapping into this internal energy while flowing through traditional yoga poses and letting alllll your jello jiggle with reckless abandon, while the instructor calls out "booty bounces" or "shake it out," conjures up a feeling of confidence like nothing else.
Studios and gyms all over the Big Island offer Hot Buddhi, but I personally recommend Yoga Centered in downtown Hilo (why? Because I teach there and it's the best place on earth).
Manoa Dance Studio on Oahu also offers classes, as does O.F.F. Wailua Studio in Kauai.
Yes, it's intense. Yes, you will sweat. Yes, you will feel incredibly empowered and sexy both during and after this upbeat physical practice. So grab a friend, put on your tiniest shorts and try Hot Buddhi Yoga out. Chances are that you'll be hooked.
And, OF COURSE, there is a savasana at the end of class- every yogi's favorite part of practice where you lay down in "corpse pose" with your eyes closed and do absolutely nothing.
Love yoga?  Where's your go-to for a little downward-facing dog?